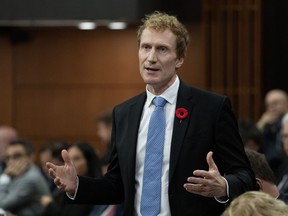 Here are today's Ottawa Sun letters to the editor.
Article content
ARROGANT LIBERALS
Article content
Re: Federal government to level out number of new permanent residents in 2026, online, Nov. 1
Article content
Only a government as arrogant and so totally out of touch with Canadians would suggest such an outlandish thing as the Trudeau Liberals are doing here. Imagine it will continue bringing in 500,000 immigrants annually until 2026 when Trudeau has hopefully been kicked to the curb so he cannot cause more harm.
Polls have consistently shown Canadians want far less mass immigration. Bringing in the population of a huge Canadian city annually with zero affordable housing, health care on life support, failing infrastructure, school class size maxed out and the cost of living the highest in decades simply cannot be justified.
Article content
Trudeau continues using mass immigration for his own political needs, not the economic needs of Canada.
LARRY COMEAU
OTTAWA
NOT THE CITY'S FAULT
Don't blame the city for having to once again turn the Heron Community Centre into housing for the homeless. It's the federal Liberals who threw open Canada's borders to hundreds of thousands of refugees, even when they knew full well people here already can't afford housing or find shelter.
Our lax immigration policy is a shameful disgrace and needs to be tightened immediately.
JUDY WARREN
CAPITAL SPORTS BAFFLING
Re: BUILDER BOB: Redblacks sticking with Dyce to coach them from foundation to next level, online, Oct. 30; GARRIOCH: Ottawa Senators fire GM Pierre Dorion after 'last straw', online, Nov. 1
Article content
I never understood pro sports here in the capital. They can an NHL GM on the cusp of possibly a great season and stick with a CFL coach for a team with fewer wins in four years than the 16 the Toronto Argos won this season.
Guess like our current fool on the hill's thinking, the championships will balance themselves?
EDDY DIGNAN
ROCKLAND
COACHING STAFF NEXT
The firing of Senators GM Pierre Dorion is not a surprise; a new broom almost always sweeps clean.
The screwup involving losing a first-round draft pick was the last straw. Billionaire owner Michael Andlauer did not make his money by always being a nice guy, he is a businessman first and foremost, and the dollar is paramount.
Look for the entire coaching staff to be dumped not too long from now.
STEPHEN FLANAGAN
OTTAWA
Recommended from Editorial