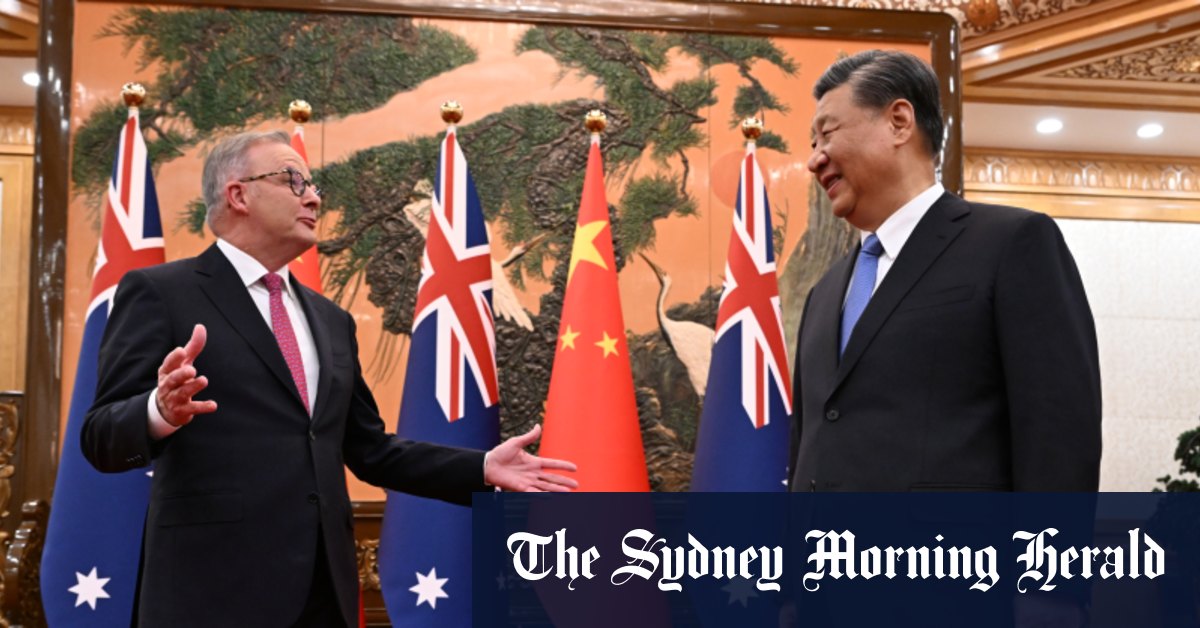 Albanese will meet Premier Li Qiang on Tuesday in Beijing where further details on the deal are expected to be announced.
"What we have done is continue to put forward Australia's position in a principled way, in a clear way, but in a way that hasn't sought to amplify differences in order to score a political point," Albanese said.
Albanese said he invited Xi to visit Australia.
"He acknowledged the invitation and thanked me for the invitation and invited me to return to China," he said.
Describing the exchange as "warm, constructive and positive," Albanese said the pair agreed they "shouldn't be defined by our differences".
Xi lobbied for Australia to support China's push to join the Comprehensive and Progressive Agreement for Trans-Pacific Partnership [CPTPP], one of the world's largest trade blocs. Albanese would not rule out China joining the group but said it would have to meet the high standards of admission.
Trade Minister Don Farrell said last year China had "no prospect" of joining the 12-member bloc.
"He asserted China's wish to join the CPTPP," Albanese said. "It needs a unanimous agreement by all of the parties. Countries, if they are going to get accession to the agreement, have to show a pattern of agreement going forward."
Australians behind bars
Albanese said he raised the case of detained Australian writer Yang Hengjun with Xi, but gave no details on Xi's response to the fate of the father-of-two who has been detained for more than four years. He said he also raised human rights concerns within China.
Loading
"This is a dynamic relationship," Albanese said. "We have political systems that are different. And we work in a way that understands that and is clear about that, and work in a way where we are always looking for what is in Australia's national interest."
In broader talks to manage strategic differences in the region, Xi will meet US President Joe Biden at a regional summit in San Francisco next week.
China has fiercely opposed Australia's AUKUS pact on nuclear-powered submarines with the United States and the United Kingdom, while trying to exert its influence in the South Pacific and claiming disputed territory in the South China Sea.
Albanese warned of "strategic competition" from the rise of China but emphasised the gains for Australia in the economic relationship, a key agenda in his talks with the country's top three leaders this week.
"I'm convinced that we're building a relationship that's constructive – one where we're able to talk with each other directly," he said of his dealings with Xi.
Albanese is the first Australian prime minister to meet Xi in the Chinese capital since 2016 and arrived two weeks after a visit to the United States, where President Joe Biden said "trust but verify" should be the approach to dealing with China.
Trust issues
Asked twice during an earlier press conference whether he trusted Xi, the prime minister indicated the Chinese president had been a man of his word in their dealings to date, but was reluctant to use the term "trust".
"We have different political systems, but the engagement that I've had with China, with President Xi, have been positive. They have been constructive," he said.
"He has never said anything to me that has not been done, and that's a positive way that you have to start off dealing with people. We recognise as well that we come with different political systems, very different values arising from that, and different histories.
"But we deal with each other at face value."
Albanese also met the third most powerful leader in China, Zhao Leji, the chairman of the National People's Congress for talks before the meeting with the president.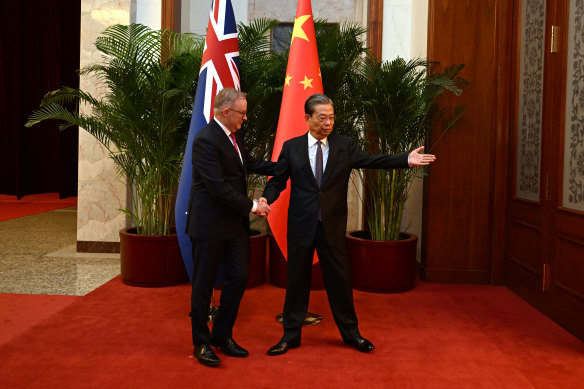 In a positive message, Zhao called the China visit a "new start" in the relationship.
"Now we're at a new starting point," he told the prime minister.
Touring the Temple of Heaven
The prime minister retraced the steps of his Labor predecessor Gough Whitlam on Monday morning, visiting the Temple of Heaven in Beijing as the former Labor leader did in 1973 and emphasising the historic return of an Australian leader to the Chinese capital.
Flanked by Foreign Minister Penny Wong, the prime minister toured the temple grounds with the Chinese ambassador to Australia, Xiao Qian.
Speaking to reporters after the temple visit, Albanese restated his government's support for the AUKUS alliance on nuclear-powered submarines with the US and the United Kingdom despite fierce objections from China.
"We think that AUKUS is in Australia's national interest. We also think that AUKUS is a vehicle to promote security, peace and stability in the region."
Cut through the noise of federal politics with news, views and expert analysis from Jacqueline Maley. Subscribers can sign up to our weekly Inside Politics newsletter here.