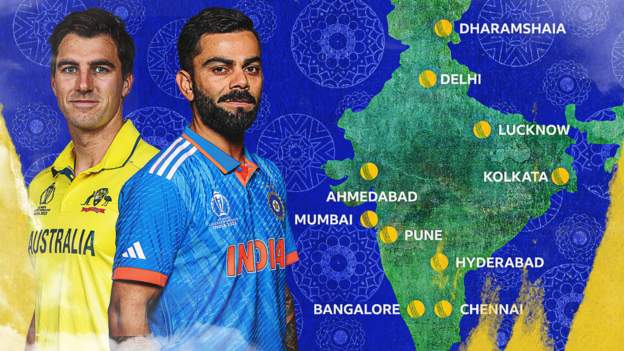 Host country:
India
Dates:
5 October-19 November
Coverage:
Test Match Special commentary of every match on BBC Radio 5 Sports Extra and BBC Sounds, live text commentary on the BBC Sport website with in-play clips and highlights, plus features and analysis
The 2023 ICC Men's Cricket World Cup is just days away from starting in India.
England head into the 39-day spectacle looking to retain their crown after their 2019 World Cup win.
However, they find themselves in a very open tournament, with a number of teams in contention for World Cup glory.
Here is a full guide to the 14th edition of the 50-over global showpiece.
Cricket World Cup schedule and start date
Starting with England's match against New Zealand, a repeat of the dramatic 2019 final at Lord's, the tournament starts on Thursday morning (09:30 BST).
From there, there will be a group-stage match every day until Sunday, 12 November.
The semi-finals take place on Wednesday, 15 November and Thursday, 16 November, with the final being held three days later on Sunday, 19 November.
Most matches start at 09:30 BST, with some additional matches taking place at 06:00 BST.
When British Summer Time ends on Sunday, October 29, the times of matches will become 08:30 GMT and 05:00 GMT respectively.
Cricket World Cup 2023 format
All 10 teams competing at this year's World Cup go into one big group stage in a round-robin format, where each team will face each other once.
Teams are awarded two points for a win, one for either a tie or a no-result and zero for a loss.
Once all 10 teams have played their nine group-stage matches, the four highest-ranked teams will advance to the semi-finals.
In the semi-finals, the team that finished first in the group stage will face the side that finished fourth, with second place taking on third place in the other semi-final.
The two winners of the semi-finals will face each other in the final, with the winner of the final being crowned ICC Men's Cricket World Cup 2023 champions.
Cricket World Cup competing teams
The biggest shock at this year's World Cup is the fact two-time winners West Indies have failed to qualify for the group stage for the first time in their history.
Teams competing in the ICC Men's Cricket World Cup 2023: Afghanistan, Australia, Bangladesh, England, India, Netherlands, New Zealand, Pakistan, South Africa, Sri Lanka.
Cricket World Cup venues and stadiums
The 48 matches at this year's World Cup will be spread across 10 different venues in India.
England's opening match against New Zealand takes place in Ahmedabad. The two semi-finals are being held in Mumbai and Kolkata, with Ahmedabad again being used for the final.
Host venues at the ICC Men's Cricket World Cup 2023: Ahmedabad (Narendra Modi Stadium), Bangalore (M. Chinnaswamy Stadium), Chennai (MA Chidambaram Stadium), Delhi (Arun Jaitley Stadium), Dharamshala (HPCA Stadium), Hyderabad (Rajiv Gandhi International Cricket Stadium), Kolkata (Eden Gardens), Lucknow (BRSABV Ekana Cricket Stadium), Mumbai (Wankhede Stadium), Pune (Maharashtra Cricket Association Stadium).
Rules
The tournament is played in a one-day format, so both teams will face 50 overs a side unless they are bowled out beforehand or the team batting second reaches their target before the end of the 50 overs.
The 50 overs are split into three powerplays. Powerplay 1 is in overs 1-10, Powerplay 2 is in overs 11-40 and Powerplay 3 is overs 41-50, with different fielding restrictions in each powerplay.
Each match will be split into two three-and-a-half-hour sessions with a 45-minute break between each innings.
Should the number of runs scored by each team be level after 50 overs, the match will be declared a tie. In the semi-finals and final, a super over will be played to decide the winner.
If a match is halted for an extensive period due to weather conditions, DLS (Duckworth Lewis Stern method) will be used to decide the winner. Alternatively, matches with a reserve day will see the match moved to that reserve day.
If Pakistan qualify for the semi-finals, their match will take place in Kolkata, regardless of their final position. If India qualify for the semi-finals, they will play in Mumbai, unless they face Pakistan, so therefore they will meet in Kolkata.
Previous Cricket World Cup winners
England go into the tournament as defending champions, having won it for the first time four years ago on home soil.
1975 – West Indies

1979 – West Indies

1983 – India

1987 – Australia

1992 – Pakistan

1996 – Sri Lanka

1999 – Australia

2003 – Australia

2007 – Australia

2011 – India

2015 – Australia

2019 – England