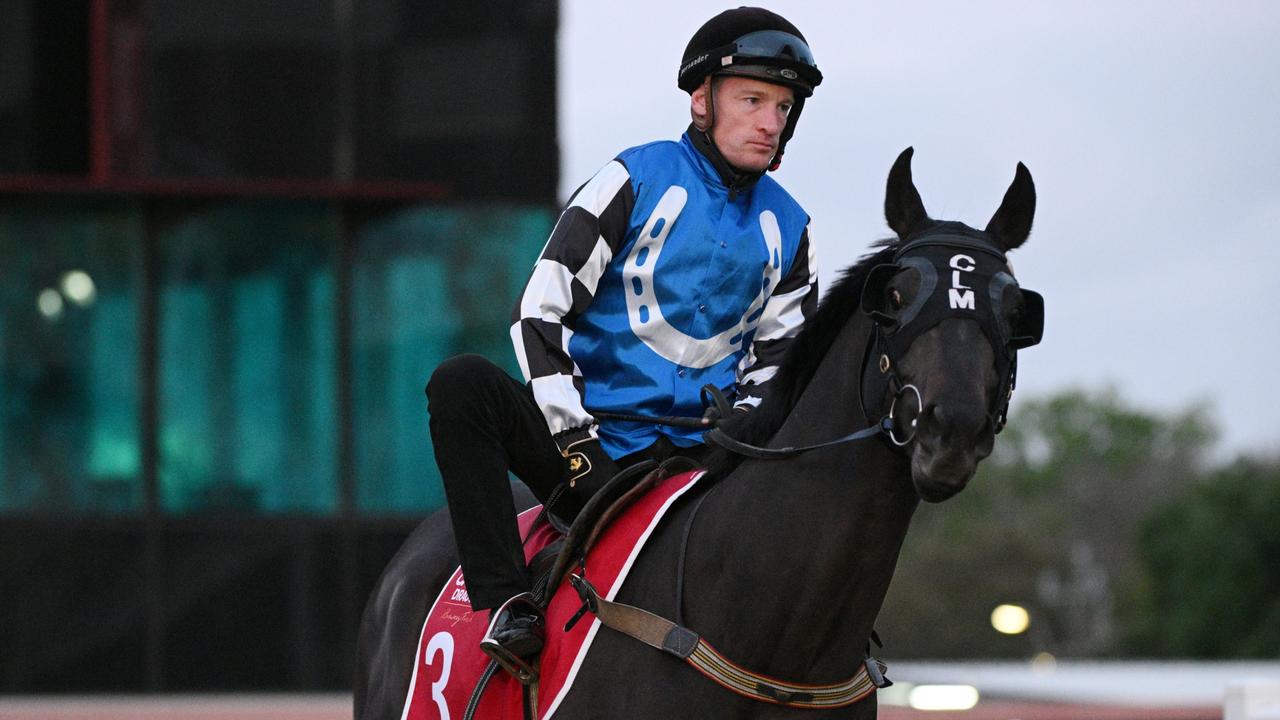 It's the greatest two minutes in sport. The weight-for-age championship of Australasia. A $5 million race which time and again is won by an outstanding thoroughbred most worthy of their place on the honour roll.
It's the WS Cox Plate, and it's on again this Saturday, for the 102nd time.
While the Melbourne Cup is the greatest race in the country, for the cultural institution it is, it's the Cox Plate that usually attracts the very best horses.
That's because it's held under weight-for-age WFA conditions, the system under which horses are allocated weights according to their age, rather than given handicap weights based on performance for the aim of a closer finish.
Watch Spring racing and the Melbourne Cup LIVE on Kayo Sports. Join now and start streaming instantly >
MELBOURNE CUP ENTRY LIST: Winner of key lead-in to skip great race as runner-up gets huge boost
BARRIER DRAW AND FINAL FIELD FOR THE 2023 COX PLATE
'We F***ing won!' – Jockey's Wife erupts | 00:49
The WFA system is recognised throughout the world as the way to go when you want a top quality race for all ages, and the Cox Plate, hardly ever won by a bolter in its long history, is one of the best on the planet.
Winners of the 2040-metre test, which of course sits in the top band of race categorisations as a Group 1, have included some of the most esteemed names in Australasian racing, such a Winx, Kingston Town, Phar Lap, Makybe Diva, Might And Power, and many more. Others have come from afar to claim it, like Irish raiders State Of Rest (2021) and Adelaide (2014) and Japan's Lys Gracieux in 2019.
And this year's edition is laced with as much intrigue as ever.
There are local hopes like Gold Trip, the hugely popular pair of old rivals Alligator Blood and Mr Brightside, a much-hyped Hong Kong raider in likely favourite Romantic Warrior, and a highly-rated foreign "dark horse" in Victoria Road, seeking to emulate his fellow Irish raider State Of Rest.
There's a couple of crack three-year-old colts – Militarize and King Colorado – who get in with tiny weights because of their age and could surprise their older rivals, plus a couple of quality mares in Duais – champion retiring jockey Damien Oliver's last ride in the race – and Fangirl, who's been making hay in the absence of her great but now retired old rival Anamoe, who won this last year.
For quite some time, the Cox Plate day has lacked a really meaty support act. But last year, the Group 1 sprint called the Manikato Stakes – usually run the night before – had to be added after a thunderstorm washed out the Friday night meeting. It worked so well, it's been added permanently now. (The reshuffle means the Moonee Valley Cup, a lead-up to the Melbourne Cup, was switched to the Friday night).
And the Manikato Stakes, named after a former champion sprinter of the 1970s/80s, has a worthy first such permanently scheduled edition. It's another chance to behold a New Zealand sprinter who could be on her way to champion status – Imperatriz. She's scared away most of her rivals, after winning her past three starts imperiously. It's only a seven-horse field, and she's a $1.45 favourite, but there are three quality rivals in Buenos Noches, Uncommon James and I Am Me who might make things interesting.
There's also a high quality meeting at Randwick in Sydney, highlighted by the $2m G1 Spring Champion Stakes (2000m), where the Godolphin empire's Tom Kitten is a short-priced favourite; the $1m Callander-Presnell (1600m) for three-year-olds, headed by a new glamour girl with a suitable name – Arctic Glamour; and The Invitation, a $2m 1400m race for fillies and mares where outstanding mares Espiona and Magic Time head the market.
But it's the Cox Plate which will as always get hearts beating the fastest.
Let's take a look.
WHAT IS IT?
Class-wise, it's consistently pretty much the best race Australia has, and regularly one of the finest in the world, according to the international ratings people. (It was equal 23rd on official world rankings last year, comfortably Australia's No.1).
The Melbourne Cup is of course Australia's grandest phenomenon, racing or otherwise, but the Cox Plate holds status as this turf-mad country's highest-quality race, since it's held under weight-for-age. That's the scale devised to eradicate the hiccups of handicaps, so that horses carry weights according to their age, not their form, so that the best horse may win. That's why some of the best horses you've heard of have won this one.
A Group 1 for three-year-olds and up, the race is named after W.S. (William Samuel) Cox, an entrepreneurial sport-mad bloke who in 1883 founded the club and track where the event is run, Moonee Valley. Cox had bought the land from a man who'd bought it from "Long" John Moonee.
Known by most as "The Valley", it's a quirky little rectangular course, only 1800m in circumference. Flemington, by contrast, is a roomy 2400m around with a long home straight of 420m, as opposed to the Valley's 180m dash to the line. Hence, a lot of horses who might like Flemington don't fancy the Valley, especially the big, long-striding ones. Conversely, there are the much-loved "Valley specialists", who excel here.
Roughie 'Amade' wins 2023 Geelong Cup | 01:20
While the Valley is often a challenge for horses, especially at their first try, it does have a friendly, spongy surface and cambered turns to help horses negotiate its tight corners.
And the Cox Plate is held over probably the best, most testing, distance in racing – a mile and a quarter – in which horses need both those ingredients of speed and stamina more than any other. (A mile and a quarter is more like 2000m. The Valley runs this over 2040m, to use the full length of its home straight at the start).
The field jumps from the top of the straight and it's a jostle for positions, often at high speed, before the first tight turn after 200m. Things usually stay fairly calm up the Dean Street side and over the back, but then heat up down the School Side. From the 800m to the 600m, passing the country's most famous educational institution (to racing fans anyway) – Moonee Ponds Central School – the runs start to come, bearing down to the home corner, before the dash to the line and its promise of eternal glory!
WHAT'S IT WORTH?
$5 million. The winner will take home $3 million, and there's strong incentive just to make it into the race, with second prize $900,000, and even 10th bagging $75,000.
WHEN'S IT ON?
Stop everything this Saturday at 5.10pm.
WHERE CAN YOU WATCH IT?
At the course in Melbourne's inner north, on Racing.com, Sky Racing or Channel 7. You can also huddle round the family wireless, or follow the day live on foxsports.com.au.
BEST BARRIERS: Gate six, with seven winners in the past 33 years – including State Of Rest two years ago; 11 has had five in that time, 7 has had four. Worst barriers: 8 has had no winners in that timeframe (nor have 12 and 14).
AGE: In the 22 runnings since 2000, four-year-olds have won eight times, six-year-olds seven times, five-year-olds and three-year-olds three apiece.
MAIN PLOTLINES
Gold Trip, one of the most expensive horses imported to Australia from Europe, displayed his quality by winning last year's Melbourne Cup. And after showing his class this spring with a win in the major lead-up, the Turnbull Stakes, and a third in last Saturday's Caulfield Cup, the six-year-old stallion could prove himself something really special by winning here.
Alligator Blood is co-trained by one of racing's folk heroes in Gai Waterhouse and is just about one himself, tearing to the front of fields and gritting his teeth in the home straight not just to hang on and win but often to power away. And he finally won at 2000m last start, laying some distance doubts to rest.
Romantic Warrior comes from Hong Kong with a massive reputation. He's won three Group 1s there, has the highest international rating in the field – the respected system which grades horses all around the world – and is set to start favourite under glamour jockey James McDonald. More was expected than his first-up fourth in the Turnbull, however, so many will be watching to see if he is as good as the hype suggests.
Irish raider Victoria Road comes from the stable of master trainer Aidan O'Brien, and profiles very similarly to his 2014 winner of this race, Adelaide, and the horse O'Brien's son Joseph brought out to win it two years ago, State Of Rest.
Fangirl, whose trainer Chris Waller was all over this race when his champion mare Winx won a record four of them in a row a few years back, returns with another quality mare in Fangirl. She's top notch, though of course not quite Winx, but now that Fangirl's old rival Anamoe – who won this race last year and was a most unlucky second the year before – has retired, Fangirl's been living it up, winning two G1s in Sydney in her past three starts.
And three-year-olds always create a lot of interest in this race, since they come in with a very light weight. Three have won in the past 20 years, and underscoring the quality of this race, they've gone on to be top-shelf stallions in the breeding world – So You Think, Savabeel and Shamus Award.
Think about it clinches the 2023 Everest | 00:41
FIRST WINNER: Violoncello (1922)
LAST WINNER: Anamoe (2022)
FAMOUS WINNERS: Just about all of them. But let's keep it to Phar Lap (twice), Ajax, Hydrogen (twice), Rising Fast, Redcraze, Tulloch, Gunsynd, Dulcify, Kingston Town (thrice), Bonecrusher, Might And Power, Sunline (twice), Northerly (twice), Makybe Diva, So You Think (twice), Anamoe and of course, the one and only four-time winner, Winx (2015-2018).
OTHER MAJOR RACES ON THE DAY
MANIKATO STAKES – 1200m, Race 8, 4.20pm: A G1 WFA sprint which looks a showcase for emerging sprint superstar, Kiwi mare Imperatriz. She's a raging $1.45 favourite in a small field, but there's quality opposition in I Am Me, Uncommon James and Buenos Noches.
INGLIS BANNER – 1000m, Race 2, 12.45pm: A scamper for this season's fresh batch of two-year-olds worth $500,000.
CRYSTAL MILE — G2, 1600m, Race 5, 2.30pm. Some good types going around in another small but quality field (of six) in this $300,000 mile, including Victorian favourite Tuvalu, Queenslander Antino, and Kiwi mare Prowess.
FILLIES CLASSIC – Group 2, 1600m, Race 6, 3.05pm. A $300,000 race for some quality three-year-old females.
DRUMMOND GOLF VASE – Group 2, 2040m, Race 7, 3.40pm. Some smart three-year-old colts going around in this $400,000 race, mostly with the hope of progressing to the VRC Derby. Market is headed by Verdad, who was a $21 longshot when he ran out of his skin in the Caulfield Guineas last start, and who's a $2.60 favourite now.
THE COX PLATE FIELD
Race 9, 5.10pm
1. ROMANTIC WARRIOR(Starting gate: 7) Approx BlueBet win/place odds: $4.20/$1.60. FOR: Hong Kong 6yo gelding who's won three Group 1s there, over this distance. Those have helped him become the highest-rated horse in this field, by official world rankings, and one of the highest on the planet, on a mark of 124. There's only one other horse in this field above 119. Has James McDonald aboard, the No.3 rated jockey in the world, who won this race last year on Anamoe. Has a great middle starting gate from which McDonald can assess his options and grab an optimum spot. Acquitted himself OK in first run in Australia, when fourth in the Turnbull Stakes (2000m), a major lead-up to this. AGAINST: Yes, he's been a star in Hong Kong, but there's still a doubt about the depth of opposition there. He's earned his rating there, but it's a small local gene pool, and although international horses visit, you wonder if they go as well on a short trip to that tropical environment as in more familiar surrounds. So, can he compete with this field? There have been tougher Cox Plate fields, so maybe. Given his reputation, more was expected than his fourth in the Turnbull. But, he'll be fitter and better for that acclimatising run, and the form has held up through the three who beat him home – Gold Trip, West Wind Blows and Soulcombe – performing well in the Caulfield Cup. Still, there's a bit of faith involved in backing him against a few of these. And then there's Hong Kong's top jockey Zac Purton's recent damning assessment in one interview that his form looks better than the horse actually is, and that he doesn't fancy the pressure he'll likely find here: "You breathe down his neck, he gives up." Each way.
2. ZAAKI (12) $18/4.60. FOR: Honest old campaigner who's rarely out of a place, and ran a solid fourth in this race last year. Warmed up with a second and third in Sydney at the top level over 1400m and 1600m, building up to this distance, which he likes. Has a fine, big race jockey aboard in Damian Lane. If you're sentimental, perhaps he deserves a Cox Plate after having been a raging favourite two years ago only to be scratched on race morning when he had a temperature. AGAINST: That scratching was cruel, because if this is the premier race in Australasia, that might have been his premiership window. He's nine years old now and that's just too old for this race. It's happened in modern history, with Fields Of Omagh winning at nine in 2006, but the feeling is this bloke is a bit too far past his best. Worst still, he has the outside barrier, and since he likes to race up on the pace, he'll have to work early. Looking elsewhere.
3. MR BRIGHTSIDE (2) $7/$2.35. FOR: Great name, if you're a Killers fan, and great horse too, with four G1 wins and a 119 rating. Has drawn a good inside gate so his experienced rider Craig Williams, who's won this twice before, should find a nice spot from there. Won five in a row before going to Sydney for his last-start second to Fangirl over 1600m. Has a strong record at this track with three wins from four goes. AGAINST: Despite his quality and competitive nature, there's a big elephant in the room with him: distance. He's lethal over 1600m, but has had two tries at 2000m for a fourth (of eight) and a seventh in this race last year. The 2000m is just about the most sapping distance there is in racing. You need to keep up more speed than if bowling along over 2400m, but you need far more stamina than 1600m. That extra 400m makes a huge difference, and that's why you generally want to see them have a run over 2000m before backing them over the trip, not jump straight up from 1600m. Especially in a race of this quality. Especially for a horse who's a doubt at the trip. Prefer others.
4. ALLIGATOR BLOOD (5) $5.50/$2.05. FOR: This seven-year-old gelding is a remarkable equine athlete, nearing champion status, with seven G1 wins and a 119 rating. Was a hugely talented youngster, went missing for a while, needed back surgery, but has come back to again become one of the very finest horses in the land, at an age when many are looking for their equine pipe and slippers. His co-trainer Gai Waterhouse says "he rolls up his sleeves and he gets the job done". She's not averse to the odd bit of hype, but she's spot on in this case. His main chink, showed in an average fifth in this race last year, had been considered getting the 2000m. But this season he's even done that, winning the Caulfield Stakes over that trip at his last start – by two lengths! In last year's race he had to burn petrol from gate 12 to get to his favoured on-pace spot, and tired in the straight. This year, he has the beautiful gate five, and a top on-pace rider in Tim Clark to pop to the front, or thereabouts, and judge the pace. At Moonee Valley, he might just ping away around the last bend and will take some catching, as it's only a short straight home. AGAINST: We might be splitting hairs a bit, but despite the Valley favouring front runners, he's disappointed with a fifth and fourth here in two visits, the latter over his favoured 1600m trip. And while he won over 2000m for the first time last start, the quality of opposition was a long way short of this. Each way.
5. GOLD TRIP (8) $8/$2.50. FOR: From the all-conquering Maher-Eustace stable, who know what they're doing, including the substantial issue of dropping a horse down from the 2400m of his superb third in the Caulfield Cup to the 2040m here in just a week. That's tricky, but this powerhouse European import might just be special, as hinted by his 122 rating. He tried it last year and while he finished ninth, he was a bit unlucky and wasn't far off them. Good middle barrier, so should find a fine spot in running, about midfield or a touch further back. And he's a fearsome six-year-old stallion who'll love charging at the leaders late on. He did that in winning the Melbourne Cup last year, and again two runs back in grabbing the Turnbull Stakes by the scruff of the neck, winning by nearly two lengths. His rider Mark Zahra is astute and in form. He jumped off him to win the Caulfield Cup last week owing to doubts about Gold Trip running there, but has jumped back on now. And the trainers have put blinkers back on him, to sharpen his focus for this more shorter trip. AGAINST: There's a slightly worrying stat: barrier eight seems OK, but it's hatched no winners of this race in the past 33 years. It really is hard to drop from 2400m to this trip in just seven days, even for a horse of this quality. It's rarely even attempted, let alone done with success. He's the only one from last week's Cup field to be attempting it here. Mind you, last year we wrote: "The last horse to win the double was Northerly in 2002, and it's doubtful Gold Trip is up to his exceptional level." Now, with a Melbourne Cup and a Turnbull under his belt, and a third in the Caulfield Cup to go with his second there last year, we're not so sure. Hard to beat.
6. MY OBERON (4) $51/$8.50. FOR: Not all that much, it must be said. But this Irish import's dad is one of the world's greatest sires, Dubawi, and he's had a win here from two attempts. Has a good inside barrier. Jockey Jamie Mott is experience and goes alright. AGAINST: Everything else. Has had one go up to 2000m in England and came fourth of six. Is more often seen running over 1600m. And his one win at this track over that very distance on this day last year was earned on a heavy track, which he likes a lot. Track should be good (dry) this time. Others preferred.
7. PINSTRIPED (11) $61/$11. FOR: Talented five-year-old who's very consistent, with six wins and five placings in 18 starts, and has shown a liking for the Valley, with two wins from two here, including at his last attempt over 1600m two runs back. AGAINST: He's honest, but he's one of the reasons to question if this is a classic Cox Plate. He's more known as a miler (1600m). His only attempt beyond was a third over 1800m in a restricted class race last May. His win here two runs back was at G2 level, and he attempted a G1 subsequently, for a fifth over 1600m in a handicap race far below this class. On top of all that, has the second-widest gate. Nah.
8. FANGIRL (9) $8.50/$2.60. FOR: Trained by the master Chris Waller, who's won this race four times. Admittedly, that was with the one super horse in Winx, but still, he knows what he's doing. Also has Zac Purton aboard, the Aussie who's one of the world's finest jockeys. He's dominated Hong Kong for the past few years, apart from when he's ducked back home to routinely win a big race or two. And the horse? She's a beauty. Plus she gets that mares' 2kg weight advantage over the males her age and older. Used to run into the great Anamoe a lot, but now he's retired she's won two G1s this spring, over 1400m and 1600m. She hasn't raced beyond 1850m, but, that was a G1 win, and it was meant to be 2000m before a late rain-enforced change of venue necessitated it being shorter, so Waller clearly feels she has 2000m in her. AGAINST: Still, she's a slightly-built five-year-old mare who's having her first attempt at 2000m – plus 40m – against a few very tough rivals in a Cox Plate. That's not to say she can't do it – and she whupped Mr Brightside soundly over his pet 1600m trip last start. But she also has gate nine to contend with. Place best.
9. DUAIS (1) $26.00/$5.50. FOR: Quality mare who's won three G1s. For the romantic at heart, she has the great veteran Damien Oliver aboard in his final Cox Plate, who's won it twice, and is trained by Ed Cummings, grandson of the great Bart. While his brother James trains for the massive Godolphin empire of Dubai's Sheikh Mohammed – and won this race last year with Anamoe – Ed is very much the little guy who trains a small team of 29 horses at semi-rural Hawkesbury outside of Sydney, and might just fashion corncob pipes in his spare time. Duais has also got the inside barrier, and she has been quietly building up some threatening form, charging home from the back for third placings in her past two starts, in the 1800m Underwood and the 2000m Caulfield Stakes, behind Alligator Blood both times. Is well proven at the distance, having won G1s at 2000m, 2200m and 2400m, and gets the mares' weight favour under WFA. AGAINST: Barrier one, possibly. She gets back in her races and may need luck in the straight in weaving through traffic, and it's a short home straight in which to do that. But, in Cox Plates, there's usually so much pressure and pace on that the leaders get the staggers in the last 400m, often drifting off the fence and allowing gaps for those behind. In a Cox Plate field with a few holes, quality-wise, she and Ollie might just pinch a place at big odds.
10. VICTORIA ROAD (6) $11/$3.50: FOR: Irish raider and probably the most intriguing runner in the field. From the massive Aidan O'Brien stable, and has Melbourne's premier rider Blake Shinn in the saddle. They do things differently in Ireland and Britain to here. This stallion won his maiden at his fifth start last year, then won two lower-level stakes races in France, then went straight to the prestigious Breeders' Cup in Kentucky and won a 2YO G1. Had two lead-up runs for this in August and September. Is eerily similar to State Of Rest who won this two years ago: classed as a 4YO stallion when down here, but he's only three by northern hemisphere breeding time, so receives a weight allowance at just 56.5kg. State Of Rest also had the perfect gate six, which has hatched more modern winners than any other, and was even trained by Joseph O'Brien, son of Aidan. Stable identified him as a Cox Plate type a good while ago, thus he's been sold to the same interests who bought 2020 winner Sir Dragonet, another Irish horse. AGAINST: There's just a lot of the unknown about any of these visiting types. He's a European having his first look at Moonee Valley, a tight and tricky track even for a lot of Australian horses, let alone Europeans used to far roomier tracks over there. He could settle on the pace or drop back, it's hard to say. He hasn't started since September 9, and you wonder how well imports acclimatised to Australia. Has tried 2000m once and it was the worst run of his career, a seventh in a G2 in France in August. He was, however, first-up from a long break, so you can forgive. Hard to bag him, or recommend with confidence. You'd need to see how his temperament is before the race, in Moonee Valley's pressure cooker atmosphere. Each way.
11. MILITARIZE (3) $8.50/$2.60. FOR: Very good 3YO who's won three G1s, two as a two-year-old, and then in the prestigious Golden Rose two runs ago. Has barrier three, so should gain an economical run. Top stable in Chris Waller, gun young apprentice jockey in Zac Lloyd. Best of all, he comes in with the "postage stamp" weight of 49.5kg. He profiles similarly to another son of the wonderful sire in Dundeel in Castelvecchio, who came second as a 3YO colt in this race in 2019, and even had barrier three. AGAINST: Bit of a worry about the distance. At least Castelvecchio had proven himself at 2000m the start before. Militarize won a 1600m G1 as a 2YO, which often indicates they'll cope with 2000m at three, but until they do it in a race you're unsure, especially one with as much pressure as a Cox Plate. Also, his last-start fifth over 1600m in the G1 Caulfield Guineas, for 3YOs, could have been a bit more impressive. He was a short-priced favourite, everyone was looking for his usual burst from the back in the straight, but in his first run the Melbourne anti-clockwise way of going, it never came. Place best.
12. KING COLORADO (10) $23/$5.50 FOR: Another 3YO colt so, again, the light weight. From the crack Maher-Eustace stable and has gun jockey Michael Dee, who's experienced but can still ride at a light weight. Tuned up OK with a fourth in the Caulfield Guineas, after a tough run when forced to travel wide. Like Militarize, won a 1600m G1 as a 2YO, and that was only his third start. Is bred to do very well, by a top British sire in Kingman and from a very successful American female side of the family. AGAINST: A lot was expected of him coming back this spring after that 2YO G1 success in June, but he's been a tad underwhelming, with a ninth, a seventh and then his fourth in the Caulfield Guineas. Made some ground that day, did have excuses after travelling wide, but was still 3.5 lengths off the winner and faces tougher opposition here. Wide gate doesn't help at all. Would need to pull a massive run out of the hat to beat some more seasoned, high-quality rivals here. Others preferred.
TIPS: 1. GOLD TRIP, 2. Alligator Blood, 3. Duais, 4. Victoria Road.
THINK. IS THIS A BET YOU REALLY WANT TO PLACE?
For free and confidential support call 1800 858 858 or visit gamblinghelponline.org.au.