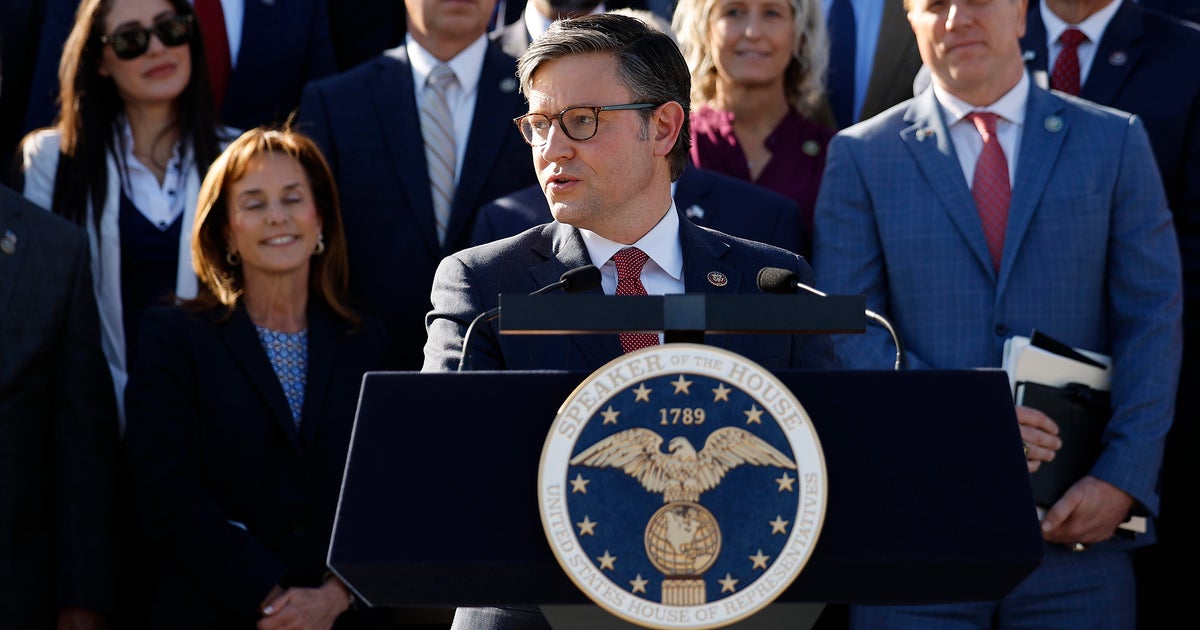 House Republicans on Wednesday chose the previously unknown conservative Rep. Mike Johnson to be the next speaker, with Democrats already pushing forward with attack ads on Johnson's record on the issue. 
In Jan. 2022, the congressman from Louisiana said "a child in the womb" is a "unique human being with unique DNA" from the moment of conception and he called for the Supreme Court to overturn Roe v. Wade long before the Dobbs decision in June 2022. 
Since the Supreme Court overturned Roe, Democrats have run on Republicans' opposition to abortion rights, a strategy that helped stave off what had been predicted as a red wave in the 2022 midterm elections. 
Ahead of Wednesday's speakership vote, House Judiciary Democrats posted a video on X of Johnson saying "Roe v Wade gave constitutional cover to the elected killing of unborn children in America, period. You think about the implications of that on the economy. We're all struggling here to cover the bases of social security and medicare and medicaid and all the rest. If we had all those able bodied workers in the economy, we wouldn't be going upside down and toppling over like this." 
Johnson is a constitutional lawyer and he served on the House Judiciary Committee prior to becoming speaker.  As House speaker, he would control what – if any – legislation will be brought to the floor on abortion and his view is also important given the division within the GOP on the issue. 
"Abortion takes a baby's life – a person – made in God's image," he tweeted in Jan. 2022 as he expressed his hope that  the Supreme Court would overturn Roe v. Wade. 
CBS News has reached out to Johnson's office for comment.  
Earlier this year, Johnson cosponsored a bill that sought to declare "that the right to life guaranteed by the Constitution is vested in each human being at all stages of life, including the moment of fertilization, cloning, or other moment at which an individual comes into being."
As a staunch abortion opponent he has also put forth multiple other pieces of legislation seeking to restrict the procedure, including cosponsoring a bill to defund Planned Parenthood. 
In February, Johnson introduced a bill that would make it illegal for minors to be transported across state lines to get an abortion "without satisfying parental involvement law." That legislation also sought to allow a parent to take civil action against anyone who does transport their child to receive an abortion unless the parent was involved in an incestual relationship with the minor. 
Last year, he proposed the Unborn Child Support Act, which would allow expecting mothers to collect child support payments while they are pregnant.
Johnson has also championed Lousiana's abortion law, which is a near-total ban and allows physicians to be fined or jailed for performing the procedure. 
The Planned Parenthood Action Fund, meanwhile, jumped into the fray on Tuesday saying Johnson has a "long and disastrous record of attacking abortion rights and the full suite of sexual and reproductive health care services."
"House Republicans, including those claiming to be moderates, know exactly what they are doing by electing him as speaker: they are fully embracing extremism and a plan to ban abortion nationwide," Alexis McGill Johnson, president and CEO of Planned Parenthood Action Fund said in a statement on Tuesday.