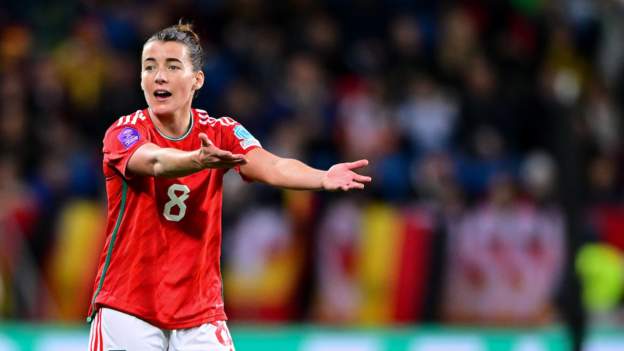 Wales suffered a second successive 5-1 defeat in the inaugural Women's Nations League, this time being demolished by Germany.
Gemma Grainger's side have made a disappointing start to their campaign – with a 1-0 loss in Iceland followed by a 5-1 defeat to Denmark in Cardiff in September.
Wales were on the defensive for most of Friday's match and although Ceri Holland equalised, Germany's dominance saw them score four second-half goals.
Three defeats mean Wales are bottom of their group before Tuesday's game in Denmark.
BBC Radio Wales Sport sought the opinions of three former Wales internationals following a difficult night in Sinsheim.
Kath Morgan, former Wales full-back
"We cannot fault the fact this team is in the A group for Nations League – they deserve to be there.
"However, it's taken 12 years to get here with the same core of players – Sophie Ingle, Angharad James, Jess Fishlock – they were there when Jarmo Matikainen took over.
"This is how long it takes to get where we are and nobody can take that away from us because we are, as Gemma Grainger is saying, competing with the teams we want to compete against.
"My problem is this – we suffered badly in that game, we suffered against Denmark.
"We've got a good starting 11, we've got consistent players who are playing at the highest level – physically, technically, tactically.
"When we play against a team who have been there, done it, won World Cups, we are nowhere near their level to compete.
"This is not being derogatory to our national team, that is the reality.
"It's like Merthyr playing Man City and the gulf between European teams who have been invested in by their associations for 30 years, we have to accept where we are.
"At the minute we are suffering in this group. Now as a player I would rather suffer in this group, playing against higher-ranked opposition.
"But I would say mentally, it's very draining. Physically, when you haven't got the ball, it is incredibly difficult.
"I feel for the players because I'm looking at them, and I know them individually, and I'm watching them suffer and I hate to see that.
"We've proved that we're good enough to be in this A league, all we need to do is beat Iceland on December the fifth in Swansea to stay in this division."
Katie Sherwood, former Wales midfielder
"To have two defeats 5-1, that's really, really tough mentally.
"The message from camp, I've been reading this week, players are saying, 'we know the path we're on, we know the journey and we have to trust the process'.
"But there's fundamentals that we're not doing right.
"I know we're trying to build our attacking play but we've lost the basics – like crosses coming into the box, the desire not to stop the cross.
"Yes, we're playing against quality opposition and you have to appreciate that. We are the fourth seeded team in the group and you have to take all that into consideration.
"But not stopping crosses, sometimes not tracking runners, player overloads on the back post.
"Organisation and communication between our back four and those midfield three, we've lost it somewhere. Defensively we're lacking what we've been so strong on previously.
"We need to utilise our bench more. Is there a lack of trust in the players on the bench? If we are going to go forward and qualify for major championships then we need to trust what's coming off the bench.
"We know we have quality there – Ffion Morgan, Carrie Jones, Megan Wynne – these are players who have been in the squad a long time.
"Is there a lack of trust or is it due to Gemma Grainger only really thinking about that strong 11?"
"You try and pick out positives but two defeats at 5-1 it's tough to think how do we recover and where do we go next?
"When you look at the men's game, it would be where are we going wrong, what needs to be changed?
"Gemma is trying to create an identity. Can she do things better?
"Don't be so stubborn in your identity, you have to think about the opposition you're playing and adapt. But if this was the men's game, those questions would most definitely be raised."
Jo Price, former Wales goalkeeper
"I hate to say this about Wales but while we play against stronger opposition our defensive duties have taken a back step.
"That can't happen, you're playing against the top-tier nations and you have to have the fundamentals – you have to stop the cross coming in, getting tighter.
"The overlaps and underlaps, Germany threw everything down there and I don't think whoever's duty it was, that the plan wasn't executed very well.
"I don't think that the score reflected the game, Germany had a large majority of the possession but I don't think Wales deserved to concede five.
"I do think in the last third of the match, heads went down, players were tired, players needed to come off, substitutes needed to be made.
"Two 5-1 defeats, I'm looking at what changes can be made and I'm not just thinking tactically, I'm thinking maybe a new manager."