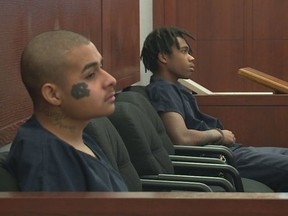 Article content
Two Las Vegas teens accused of killing a retired police chief were seen in court smiling, laughing and appearing to flip off the victim's family during a hearing this week.
Article content
Jesus Ayala, 18, and Jzamir Keys, 16, each face a slew of charges including murder in the death of 64-year-old Andreas Probst, a retired California police chief who was out for a morning bike ride on Aug. 14.
Article content
Keys is accused of filming the horrific video, which shows the two laughing and intentionally hitting Probst.
Recommended from Editorial
They are also accused of hitting another bicyclist earlier that morning and crashing into another car just before plowing down Probst.
The defendants could be seen smiling, laughing and making obscene hand gestures in a Las Vegas courtroom on Tuesday morning.
Article content
Once the teens sat down for the hearing, they began covering their faces to conceal themselves from the courtroom cameras before appearing to cover their mouths to stop laughing, KSNV reported.

Probst's family slammed the teens' disgusting actions.
"These guys did not respect the court whatsoever," Probst's 27-year-old daughter Taylor told reporters after the hearing.
"They were just d—ing around the entire time."
She said that during the hearing, in which a trial date was set, the teens flipped off her and her mother Crystal.
RECOMMENDED VIDEO
"How can you sit there after taking a man's life and act like such an entitled prick?" Taylor asked. "They really had no remorse, this is just a game to them."
Ayala's public defender David Westbrook also appeared to be laughing alongside the teen in the courtroom on Tuesday, according to video from KSNV.
Article content
Westbrook expressed his frustration with the release of the bodycam footage, saying he should be able to see it before the media, which obtained the video through a Clark County public records request, the outlet reported.
Probst's family disputed Westbrook's accusations.

"It was your people (Ayala and Keys) who put it in the media first," the victim's widow said, referring to the disturbing viral video of the deadly hit-and-run.
"Your clients are the ones that put that on social media. You opened the door and I'm not going to allow the door to close."
The judge set their trial date for Sept. 16, 2024. Ayala and Keys are being tried as adults.