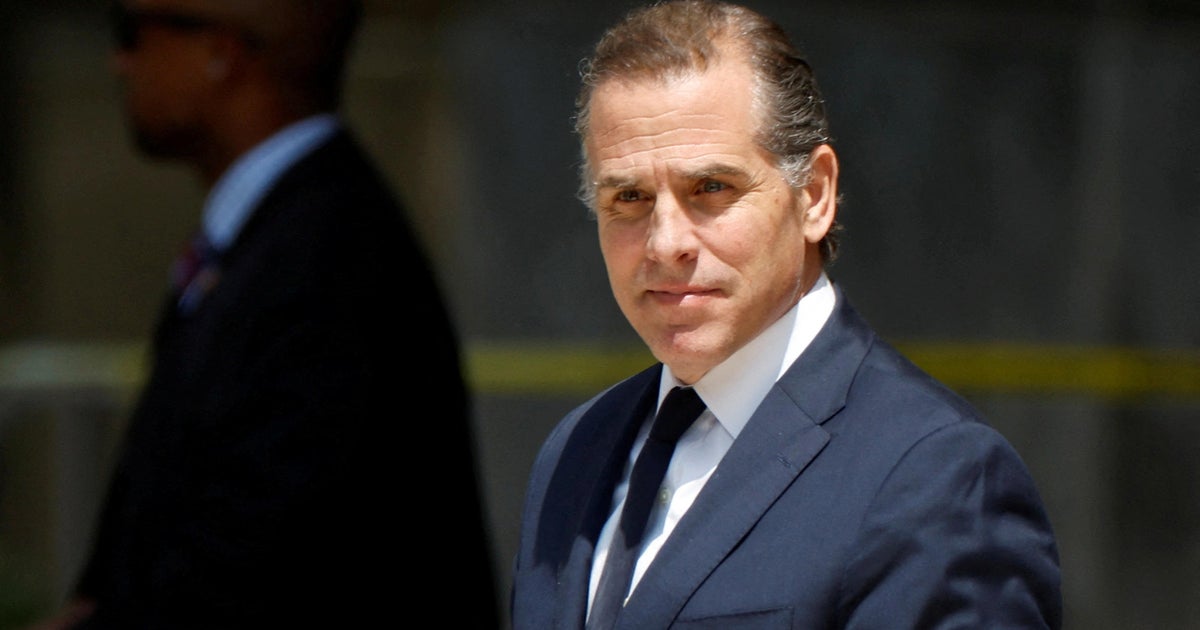 U.S. Attorney for Central California E. Martin Estrada told Congress that the prosecutor leading the probe into Hunter Biden had full authority to pursue criminal tax charges in California against the president's son, but declined any partnership with his office, according to records reviewed by CBS News that have not been publicly released.
Estrada's closed-door testimony partially contradicts claims made by IRS whistleblower and supervisory special agent Gary Shapley that David Weiss, the U.S. attorney for Delaware who has since been named special counsel in the Hunter Biden investigation, had stated in an October 2022 meeting  that he was "not the deciding person" to bring charges in the case. 
"My understanding was that Mr. Weiss had been doing this investigation for several years, was leading the investigation, and would bring charges if he believed they were appropriate," Estrada told the GOP-led House Judiciary Committee, according to the transcript of the closed-door interview.  
Two FBI officials assigned to the Hunter Biden investigation also told the committee earlier this year that they did not recall Weiss telling investigators he did not have authority to push the case forward himself. 
Referencing limited resources, Estrada, who was appointed by President Biden to be one of California's U.S. attorneys, said he declined requests made by Weiss, to partner with his office as co-counsel in the prosecution. But he did offer administrative resources and office space to Weiss' staff. 
A spokesperson for the U.S. attorney's office in Delaware declined to comment. 
As the Republican-led congressional investigations into Hunter Biden's finances and business ventures have pressed forward, one critical question has centered on whether senior Biden administration officials took any steps to impede or disrupt criminal probes into the president's son. 
IRS whistleblowers Gary Shapley and Joseph Ziegler, a case agent previously assigned to the Hunter Biden investigation told lawmakers that they recommended federal charges be brought against Hunter Biden at the conclusion of their tax investigation but were told prosecutors in Delaware could not pursue charges in other jurisdictions and that Weiss had been denied special counsel status at the time. They alleged intentional slow-walking and "an undeniable pattern of preferential treatment" in the federal probe. 
"There were really earth-shaking statements made by David Weiss," Shapley said in an exclusive interview with CBS News earlier this year. "And the first one was that he is not the deciding person on whether or not charges are filed," the whistleblower added. "It was just shocking to me." 
In a letter to Congress, Weiss refuted claims made by Shapley saying he did not request special counsel status and said he had not been blocked from pursuing charges in jurisdictions outside of Delaware. 
Attorney General Merrick Garland appointed Weiss to be special counsel in August, after Weiss had informed him that his investigation had reached a stage where he believed his work should continue as a special counsel, a designation that confers greater autonomy in conducting a probe.
 Former U.S. Attorney for the Western District of Pennsylvania Scott Brady, a Trump appointee, also testified before the House Judiciary Committee in the Republican-led probe into Hunter Biden's business ventures. Brady said that his office initially made little progress in its  investigation. He had been assigned by then-Attorney General Bill Barr to look into Ukraine and Hunter Biden's role on the board of Ukrainian energy company Burisma.  
Brady said his office ran into several roadblocks in trying to collaborate with the FBI, including heightened steps of approval and sign-off during the investigative process. 
"I think there was reluctance on the part of the FBI to really do any tasking related to our assignment from [Deputy Attorney General] Rosen and looking into allegations of Ukrainian corruption broadly and then specifically anything that intersected with Hunter Biden," Scott told lawmakers in closed-door testimony. "It was very challenging."