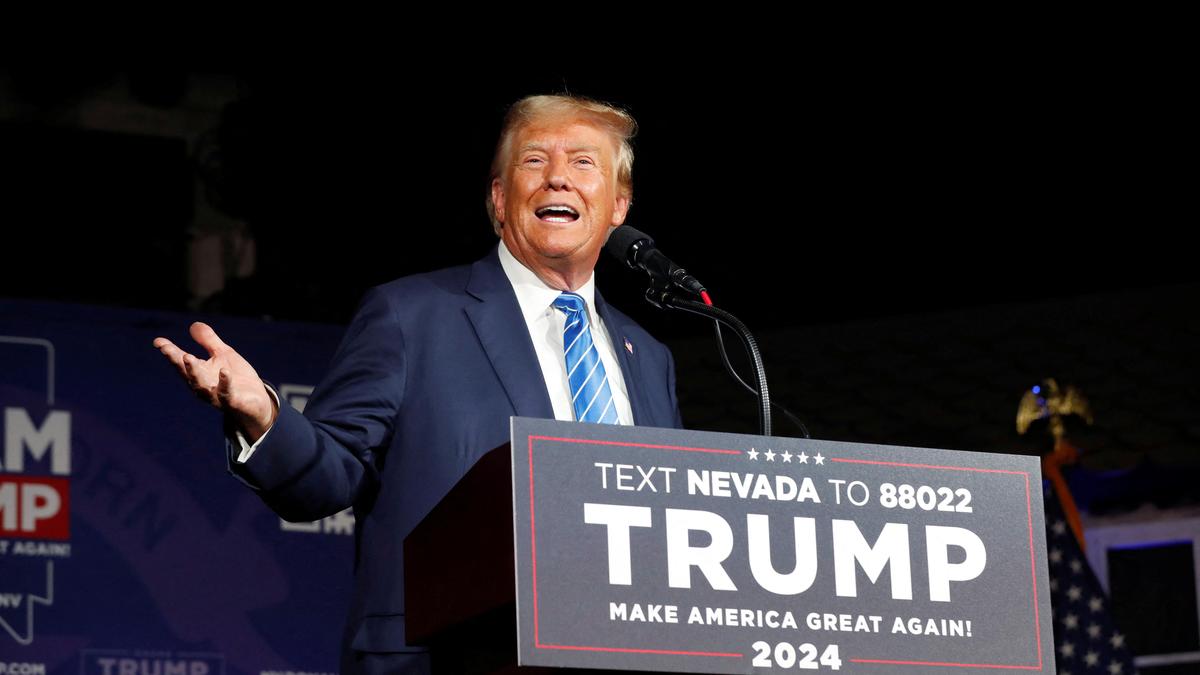 Former U.S. President Donald Trump has vowed to revive a controversial travel ban on people from some Muslim-majority countries if he is elected to a second White House term.
While speaking at the annual summit of the Republican Jewish Coalition on October 28, Mr. Trump, 77, said, "You remember the travel ban?" "On day one, I will restore our travel ban. We had a travel ban because we didn't want people coming into our country who really love the idea of blowing our country up." He said the travel ban imposed during his administration was an amazing success.
"We didn't have one incident in four years because we kept bad people the hell out of our country. We kept them out. We didn't have one, not one instance," Mr. Trump, the front-runner for the Republican Presidential nomination, said.
In 2017, at the start of Mr. Trump's presidency, he imposed sweeping restrictions on the entry of travellers from Iran, Libya, Somalia, Syria, Yemen and, initially, Iraq and Sudan.
The White House immediately slammed the former President.
"In 2020, President [Joe] Biden decried the 'unconscionable' rise in Islamophobia – which he called a 'pernicious disease' – and was proud to overturn the vile, un-American Muslim ban enacted by his predecessor," White House spokesperson Andrew Bates said.
"The need to come together against rancid hate is more pressing now than ever, as American Muslims and Arab Americans increasingly find themselves the targets of appalling smears and heartbreaking violence – including the barbaric killing of a 6-year-old child," he said.
In office, President Biden has taken unprecedented action against Islamophobia, and more will follow, Mr. Bates said.
"These disgraceful attacks against Arab Americans and the Muslim community are the opposite of what we stand for as a country, and they must be forcefully condemned by all Americans who, like President Biden, believe in human dignity. The spike in Islamophobic incidents is a direct attack on the character of our nation. It's critical that we give hate no safe harbour," he said.
Before hundreds of cheering supporters, Mr. Trump also vowed to stand alongside Israel's mission to destroy Hamas, defend America and Israel from barbaric terrorists, and reverse the Mr. Biden administration's appeasement of Iran.
"To every Israeli and every American touched by these barbaric activities: We love you, we're with you, we grieve with you, we share your anger and we stand with you 100%…110%," he said.
"To every American who is terrified that Joe Biden's weakness will bring our country to ruin, I make you this promise: As your President, I will restore peace through strength — and yes, I will prevent World War III," he said.
He said during four years of his presidency, he kept America, Israel and the world safe.
"Today, the world is blowing up all around, no matter where you look. If I were President, the attack on Israel would never, ever have happened," Mr. Trump said.
"We eliminated the world's top terrorist—the most brutal terrorist of them all — the Iranian Butcher, [Qasem] Soleimani. We eliminated him," he asserted.
"Instead of cuddling up to the killers in Iran as Biden has done, I will once again sanction them until their ability to fund terror is absolutely gone. And I will unleash the most powerful economic weapon there is on Earth — drill baby drill!" he said.
"After decades of broken promises by past leaders, I kept my promise, recognised Israel's eternal capital, and opened the American embassy in Jerusalem," he said.
"When I am back in the White House, America's enemies will know once again that if you try to kill our citizens, we will kill you. If you spill a drop of American blood, we spill a gallon of yours," Mr. Trump said.
Mr. Trump said he will also terminate every open border policy of the Biden administration.