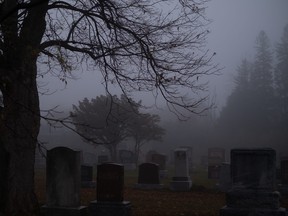 Article content
It's that time of year when the weather starts to turn and the evenings get darker faster than before.
Article content
But as Halloween creeps up, it's not all pumpkins and candy.
Article content
For those intrigued by the supernatural, a new report identified Canada's most haunted provinces.
BonusFinder Canada looked at a variety of spooky factors, including the number of haunted locations, cemeteries and memorials, ghost towns and communities, abandoned properties — and even the species of spiders — in different provinces.
They used the data to assign provinces a score out of 10. (Note: Due to the lack of availability of data, Prince Edward Island and Northwest Territories were not included.)
RECOMMENDED VIDEO
Saskatchewan is considered the most haunted, boasting the creepiest regions in Canada, with a score of 7.4.
It had the highest concentration of memorials per 10,000 residents (5,368), and one of the highest number of cemeteries per 10,000 residents (20).
Article content

Saskatchewan also has 140 ghost towns, while about 12% of the Prairie province's properties are abandoned.
That includes Regina's historic Government House, which is believed to remain the haunting grounds for former groundskeeper Peter Rindisbacher.
Just behind Saskatchewan, with a score of seven, is Newfoundland and Labrador, which boasts the highest number of cemeteries — a total of 1,821 — per 10,000 residents (34).
There are also 341 ghost towns and the highest amount of abandoned houses (16.5%) out of all the provinces.
Commissariat House in St. John's is renowned for its paranormal activity, including sightings of a spirit believed to be Anne, the daughter of a former colonial governor.
Anne reportedly died of tuberculosis in the house, and her ghost is supposed to be seen wandering the hallways or gazing out the windows.
Article content
Nova Scotia came in third with a haunted score of 6.1 due to its number of cemeteries (22) per 10,000 residents and volume of memorials – 4,743 per 10,000 people.
While it has a barely there number of ghost towns — only eight in total throughout the province – 9.2% of its properties are abandoned.

Alexander Keith's friendly ghost reportedly has a reputation for making appearances at Keith's Brewery in Halifax, often near the old cellars. Beer lovers can hardly blame him for visiting every now and again.
In fourth place is Manitoba, scoring 5.8 on the haunted scale. Of all the provinces, it has the creepiest-crawliest factor in that it is home to 39% of the 1,379 species of spiders discovered in Canada.
Rounding out the top five is Yukon, with 11.9% of its houses being abandoned and a decent number of ghost towns (2.05) per 10,000 residents.
New Brunswick, Alberta and Ontario followed in sixth, seventh and eighth places, respectively, while British Columbia and Nunavut tied for last.