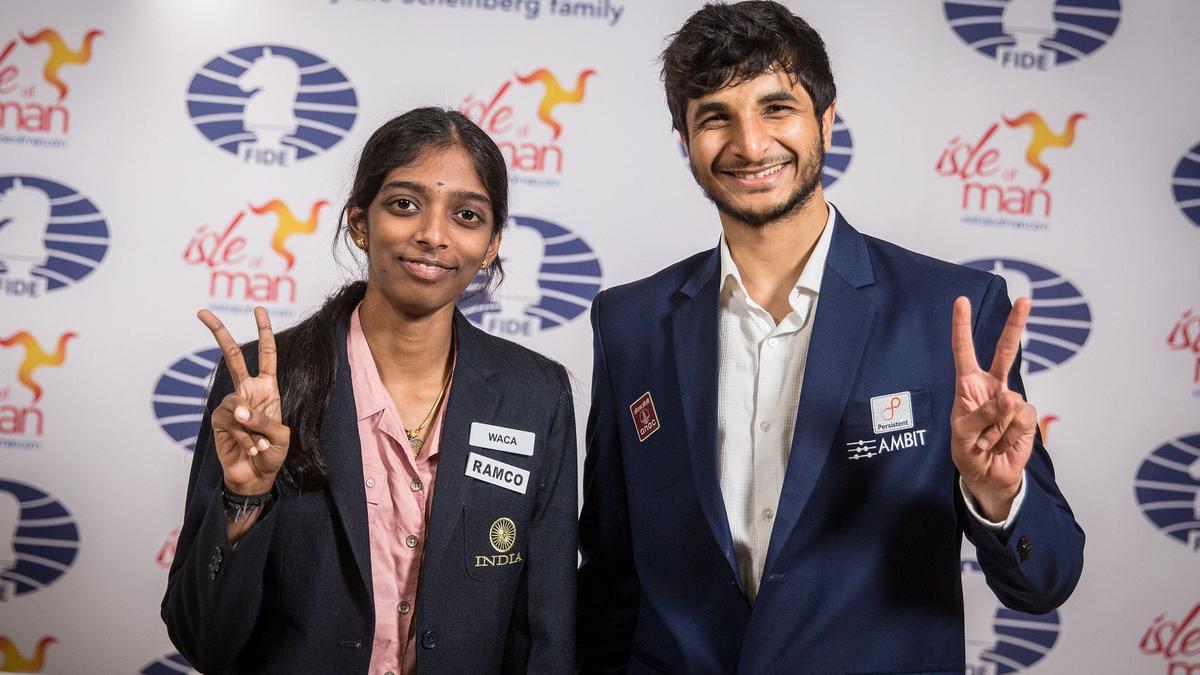 In the excitement of India's annihilation of its rivals at the ongoing cricket World Cup at home, it would have been easy to overlook what was happening at a place called the Isle of Man, in the Irish Sea. But we shouldn't.
For, India recorded one of its greatest moments in chess on November 5, winning both titles at the Grand Swiss tournament. Vidit Gujrathi emerged as the open champion, while R. Vaishali claimed the women's title; they both thus earned places in the Candidates tournament, the qualifying event for the World Chess championship match.
Because of the qualifying places available— two slots each from either tournament— Grand Swiss attracted the world's best talents. Gujrathi and Vaishali weren't among the higher seeds.
Gujrathi was seeded 15th in the open tournament, behind the likes of Fabiano Caruana, Hikaru Nakamura, Alireza Firouzja and fellow Indians D. Gukesh and R. Praggnanandhaa. In the women's section, Vaishali was seeded 12th; her Elo rating of 2448 points 110 below top seed Aleksandra Goryachkina.
Vaishali needed only a draw in the final round against Batkhuyag Mongontuul. She got that without too much trouble. The 22-year-old from Chennai finished with 8.5 points— a clear first— half-a-point ahead of Anna Muzychuk.
Gujrathi, however, needed to win his final round game and he also needed the other top boards to finish the way he wanted, as there was the possibility of a tie for the first place and his tie-break score wasn't the best among the three leaders.
Gujrathi defeated Alexandr Predke, while his rivals, Nakamura was held to a draw by Arjun Eriagaisi and Andrey Esipenko was beaten by Anish Giri. Gujrathi thus became the champion with 8.5 points.
The 29-year-old from Nashik also became the second Indian to make it to the next year's Candidates. Praggnanandhaa had already booked his ticket for Toronto by finishing runner-up at the World Cup. His elder sister Vaishali's feat doubled the joy for his family.
The winner of the open Candidates tournament will earn the right to challenge Ding Liren for the World title, while the women's champion will take on Ju Wenjun.