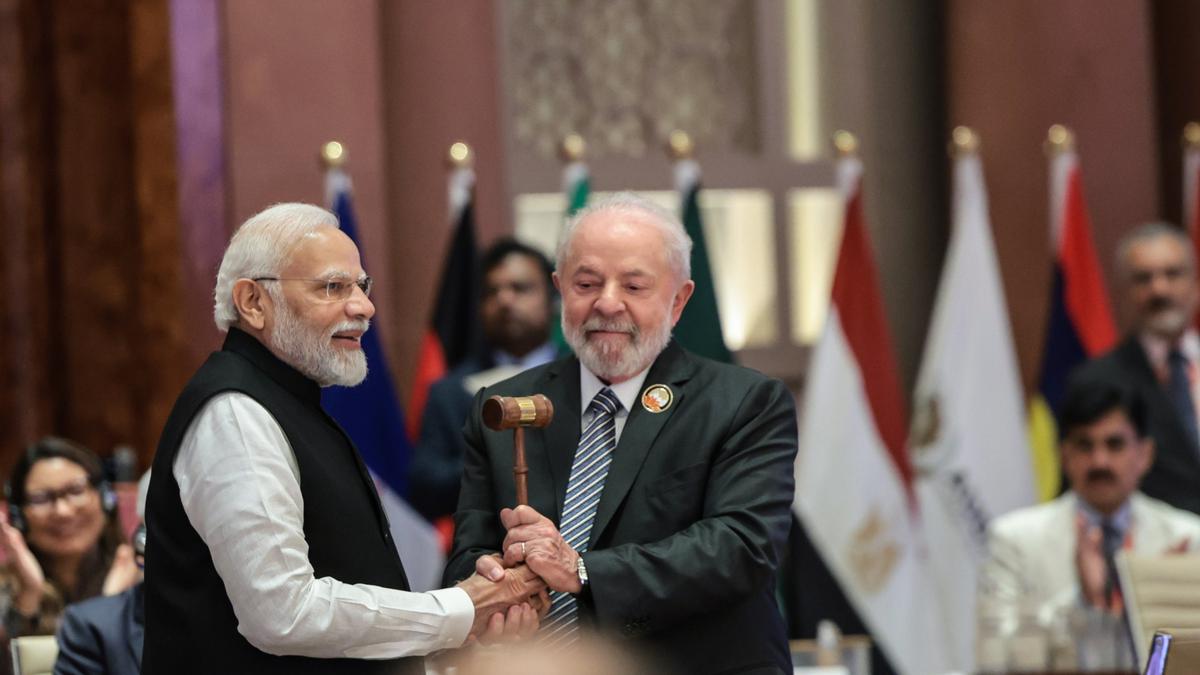 People of Madhya Pradesh looking for a change, says Kamal Nath
Madhya Pradesh Congress president and former Chief Minister Kamal Nath asserted that the people of the State will vote out the BJP as they are looking for a change. "I have been in politics for 45 years and can read their sentiments. People of Madhya Pradesh want change and the BJP is going to lose the elections by a huge margin," Mr. Nath said.
Brazil to give continuity to India's presidency of G-20, says Ambassador, ahead of handover
As India prepares to end its G-20 presidency this month with two separate virtual summits to be chaired by Prime Minister Narendra Modi, Brazil hopes to give "continuity" to New Delhi's priorities, its ambassador said. The Ministry of External Affairs (MEA) has sent out invitations for the two summits — the Second Voice of Global South Summit to be held on November 17, and the G-20 Virtual Summit to be held on November 22.
Nitish Kumar's remarks spark debate about 'culturally appropriate' ways of disseminating sex education
While the tone and tenor in which Bihar's Chief Minister Nitish Kumar raked the topic of family planning in the State Assembly can be debated, it has sparked a controversy over his remarks being 'culturally inappropriate.'
11.5 crore PAN cards deactivated after missing deadline for linking with Aadhaar: RTI reply
A total of 11.5 crore PAN cards were deactivated for not being linked to Aadhaar cards before the stipulated deadline, a Right to Information (RTI) reply by the Central Board of Direct Taxes (CBDT) stated. 
Congress hits out at Modi over remote control jibe directed at Kharge
The Congress hit out at Prime Minister Narendra Modi on Wednesday over his "remote control" jibe at the party's president Mallikarjun Kharge, asserting that it was an attack on all those who came from "oppressed backgrounds" but aim to succeed in life.
Government mulls ombudsman for air travellers
With domestic air travellers exceeding pre-Covid levels month after month and recording new highs, a spate of complaints from passengers has forced the government to discuss setting up of an ombudsman or an authority to address grievances.
Congress approaches Election Commission over 'misuse' of ED in Chhattisgarh
The Congress on Wednesday approached the Election Commission to complain about "prejudicial action" by the Enforcement Directorate in poll-bound Chattisgarh. The specific instance is the Mahadev Betting App scandal.
Delhi to try out artificial rain over pollution woes
Delhi Environment Minister Gopal Rai on Wednesday announced that the national capital would be attempting to induce artificial rains to tackle the rising pollution. The Minister cleared the confusion over the implementation of the vehicle rationing scheme. He said the government would implement the scheme after it submitted two case studies to the Supreme court and was awaiting its go-ahead to implement the proposal.
World will overshoot 2030 coal limit to tame warming by twice over
Notwithstanding the global consensus among countries that fossil fuel emissions must be eliminated, a new report says that the governments plan to produce twice as much fossil fuels in 2030 than would be consistent with limiting warming to 1.5°C, and 69% more than would be consistent with 2°C.
MHA calls for Aadhaar authentication of prisoners, visitors to ensure safety
Prisoners lodged in the approximately 1,300 jails across the country, and their visitors, may have to undergo Aadhaar authentication, an initiative of the Ministry of Home Affairs to ensure the security of the inmates, and prevent identity fraud. 
European Union moves closer to starting accession talks with Kyiv
The European Commission, the EU's executive arm, on Wednesday, formally declared that the bloc should begin accession negotiations with Ukraine, as well as Moldova. EU leaders will need to approve the recommendation when they meet in December, for accession talks to begin.
World Cup 2023 NZ vs SL | Kiwis keen to stay in the semifinal race, meets wounded Sri Lanka
With Australia having sealed a semifinal spot with an epic win on Tuesday night, the race is on to grab the fourth and last remaining berth. New Zealand will emerge as the frontrunner to win this sprint, if the side can post a victory over Sri Lanka at the M. Chinnaswamy Stadium here on Wednesday.