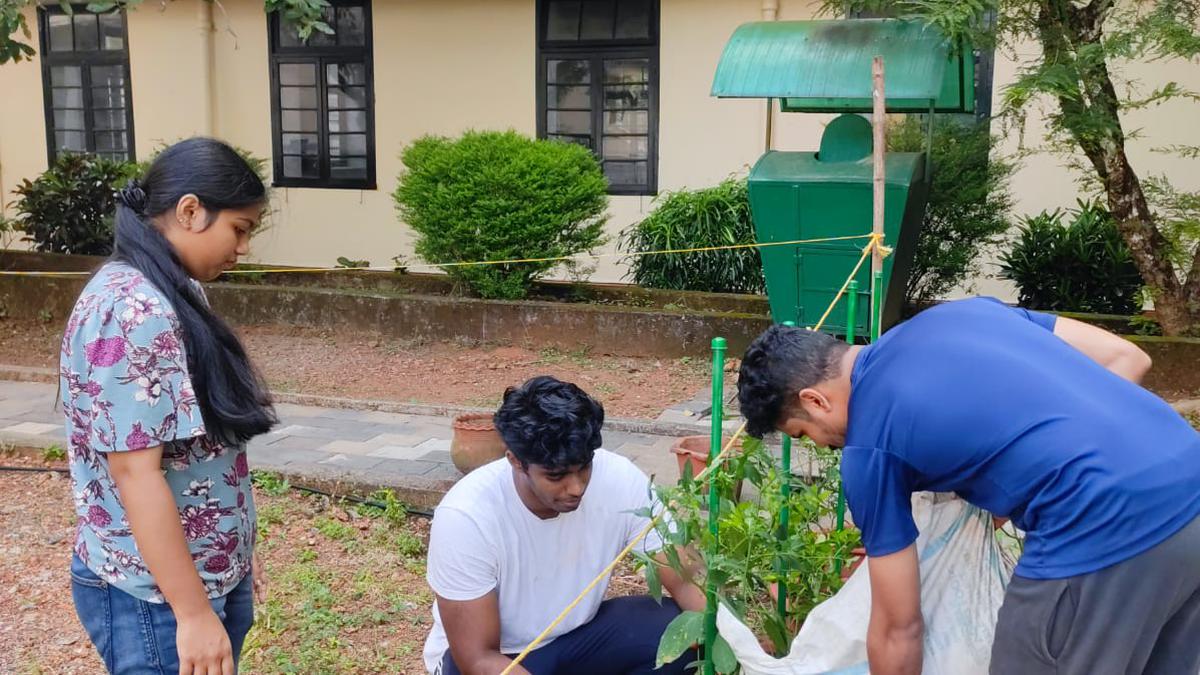 Watering the plants at home when one is out of station is a challenge faced by most people who like to travel, and even those with a busy schedule. 'Pro-planter', being launched by the Niravu Farmer Producer Company on Monday, is an answer to the prayers of such people.
A system that can be activated from anywhere in the world through a mobile application, 'Pro-planter' is a unit managed by a team of six young farmers under the Niravu FPO, headed by Harikrishna D., one of the 27 farmers from Kerala who had visited Israel to study the novel farming methods there in February 2023.
"The farming sector is completely automated in Israel. The farmer controls everything through the Internet and needs to be physically present only to reap the benefits. We customised the idea in view of the smaller farms in our State", Mr. Harikrishna said.
The Niravu FPO has joined hands with the Sustainable Development Goal cell of Providence Women's College. The other members of the team are Ginu M., Akshay M., Sreenanda P., Abina, and Reema P.P.
The Pro-planter, in its current form, consists of a controller, a potting mixture with 18 micro nutrients and coconut husk with proper aeration and humidity, besides a network of pipelines. One unit can be connected to a minimum of 15 and maximum of 400 earthen pots with plants of the farmer's choice.
"At present we are targeting only small household farms, be it vegetable gardens or that of flowering plants," Mr. Harikrishna added.
The team sets up the unit at households and services it four times a month. Designed specifically for urban part-time farmers in Kozhikode city, the basic unit may cost around ₹10,000, excluding pots and plants. The team plans to expand the project to Vadakara in the near future and incorporate facilities to control the fertiliser requirement gradually. NABARD has supported the technology with a grant of ₹3.28 lakh.
"This is an attempt to introduce novel technology to the common man," said Babu Parambath, Project Coordinator of the Niravu FPO.