The City of Sydney has said it will gradually phase out the use of plane trees across the streets of the city.
Plane trees, which account for almost 10% of the street and park trees across the whole City of Sydney but are the dominant species in some areas, have had their fair share of critics over the years.
Tim Flannery once called them "foreign weeds … about as much use to our wildlife as concrete posts".
A decision to plant an avenue of them along William Street in the city's east in 2005 was labelled "disastrous" and community activists have long been calling for Sydney to follow Melbourne's lead and phase them out.
Chief among the critics are asthma and hay fever sufferers. In spring, plane trees drop fine spiky fibres or hairs called trichomes that can irritate people's eyes, nose and throats. But there are few studies supporting the link with asthma, and the dropping of trichomes coincides with periods of high pollen from other sources.
Still, the director of respiratory medicine, allergy and clinical immunology research at Monash University, Prof Robyn O'Hehir, told Guardian Australia in 2019 when Melbourne's ban was being considered that the fine particles from plane trees could cause throat irritation and laryngospasm – a spasm of the vocal cords – even in people who are not prone to allergies.
But the City of Sydney's decision was based on a different reason – the changing climate.
By 2050, Sydney city's climate is projected to be similar to Grafton's current climate, the council's urban forest manager Karen Sweeney said.
As it grapples with how to preserve the city's canopy cover in a changing climate with hotter conditions and longer periods of drought, the city is looking at changing the mix of trees and moving away from the plane tree.
"Because trees take time to grow, we can't wait until 2050," she said. "We need to start now to transition our forest to be able to thrive under the climate we are tracking towards.
"It's really important in terms of managing urban heat that there isn't a big loss in canopy cover from trees not being able to thrive at that point in time."
The council has endorsed new urban forest and street tree plans that aim to increase the city's canopy cover to provide shade and keep communities cool.
Experts went block by block and street by street to determine which species would be the most appropriate in conditions which, by 2050, would be hotter and more humid, with longer periods of drought.
Under the City of Sydney's approach to tree removal, trees are only removed as a last resort. It means varieties of trees that are unlikely to be resilient in the changed climate will be gradually replaced as they reach the end of their life.
The trees will be replaced with a mix of native species – such as bloodwoods, tulipwoods and ivory curls – and introduced deciduous species that still allow light to shine through on to homes in winter but are more resilient to heat and drought.
Sweeney said this meant in about 98% of locations, plane trees would be replaced. But she said they would still be planted in some locations where they had high cultural significance, or where the micro-climate was such that it could support the species' ability to thrive under changed climate conditions – for example, a well-irrigated park with good soils.
"It will be a gradual change rather than a drastic one," Sweeney said.
"We have already removed plane trees in some locations but people will notice it more in coming years."
John Siemon, the director of horticulture and living collections at the Royal Botanic Gardens Sydney, is responsible for about 50,000 trees covering 730 hectares.
It was important to remember why plane trees were planted in such large numbers in the first place, he said.
"Plane trees are a remarkably resilient species – they thrive under concrete and landscaped areas and they provide amazing shady avenues," Siemon said.
A number of alternatives, including natives, were tried in the past, "but some didn't thrive", he said.
"But with a changing climate, we need to revisit some of the things that were done in the past."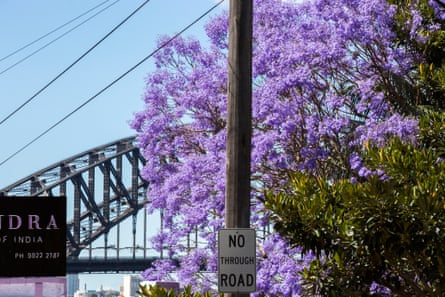 There are also benefits to mixing up the number and types of species used.
"Planting multiple species is a good strategy in terms of increasing diversity to mitigate pests and diseases."
"I think we should always turn to natives as our first choice," he said.
"Many natives are more resilient and adapted to our climate, but there are a variety of reasons you might go with exotics.
"Very few Australian species are deciduous. There are some, but they may not fill the environmental role needed."
As alternatives to plane trees, Siemon suggested natives including the Illawarra flame tree (Brachyiton acerifolius), Waterhousia (Waterhousia floribunda), the Queensland brush box (Lophostemon confertus), the Water gum (Tristaniopsis laurina) or a popular exotic species such as the much-loved jacaranda (Jacaranda mimosifolia), which is currently in bloom.
"One of the oldest native street tree plantings, the Ficus macrophylla (Moreton Bay fig), that you see in the Domain is also one of the most successful, and planted way back in 1847. People love the huge shade canopies the trees provide."