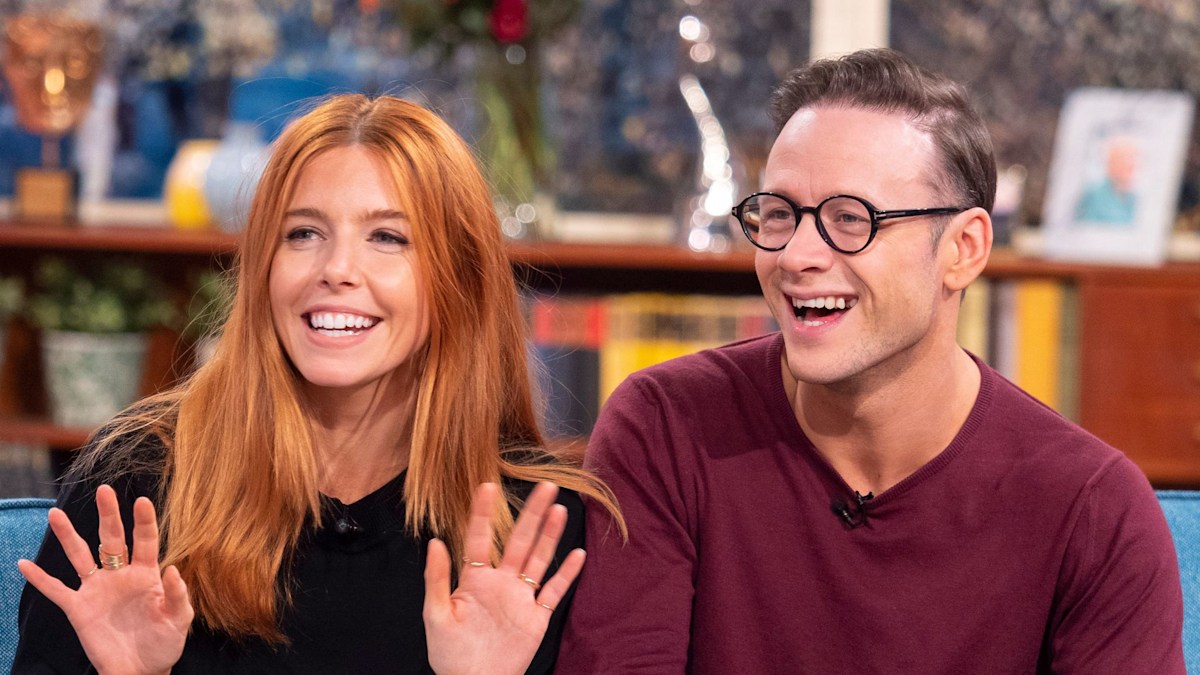 Kevin Clifton and Stacey Dooley became proud parents back in January when they welcomed baby daughter Minnie, and on Saturday, the couple delighted fans with a brand-new photo of their tiny tot.
Taking to Instagram, former Strictly professional Kevin, 41, melted hearts with a precious picture of baby Minnie sitting in front of the TV wearing pumpkin patterned Halloween pyjamas.
Take a look at Kevin and Minnie's bond in the video below… 
In the cute snap, Minnie is pictured sitting on a cosy-looking round play mat complete with a stylish frill trim. Whilst the teeny tot's face was hidden to protect her privacy, Minnie's red-hued locks were on full display. Adorable!
Captioning the update, Kevin penned: "Minnie ready to take notes for me @bbcstrictly #ItTakesTwo."
Bowled over by the sweet image, Kevin's fans and friends flocked to the comments section to share their thoughts.
"Awww love her and her jammies are soooo cute," noted one, while another chimed in: "Your Minnie's first Halloween."
A third remarked: "Crikey she's getting big! Only seems like yesterday Kevin & Stacey," and a fourth simply added: "That little tuft of hair is everything!!"
Since welcoming their bundle of joy, Stacey and Kevin have shared glimpses inside their parenting journey.
And during a recent interview with HELLO!, Stacey spoke about how her priorities have significantly shifted since becoming a mother.
"It's hard not to slip into clichés when I'm asked this but honestly becoming a mum has changed me entirely," she explained.
"Every stage is a surprise! The emotions are completely overwhelming," she told us. "I'm obsessed! My priorities have shifted massively. My daughter is the love of my life… So cheesy but so true!"
The 36-year-old also revealed that she discovered a newfound respect for her mum, Di, who raised Stacey as a single parent.
"Becoming a mother myself I have a whole newfound respect for my own mum. It changes the dynamics," she explained.
Proud dad Kevin has also been incredibly vocal about his experience as a first-time dad. Appearing on BBC Morning Live, the Strictly star revealed: "I'm obsessed, I'm absolutely obsessed.
"We've just completely fallen in love with her. "I do feel a little bit guilty sometimes when I'm on the road. Like I miss them as they're obviously at home, but I do get a night's sleep."
The smitten couple are raising little Minnie in a gorgeous family home decked out with Scandi-inspired interiors. Their stunning property is a real feast for the eyes and boasts large rooms with sky-high ceilings.
For some added warmth, Stacey and Kevin have fitted out their abode with rustic furniture, herringbone flooring, leafy plants and cosy, boucle chairs.