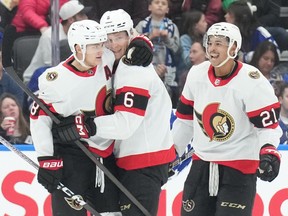 Article content
SENATORS 6, LEAFS 3
Article content
The Ottawa Senators made a statement Wednesday night.
Article content
The Senators couldn't have picked a better stage than the first round of the Battle of Ontario to get their act together as they scored a 6-3 victory over the arch-rival Toronto Maple Leafs at Scotiabank Arena.
The Senators' best players were their best players as Tim Stutzle led the way with a four-point effort. Dominik Kubalik and Claude Giroux each scored twice while Jakob Chychrun also chipped in as the Senators halted a two-game losing streak with three unanswered goals in the third.
Mathieu Joseph stepped up with three assists and Giroux also had a three-point night.
"I feel like I wanted the puck tonight and I felt like our whole line was going," Stutzle said. "We had two really good days of practice to find chemistry, we were working hard and getting pucks. There were a lot of positives for the whole team tonight.
Article content
"We worked pretty hard as a group. It's hard, you always want to win. I hate losing. The whole group knows it's all about winning. There's a lot of noise around us but we showed can win and we had a great effort."
Giroux' second of the game at 15:06 of the third opened up a three-goal lead for the Senators. Not long after Kubalik scored his second on the power play to break a 3-3 tie on the power play at 11:55, Stutzle broke a seven-game drought with his third of the season at 12:41 to give the club a 5-3 lead.
The Senators scored three goals in a stretch of three minutes and 11 seconds to put this one away.
"We stuck to it," said Joseph. "I thought it was a good 60 minutes. We battled in the structure and the system. When we do that, we're hard to beat."
Article content
The Senators came into this game sitting in last place in the East and No. 29 overall in the NHL. The club had just one win in its last six games and needed to find a way to keep Auston Matthews at bay to begin the climb back to respectability.

Booed off the ice after a 6-4 loss to the Tampa Bay Lightning on Saturday at home, the Senators needed to have a strong effort in this one. Coach D.J. Smith felt everybody was trying to do too much, and all he asked in this one was that the players do their jobs.
After being pulled against the Bolts, it was no surprise to see the Senators go back to Joonas Korpisalo in this one. He made some key stops, but could do nothing as the Senators were caught on an odd-man rush that set up goal by by Nick Robertson to tie it up at 7:42 of the third.
Article content
"We stayed with it," said coach D.J. Smith. "We were much better in our zone. We broke the puck out well and the power play gets us a big goal. We got down early, we stayed with it and I thought were a lot more composed."
STOPS 'N' STARTS
Stutzle picked up his second assist of the game by throwing a pass to Chychrun in the slot, and he fired one by Leafs goalie Joseph Woll. That gave the Senators a 3-2 lead heading to the third … Great pass by Joseph to set up Giroux for his fourth of the year to give the club a 2-1 lead 1:04 into second. He was alone in the circle and went upstairs on Woll … How much do defensive zone faceoffs mean? A lost draw by Josh Norris in the Ottawa end to John Tavares set up Tyler Bertuzzi to tie it up 2-2 at 4:15 of the second … The Senators did a better job skating and pushing the pace through 40 minutes.
Article content
THIS 'N' THAT
Toronto's William Nylander opened the scoring with a blast by Korpisalo on the glove side on the power play at 5:47 of the first. That came only four seconds after defenceman Travis Hamonic was sent to the box … Kubalik tied it up 1:24 after Nylander gave the Leafs the lead. With two Wednesday, Kubalik now has four goals in his last four games. Belleville callup Roby Jarventie picked up his first NHL point with an assist on the blast … Korpisalo stole one by making a huge backhand glove stop on Matthews with 56 seconds left in the first. He made a nifty move around rookie D Tyler Kleven to get in alone.
OFF THE GLASS
Giroux took his game to another level. "It definitely feels good. We're happy with the way we played and we played the right way," Giroux said. "When they tied it, we just kept going and we didn't change the way we were playing." … Smith opted to skip the morning skate and hold a meeting at the club's downtown hotel. That was a good idea because it meant the Senators got a lot less media attention. That didn't get by Keefe. "They're hunkered down at their hotel to avoid you guys, and be ready," Keefe told Toronto reporters.
Article content
NO ZUB RETURN
The Senators will have to continue to wait for Artem Zub.
Zub took a puck in the ear Oct. 18 against the Washington Capitals and the hope was he would suit up in this one against the Leafs. He skated Wednesday morning and the belief was he would take part in the warmup before a decision was made on whether he'd play.
But Zub didn't take the warmup and missed his seventh straight.
Zub skated in a pairing with Jake Sanderson, and getting him back would give the club depth on the back end. The Senators are looking forward to having him return.
"He's a guy that's played a lot of games and he can really defend," Smith said before the game. "He's going to help your penalty kill, your breakouts and help your rush.
"He hasn't played in a while so it's not going to be the exact same, but he can eat a lot of minutes. He's a very solid defender."
It's not known if Zub will be available to face the Vancouver Canucks on Thursday night at the Canadian Tire Centre.