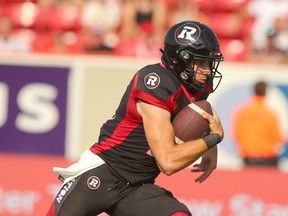 Article content
The last Redblacks practice of the season was held Friday under grey clouds and a light rain, gloomy conditions befitting the occasion as it was taking place three weeks earlier than any of them wanted.
Article content
The session attracted at least four special guests: Nigel Romick's wife Melissa, his almost two-year-old daughter and his best friend, who had travelled in from Thunder Bay as a surprise.
Article content
On the sidelines across the field from the loved ones of the only original Redblacks player was team owner Roger Greenberg, who very well could have been skipping one of his beloved pick-up shinny games so he could address the 4-13 squad before its season finale Saturday night (7 p.m.) against the Toronto Argos.
Wearing a ball cap and and dressed like the fan he is, Greenberg spoke to players, coaches and the rest of the staff who gather around him before calling it a day. When he finished his message, his audience clapped.
What did the boss say?
Article content
"Pretty much that this is an opportunity to start building into next year and an opportunity to go out and win another game," quarterback Dustin Crum said when asked for the Coles Notes version. "And that it's obviously an important game for us, (to show) how we care about the fans as well. And then just honestly, kind of what everyone knows, that it wasn't the result we hoped for in the season, long-term wise, but obviously there definitely were signs of improvement and growth from last year to this year."
A positive spin, for sure.
After appearing in three Grey Cup games (and winning one) between 2015-2018, the Redblacks have plummeted to the bottom of the CFL standings.
After three-win seasons that sandwiched a 2019 campaign cancelled by COVID, the team came back to win four games in 2022.
Article content
So the growth, as far as tangible evidence goes, would be one more victory – and that's only if the Redblacks can prevent the Argos from setting a franchise record by winning their 16th game of the season.
But at least, through this summer/fall of disappointment, it's clear the owner has the team's back.
If he's really pissed, he's doing a good job of hiding it.
If there are going to be changes, you get the feeling it won't be a housecleaning.
"I've been around Roger a long time, and you love having him address the team and talk about the passion that he has for this team, this organization, this city," said head coach Bob Dyce. "Even in bringing this team back (from the ashes of the Renegades and Rough Riders).
"When he shares that with the players, it takes extra meaning. You know he cares. That's what I know from being here eight years .. how very much Roger cares about these players as people and winning. It carries a lot of weight."
Article content
Romick cares too.
Coming off a knee and ankle injury that kept him out of the last two games, the 32-year-old wanted to suit up for the finale and help the Redblacks end on a positive note that might slightly soothe the disappointment and frustration of another losing season.
Could it be the last game of his career?
The 6-foot-5, 241-pound defensive lineman/special teamer sure hopes not.
"You never know when your last game is," said Romick, who has suited up for 67 of them with the Redblacks since they selected him in the third round of the 2014 CFL Draft. "I always try to go out there and play like it's the last game. It could be the first game of the season or the last game of the season. So I like to prepare for each game the same way, and just go out there and enjoy myself and try as hard as I can."
Article content
Romick wants to continue playing both for the memories of his two little kids, and his own.
"It's been hard for the last four years," he said. "I don't want to go like the way it has been"
Would he sign elsewhere if the Redblacks decided not to offer him a contract?
"Potentially," he said, "but I love playing in Ottawa. I've been here my whole career. So it's a special place in my heart. But who knows?"
It would be a surprise if the team decided to move on from Romick, especially the way he's viewed by Dyce.
"I've been blessed to work with Nigel since I got here in 2016," said Dyce, the Redblacks special teams coach before becoming the sideline boss last season. "You take away the football player part of it, as a man he's just a pleasure to work with. He comes out here works every single day and performs at an extremely high level. I know we've had some phenomenal players, but in some ways you can say Nigel Romick is the best special teams player that's ever played for the Redblacks because he's been so consistent throughout his whole career."
Article content
FROM THE SIDELINES: If he could send along a message to the fans on Saturday,  Fan Appreciation Day, Crum said he would thank them for all the support and assure them all the players have experienced their frustrations. "There's no one on this team that doesn't care just as much as they do," said Crum, "and no one that isn't going to do everything we can to get this thing headed in the right direction." … Dyce, on the importance of winning the last game of the season: "That's our that's our main focus. At this time, we can't change what's happened in the past, but we certainly can affect the future. We can use this as a springboard. The last thing you want to do is go into offseason thinking about what could have been. We can't change the previous 17 games, but we can affect the future and our immediate future is 7:12 p.m. tomorrow and we can play a complete game."
dbrennan@postmedia.com