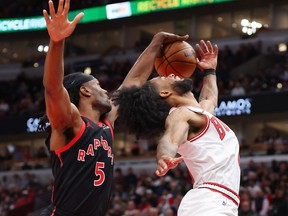 Get the latest from Mike Ganter straight to your inbox
Article content
The Raptors showed their best and their worst in Game 2 of the regular season on Friday night at the United Center.
Article content
They showed perseverance and fight, but ultimately were just enough out of control to gift a game that should have been in the win column back to the Chicago Bulls.
Article content
The Bulls somehow got a game the Raptors appeared to have in full control into overtime where they once again rallied from a late deficit for an 104-103 win on an Alex Caruso three-pointer with two seconds remaining.
Former Raptor DeMar DeRozan had multiple opportunities to put the Raptors out of their misery in regulation but missed free throws on three different trips to the line in the final minute to make overtime a reality.
It was a crazy, crazy night from start to finish.
Games like this one are ultimately great teaching tools but in the moment, it's far more about the heartbreak of a wasted effort.
Article content
The Raptors committed 23 turnovers in this one so it's not as if they didn't play a role in their own demise.
There will be plenty of talk about regarding some calls late in regulation, including a foul on Chris Boucher in the dying seconds in which DeRozan appeared to jump into him to create contact and earn three foul shots. But there were so many miscues and opportunities missed by the Raptors themselves that to point out one call here or there as the reason for the loss would be foolish.
Scottie Barnes had another solid night manufacturing a triple-double with 22 points, 10 assists and 10 rebounds, but it was not enough to offset the team turnovers, the missed free throws or even a shocking inability to simply inbound the ball which proved costly in the final seconds of regulation time.
Article content
Chris Boucher did not see the floor in the season opener but with the bench basically imploding in that first half and handing back the big lead the starters had given Toronto, head coach Darko Rajakovich went back to his veteran big man and was rewarded with 10 points, six rebounds and that ever-present hustle Boucher always brings to the table.
Hurting Toronto's chances late was the absence of a trio of key defenders in O.G. Anunoby (left the game with a leg cramp), along with Jakob Poeltl and Precious Achiuwa who both fouled out.
None of the three was around for the overtime frame.
DeRozan led all scorers on the night with 33 points.
Neither team will have much time to dwell on this one as both are in action again Saturday night with Toronto returning home for a date with former head coach Nick Nurse's Philadelphia 76ers.
mganter@postmedia.com