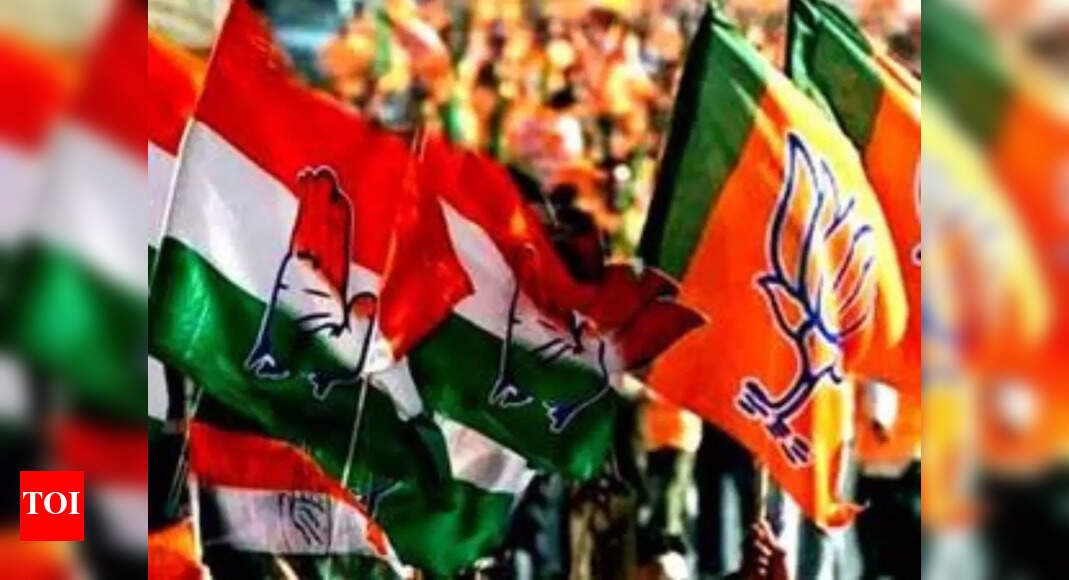 JAIPUR: The Congress and the
BJP
– the two main contenders in the November 25 assembly elections in Rajasthan – have fielded at least 29 candidates who are kin of leaders or belong to political families so far.
Of the 200 assembly constituencies, the BJP has so far announced candidates for 124 seats and the ruling Congress 95.
Leaders of both the parties said they have taken cautious steps to avoid any revolt within their respective parties, which could affect their prospects in the key elections.
In its two lists of 124 candidates, the BJP has given tickets to at least 11 people who are family members of prominent leaders. The Congress, which has announced 95 candidates so far, has given tickets to 18 people hailing from political families.
The BJP list has several sons, daughters, granddaughters and daughter-in-laws of prominent leaders. It has given due attention to family members of leaders who died owing to health issues.
The BJP has given a ticket to Ram Swaroop Lamba, the son of late MP
Sanwar Lal Jat
, to contest from the Nasirabad seat and Shailesh Singh, the son of late former state minister Digamber Singh, from the Deeg-Kumher constituency.
The party has once again bet on Lamba who won the 2018 elections. He had also contested the Lok Sabha bypoll from Ajmer earlier and lost to Congress' Raghu Sharma by a margin of 80,000 votes.
The BJP's other such candidates are Gurjar leader Kirodi Singh Bainsla's son Vijay from the Deoli-Uniyara seat, former MP and erstwhile Jaipur royal family member Gayatri Devi's granddaughter Diya Kumari from Vidhyadhar Nagar, former MP Karni Singh's granddaughter Siddhi Kumari from Bikaner East, former legislator Harlal Singh Kharra's son Jhabar Singh Kharra from Srimadhopur, former legislator Dharampal Chaudhary's son Manjeet Chaudhary from Mundawar, former MP Nathuram Mirdha's granddaughter Jyoti Mirdha from Nagaur, former legislator Gautam Lal Meena's son Kanhaiya from Dhariyawad, former minister Kiran Maheshwari's daughter Deepti from Rajsamand, and former MLA Shri Ram Bhinchar's daughter-in-law Sumita from Makrana.
Party leaders said that the step has been taken to avoid any revolt as well as the results similar to the 2008 assembly elections when the BJP had to lose power due to loss of more than 15 seats.
The BJP won 78 seats in 2018 and the Congress 96 seats.
If the BJP had not suffered a jolt due to a revolt against then chief minister Vasundhara Raje, it could have formed the government taking along Independent legislators. The BSP won six seats and 14 went to Independents in the 2018 elections.
The ruling Congress has also fielded a number of people with political background. Most of them also won the 2018 elections.
The Congress' three lists of 95 candidates have 18 such nominees. They include former leader of opposition Rameshwar Dudi's wife Sushila Dudi from Nokha, former MLA Bhanwar Lal Sharma's son Anil Sharma from Sardarshahr, former Union minister Sheesh Ram Ola's son Brijendra Ola from Jhunjhunu, sitting MLA Safia Khan's husband Zuber from Ramgarh, former MLA Birdichand Jain's relative Mevaram Jain from Barmer, and former minister Bhanwar Lal Meghwal's son Manoj Meghwal from Sujangarh.
They also include former MLA Ramnarayan Chaudhary's daughter Rita Chaudhary from Mandawa, former Rajya Sabha MP Abrar Ahmed's son Danish from Sawai Madhopur, former Union minister Rajesh Pilot's son Sachin Pilot from Tonk, former MLA Richhpal Mirdha's son Vijaypal from Degana, former minister Mahipal Maderna's daughter Divya from Osian, former minister Malkhan Bishnoi's son Mahendra from Luni, and former minister Gulab Singh Shaktawat's daughter-in-law Preeti from Vallabhnagar.
In the past, both BJP and Congress have spoke against dynastic politics.
Senior BJP leaders have called dynastic politics a problem for democracy.
In the first week of September, Congress in-charge for Rajasthan Sukhjinder Singh Randhwara expressed concern over dynasty politics in his party.
"How will the party progress if senior leaders do not put their family behind. I have a 22-year-old son but have never given him any post. My father was a party chief twice and minister but never gave us any post. In 1997, I was given a ticket and he took a back seat," he had told reporters after a meeting of the Congress youth wing.