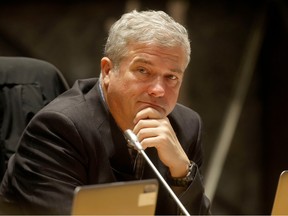 The planned project was rejected by the Ontario Energy Board in 2022 in part because of the city's bid to achieve community-wide net-zero carbon emissions by 2050.
Article content
An east-end councillor is urging the City of Ottawa to retract the testimony it gave at an Ontario Energy Board hearing last year and endorse Enbridge's proposed $123.7-million natural gas pipeline replacement project along St. Laurent Boulevard.
The planned project was rejected by the OEB in May 2022 largely because of the municipality's concerns that automatically renewing major fossil fuel infrastructure runs counter to the city's Energy Evolution master plan and its bid to achieve community-wide net-zero carbon emissions by 2050.
Article content
The OEB ruling stunned the province's energy sector but was hailed by environmental advocates as heralding a future in which municipal, provincial and federal governments and energy regulation bodies face increasingly difficult decisions about what were previously routine approvals for fossil fuel infrastructure renewal.
In the ruling, Enbridge was directed to come back to the regulator when it had more evidence that the pipeline replacement was urgent and that the proposal was taking into account Ottawa's evolving energy requirements as it transitions away from fossil fuels.
Enbridge expects to bring its proposal back to the OEB early in the new year and — if approved — construction would begin later in 2024.
The company hopes to install 13 kilometres of "extra high-pressure steel pipeline segments" of various widths, four kilometres of "intermediate pressure polyethylene pipeline segments" and other updated infrastructure throughout the 21-kilometre pipeline network.
"The St. Laurent Pipeline System is a vital part of Enbridge Gas' natural gas distribution network in the National Capital Region, directly and indirectly supplying natural gas to approximately 165,000 customers in Ottawa and Gatineau," said Enbridge spokesperson Leanne McNaughton. "We have identified and documented the need to replace approximately 21 kilometres of this pipeline system, which is now over 60 years old."
Article content
She added that the company expects to submit its updated proposal to the OEB in early 2024.
According to a motion he'll introduce at the city's Nov. 21 environment committee, Beacon Hill-Cyrville Coun. Tim Tierney wants the city to disavow its previous OEB submission on the Enbridge proposal and have it "stricken from the record" to clear the way for the pipeline rebuild.
In an interview, Tierney said that despite the city's adoption of its Energy Evolution policy and net-zero CO2 reduction targets, "there's no plan" to ensure an orderly transition away from fossil fuels while maintaining "energy security," and that much of the city's push to reach net zero by 2050 will hinge on decisions by other levels of government.
The motion also calls for city council to formally endorse the Enbridge proposal and flags the "grave concerns" Tierney claims are shared by three fellow councillors — Rideau-Rockcliffe's Rawlson King, Alta Vista's Marty Carr and Rideau-Vanier's Stephanie Plante — that gas service to customers on the city's east side could be jeopardized without the city's approval of the company's pipeline replacement plan.
Article content
Carr didn't respond to a request for comment and Plante said she was too busy to answer questions.
King, meanwhile, is at odds with Tierney in what is proving to be Ottawa's own pipeline debate.
"I will not support Councillor Tierney's motion," King said. "City staff should have the autonomy to provide professional technical assessments and analysis to independent regulatory bodies without the fear of political interference.
"Council should never retract or contradict the opinion of City staff that is made before regulatory bodies in their professional capacity, especially if the evidence and opinion provided are in line with the policy direction set by Council," King added. "I believe that any retraction of comments would undermine confidence in City staff."

A member of the city's environment committee, King welcomed the OEB's ruling against the Enbridge proposal, stating in a May 2022 interview that the rejection of Enbridge's proposal signalled the dawn of a new era in which energy companies and regulators must account for net-zero planning by governments.
Article content
In the city's May 2022 submission to the OEB, the municipality said it expects renewable natural gas to provide about 12 per cent of the community's energy requirements by 2050 rather than the 50 per cent currently provided by conventional natural gas — a 75-per-cent drop in demand "coupled with a supply-side shift to renewable natural gas to serve this demand," according to the OEB's ruling.
"The City of Ottawa indicated that it had not yet determined whether or for how long the existing natural gas distribution infrastructure would be needed to distribute renewable natural gas," the OEB added.
Enbridge, meanwhile, testified that the 21-kilometre stretch of pipeline along St. Laurent Boulevard is reaching its end-of-life state and requires replacement to continue ensuring safe, uninterrupted energy supplies to about 15 per cent of Ottawa's population.
Tierney's motion highlights the fact that Enbridge's St. Laurent pipeline network supplies critical east-end Ottawa services, such as hospitals, federal facilities, social and low-income housing.
Article content
The motion also notes that Enbridge's original submission to the OEB was denied "based on information provided by the City of Ottawa," and that "as Enbridge resubmits their application to the Ontario Energy Board, that previous City-provided information may result in the same decision."
In its ruling, the OEB expressed doubt that Enbridge's St. Laurent pipeline network had degraded to such a degree that it posed any catastrophic risk to the public. It also recommended better high-tech monitoring of the pipeline to ensure safety and reliable service rather than undertaking a replacement project that would extend the life of the network by many decades, essentially stranding long-term infrastructure assets beyond the time they would be needed in an era of greening energy requirements.
In issuing its 2022 ruling on the St. Laurent pipeline proposal and sending Enbridge back to the drawing board, the OEB also noted that "Enbridge Gas confirmed that it has not experienced any catastrophic failures (complete ruptures of the pipeline) on any pipelines similar in nature to the St. Laurent pipeline system."
Tierney, however, said that unless the Enbridge plan is approved, the OEB and city staff are essentially playing with fire and risking the possibility of a major gas shutdown in the middle of an Ottawa winter.  He's willing to entertain a rewording of his motion, but insisted that the pipeline replacement is non-negotiable.
"We need this to happen badly… We need the gas flowing."