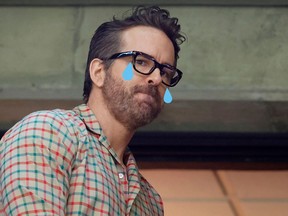 If you own a printer, scissors, construction paper and some string, you can make an Ottawa Halloween costume that'll be the envy of your friends.
Get the latest from Bruce Deachman straight to your inbox
Article content
Halloween is almost here and you, being so busy, probably haven't bought or made your costume yet, right? So what's the plan? Go to Value Village this weekend and purchase an off-the-rack sexy vampire or pirate outfit? Bo-ring!
Instead, why not fashion your own uniquely Ottawa ensemble that will make you the toast of your street or office or just your own delusions?
Article content
Here are a few ideas to get you started, presented in the scariest way imaginable: rhyming poetry. (For those too frightened to read the prose, scroll to the bottom for a full list of 6 Ottawa-inspired halloween costumes, and how to make 'em.)
---
Halloween in Bytown
I hear many footsteps coming down my dark street.
They rustle the leaves, they trick and they treat.
I'm afraid to come out from under my sheet
Where I'm desperately trying to hide.
I'm OK with the witches, the green one-eyed newts,
The pirates with parrots, the pusses in boots,
The ogres and goblins and zombies in suits,
They're dull and don't leave me bug-eyed.
It's the ghosts of my hometown, the Ottawa-specific
That I find so repellent, so frightening, horrific.
You think I'd get used to them, their presence prolific,
Yet the sight of them has me near cryin'.
For example, this spectre, this favourite past son
Who filled us with hope til his bid was undone.
He now walks the streets, uncharacteristically glum.
It's the Non-Hockey Owner, Sad Ryan.
Here come some others, with gravelly throats.
They lie in the street, wearing dark cloaks.
You won't know they're there until they've bent all your spokes.
It's the Ottawa Pothole Brigade.
Article content
With a lab coat and shovel, this one's an odd mix.
She's city, she's country, she's a mixed bag of tricks.
Outstanding in her field since 1886,
She's the Experimental Farmer.
The next one we'll see is all over the place,
He ran once for office, and he's running in races.
A brogue on one foot, on the other an ASICS©.
We call him the Marathon Mayor.
And look! It's The Premier, digging up your front lawn.
Some he'll give to his friends, the rest he'll add on
To the boundary of the city, to build more houses upon.
Then he'll give it all back, saying "Oops."
When the streets have gone quiet and you think the night's done,
Don't get complacent, there still might be one.
It's creaky on curves, worse in winter (when it runs).
It's the LRT Train! Oh, never mind, it's not coming.
In its place, then, a ghost is expected to show.
To take you from here to where you need to go.
It's the R1 Bus Service, from OC Transpo.
And it's … hang on… sorry, it's going to be another 30 minutes.

---
How to make 6 Ottawa-inspired costumes for Halloween 2023
1. Sad Ryan
This one is easy, as you can wear your regular clothes (for bonus points wear a Sens jersey.) You'll need to go online (and own a printer) and find a photo of Ryan Reynolds smiling, which is almost all of them. Print it to fill an 8.5×11" sheet of paper, then carefully cut out the mouth, turn it upside-down and tape it back in place. Cut out a couple of blue construction paper tears and affix. Punch a small hole in either ear, attach a length of string or elastic and – voila! – your Sad Ryan mask is done. When you're at people's doors, be sure to crack wise.
Article content
2. Pothole
Another easy-peasy one. Wear a large black baggy, formless sweatshirt overtop of black clothes. Glue some dirty gravel and small black aquarium stones to your clothes. Use a bent hubcap as a hat. Optional: pin some auto garage repair invoices to your outfit.
3. Experimental Farmer
You'll need a white lab coat which you'll wear overtop of soil-stained coveralls. Hold a pen in one hand and a shovel in the other. You'll want some stalks of Marquis wheat poking out from your collar and sleeve cuffs, and maybe carry a bouquet containing Preston lilacs and Explorer roses. If you're given apples at people's doors, you mustn't openly disdain them.
4. Marathon Mayor
Take one standard men's business suit, with shirt and tie. Cut it in half vertically. Do the same with a running outfit – shorts, T-shirt and numbered bib – and then sew the two together. Wear one black sock and one white one, and one brown loafer and one running shoe (it needn't be ASICS; I just needed a rhyme). Carry a briefcase in one hand and a water bottle in the other.
4. The Premier
Have you got a suit, a hardhat and a backhoe? Can you act contrite?
Article content
5. LRT Train
Start with a red-and-white outfit. You'll also want a hat with an antenna that ideally shoots off sparks. The rest of the costume requires some theatrics. If you're walking along a sidewalk, announce the cross-streets as you pass. Occasionally shout out "Whoah!" and veer off, "derailing" onto someone's lawn. If it's icy out, stay home.
6. The ghost of the R1 Bus Service
Take a big cardboard box, like the kind used for large appliances. Paint it to resemble an OC Transpo bus. Cut holes in the sides and bottom for your arms and legs. Cut another hole in the top for your head. Cover the entire thing with a white sheet, cut with ghost eye holes. When the time arrives to go out trick-or-treating, wait half an hour. When you finally do go out, randomly skip over houses.