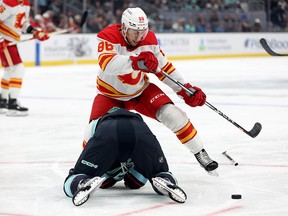 'Mangiapane is in control throughout this sequence and makes the decision to deliver a reckless cross-check to a player laying vulnerable on the ice, which causes McCann's head to impact the ice'
Article content
Andrew Mangiapane's milestone quest is briefly on hold.
Article content
Mangiapane, whose next goal will be the 100th of his NHL career, was handed a one-game suspension Sunday for what the Department of Player Safety described as a "reckless cross-check" on Jared McCann of the Seattle Kraken.
Article content
While the Calgary Flames will now be without their leading marksman for Tuesday's home date against the Nashville Predators, there may have been a feeling of relief around the Saddledome when this ruling was announced. Some wondered if Mangiapane would wind up sitting for multiple outings after receiving a match penalty for a cross-check that connected with McCann's neck as he was down on the ice after diving to block a shot.
"It is important to note that we accept Mangiapane's contention that he does not intend to drive McCann's head into this ice on this play," said the NHL's Department of Player Safety in Sunday's explanation video. "In addition, we acknowledge that this is not a case in which a player uses the full extension of his arms or his bodyweight to strike an opponent or intentionally drive him violently into the ice.
Article content
"However, Mangiapane is in control throughout this sequence and makes the decision to deliver a reckless cross-check to a player laying vulnerable on the ice, which causes McCann's head to impact the ice."
Recommended from Editorial
The 27-year-old Mangiapane has scored four times so far this season, tops on the Flames' team charts. Prior to being ejected in the opening period of Saturday's 6-3 victory over the Kraken, he was skating as the right-winger alongside Jonathan Huberdeau and Elias Lindholm on Calgary's first line.
Mangiapane's one-game ban — the first time during his career that he has faced supplemental discipline — will cost him just over US$30,000 in forfeited salary.

Wes Gilbertson and Danny Austin have been covering the Flames for years and know what makes the team tick. Have questions? They have the answers – or the contacts to track them down. Send your questions to calgaryflames@postmedia.com