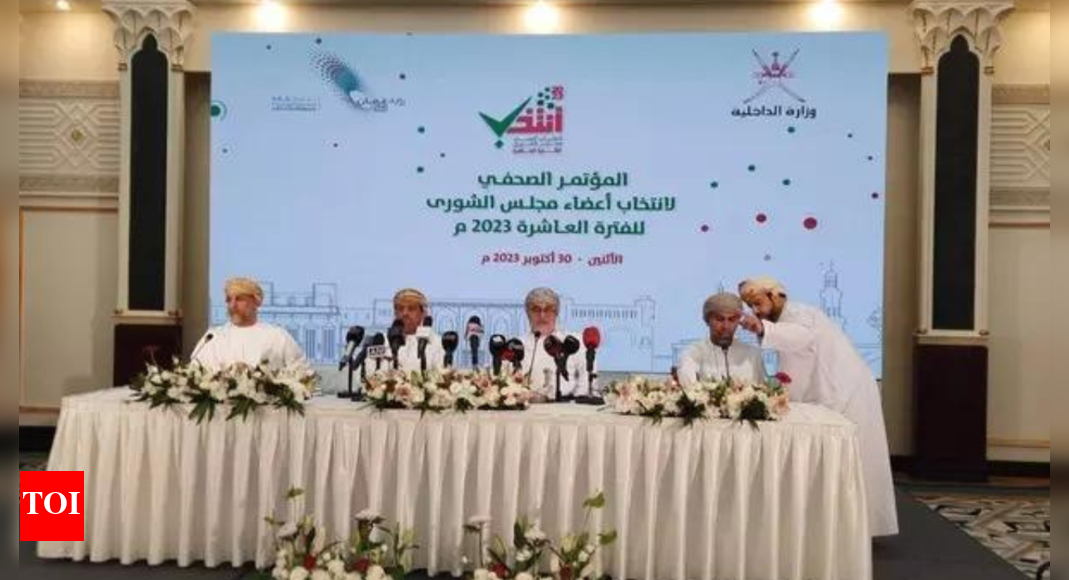 MUSCAT: In the Arab world's first app-based polls,
Oman
voters elected 90 representatives for the Majlish A'Shura Council in its 10th term (2023-2027) with a record 65.88 per cent voter turnout from across the Sultanate.
These
elections
saw the second-highest voter turnout. Elections for the seventh term in 2011 had 76 per cent turnout.
The ministry of interior of Sultanate of Oman in a press conference on Monday announced the results of the Shura Council's 10th term elections with 90 members elected following a resounding voter turnout.
The ninety members were elected to embark on the tenth term of Shura Council, emerging from a large pool of 843 candidates, inclusive of 32 women.
Voting procedure, conducted from the early hours of 8 am until 7 pm on Sunday, witnessed voters employing the electronic "Intakhib" app to meticulously handpick their preferred representatives.
Omani citizens commenced their day with zeal, casting their votes to elect their representatives on Sunday.
According to the ministry of interior, 65.88 per cent (496,279) of the total registered voters exercised their franchise, comprising of over 52 per cent male and 48 per cent women voters.
The ministry of interior noted a minor revision in the total number of voters, now standing 753,260, down from 753,573 owing to the unfortunate passing of some voters since the last elections.
The 10th Shura term elections distinguished themselves by introducing a refined version of the "Intakhib" electronic app, complete with an audio reading feature and sign language support for the deaf and hard of hearing.
The app boasted a user-friendly interface and incorporate: high-level security measures harnessing cutting-edge encryption technologies. The verification of voter data involved meticulous three-step process: copying both sides of the ID card, reading personal card data through Near Field Communication (NFC), and capturing a personal photo of the voter.
The commencement of the 10th Shura Council term signals a pivotal moment in Oman's future plans, visions, and strategic initiatives. It carries substantial domestic importance as a period that will witness heightened endeavours toward the realisation of Oman Vision 2040, spanning various economic, investment, and development sectors. Furthermore, it will play an instrumental role in shaping the course of the 10th five-year plan and charting the path for the 11th five-year plan.
The election was historic as it was the first time in the Arab world that a mobile app based technology was used for the electoral process, serving as a blueprint for other nations seeking to modernise their electoral system.