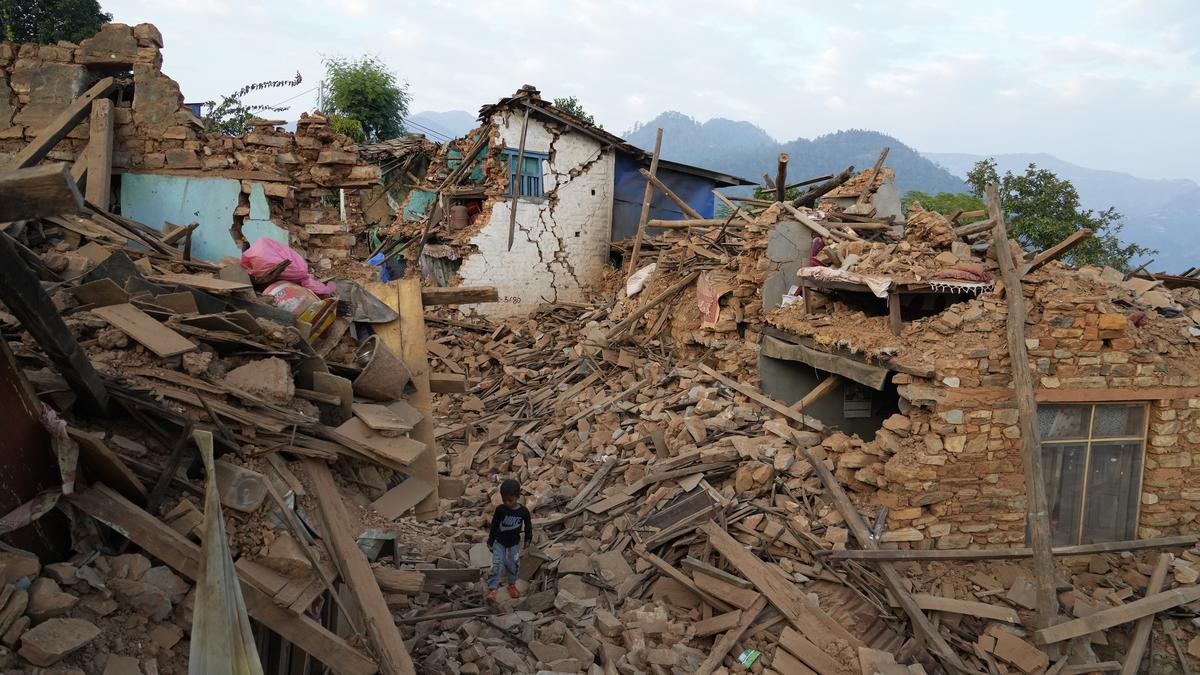 Thousands of people rendered homeless after Friday's earthquake in Nepal's mountainous region are facing a shortage of food, clothes and medicines as relief materials and help are yet to reach several places.
The survivors of the catastrophe cremated their deceased relatives on Sunday.
Hasta Bahadur K. C. of Chiuritol of Nalgad Municipality in Jajarkot is mourning the loss of his son, his daughter-in-law, and his four-year-old grandson. His son, Bhimsen B. K., had come home for the Dashain (Vijaya Dashami) festival and had planned to return to India where he worked.
Bhimsen, his wife and son were among 157 people killed after a 6.4 magnitude quake with the epicentre at Jajarkot's Ramidanda jolted Nepal on Friday. The tremors were also felt in parts of India, including Delhi and the National Capital Region.
"Only my wife and I remain. The two of us have been living under a tarpaulin tent since Friday midnight. We are yet to come to terms with our loss," The Kathmandu Post newspaper quoted Hasta Bahadur as saying.
According to Suresh B. K., a resident of Chiuritol, 13 people lost their lives in the village while several others were injured in the earthquake.
At least 56 houses in the village were completely destroyed while 110 houses, although still standing, have become inhabitable, said Mr. Suresh.
The villagers have been waiting for help to arrive.
"But so far, we have not received any. All our crops, grains, food, clothes and other valuables lie buried in the debris. We haven't been able to retrieve anything as there are no security personnel to help us," he said.
"It is unbearably cold outside and none of us have had any sleep since Friday night."
The victims of the earthquake in Bheri Municipality, where several villages were affected, are also waiting for help and relief materials.
Chandra Prakash Gharti, mayor of Bheri Municipality, said that the local unit is collecting data to streamline relief distribution, which has caused delays in dispatching relief materials immediately to the affected villages.
"Preliminary assessment of the damage is now complete. We will start the distribution of relief materials in the affected areas on Monday with the help of security personnel," said Mr. Gharti.
The earthquake victims are in need of immediate help and blame the government for delayed response even during emergencies.
Kalawati Singh, a local survivor in Chiuritol, said that after two nights out in the cold, the villagers have started to fall sick.
"Elderly people and young children are falling ill. We don't have warm clothes and have been spending our days and nights in the open field," the newspaper quoted Ms. Singh as saying.
"There are no doctors or any medical help here. We have food left for a maximum of two days. We hope more help will soon arrive."
Karna Bahadur B. K., a local of Aathbiskot Municipality who lost his 27-year-old cousin on Friday night, said that managing tarpaulin, blankets and food for the surviving members of the family is proving difficult with each passing day.
"I finally managed to find a tarpaulin tent for my family. There are limited resources here and people are struggling," said Karna.
"No help has arrived. People are starving, falling ill, and fighting for food. Children and the elderly are in failing health but help is nowhere close."
Deputy Prime Minister and Defence Minister Purna Bahadur Khadka said on Sunday that the government has kept medical treatment, relief and rehabilitation of the earthquake survivors in priority, myRepublica newspaper reported.
Stating that the government was successful in rescuing the quake-injured people in a single day by mobilising the entire state apparatus, he said the distribution of relief to the survivors began on Sunday itself.
"We have dispatched the relief materials in such a way they will reach all the earthquake-affected people within two days. More relief is on the way. We will distribute the relief at the same pace we carried out the rescue operation," he said, adding that the reconstruction works would be started immediately after the relief distribution is over.
Friday's quake damaged around 8,000 houses — both public and private — besides killing at least 157 people in Jajarkot and Rukum West districts in western Nepal, officials said.
The quake caused the worst human and infrastructure losses since the devastating jolt of April 2015. In 2015, a 7.8 magnitude quake damaged nearly 800,000 houses besides killing nearly 9,000 people, according to the Post Disaster Needs Assessment Report, 2015.
"As per the initial estimate, around 3,000 houses have been fully damaged while an additional 5,000 suffered partial damages," said Narayan Prasad Bhattarai, spokesman for the home ministry.
"The final tally of damaged homes is yet to come."
According to him, the houses fully damaged should be rebuilt while those partially damaged will need repair and maintenance.
As the search and rescue operation continues, it is certain that there will be an increase in the tally of both human and property losses. Entire Nepal including the western belt is highly prone to earthquakes. Seismologists have long been warning that the western region could be hit by earthquakes of higher intensity at any time.
For the last few years, earthquakes of lower intensity have frequently been hitting the hill districts in the Sudurpaschim and Karnali provinces.
Man Thapa, an expert on disaster management who has worked in several countries in South Asia and other parts of the world, said the recent earthquakes in western Nepal including Jajarkot are a warning signal for a strong earthquake.
"Several earthquakes have struck western Nepal recently. Earthquakes don't kill, poor infrastructures do," he said. "Had we worked towards improving the buildings by learning from past earthquakes, the extent of loss could have been reduced."