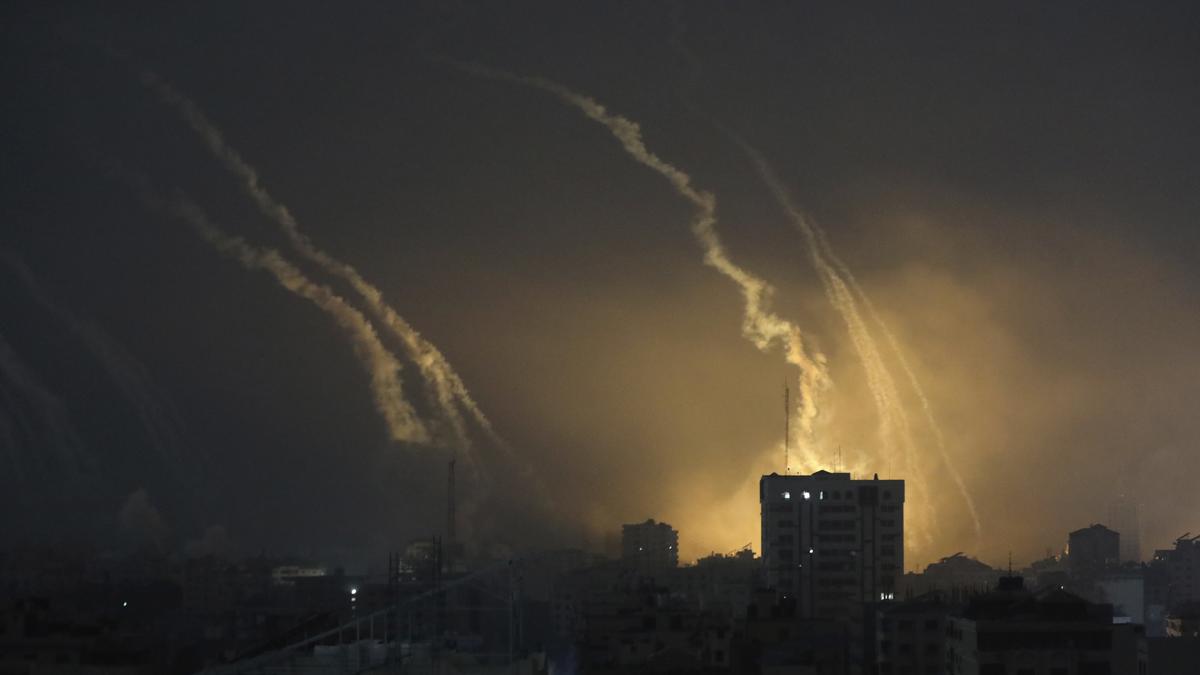 Israeli Army says ground forces are 'expanding' activities in Gaza, where internet has collapsed
Internet and phone services collapsed in the Gaza Strip under intensified bombardment on Friday night, largely cutting off its 2.3 million people from the outside world and each other, as Israel's military said it was "expanding" its ground operations in the besieged territory. The military's announcement signalled it was moving closer to an all-out invasion of Gaza, where it has vowed to crush the ruling Hamas group after its bloody incursion in southern Israel three weeks ago.
Parliamentary panel on Home Affairs withholds draft report on Bills replacing criminal laws 
The Parliamentary Standing Committee on Home Affair postponed its adoption of a draft report on three Bills seeking to replace the existing criminal laws, after pressure from the Opposition seeking more time to examine it. According to sources, the English version of the draft report was circulated just last week and the Hindi version was sent to members of the Parliamentary panel only on Thursday evening, just hours before the adoption of the report was slated at Friday's meeting of the panel. 
Dark pattern sales deemed 'cybercrime'
Following a series of complaints regarding practices by airlines and online travel agents that trick consumers into making unintended purchases — such as paying for seats — while booking flight tickets, which one government official called a "cybercrime", the Ministry of Civil Aviation has asked low-cost carrier IndiGo to rectify its website.
Merely liking a post not an offence under IT Act, rules Allahabad High Court
Liking a post on social media applications like Facebook or X (formerly Twitter) cannot be punishable under Section 67 of the Information Technology Act because it does not amount to "publishing or transmitting" the post, the Allahabad High Court has now held in a recent judgement, adding that the provision can be attracted if a person had instead shared or retweeted it. 
India communicates to France decision to procure 26 Rafale Marine jets
India has formally communicated to France its decision to procure 26 naval variant of the Rafale fighter aircraft for the Indian Navy, kick-starting the procurement process under an intergovernmental framework, people familiar with the matter said on Friday.
UN overwhelmingly calls for aid truce between Israel and Hamas
The United Nations General Assembly on Friday overwhelmingly called for an immediate humanitarian truce between Israel and Palestinian militants Hamas and demanded aid access to the besieged Gaza Strip and protection of civilians. It passed to a round of applause with 120 votes in favour, while 45 abstained including India and 14 – including Israel and the United States – voted no. 
India unlikely to join global cooling pledge at COP28: Report
India is unlikely to sign onto a global pledge to reduce cooling-related emissions at the COP28 climate meeting, citing the need for the world's most populous country to have affordable cooling, two government officials told Reuters. It is expected nations will announce their decision on the cooling pledge at the annual climate conference in Dubai from November 30 to December 12.
Mukhtar Ansari gets 10 years jail term by Ghazipur Court in Gangster Act case
A special court in Ghazipur district on Friday sentenced former Member of Legislative Assembly (MLA) and gangster Mukhtar Ansari to 10-year imprisonment in a 2009 Gangster Act case. The MP/MLA special court also slapped a fine of ₹5 lakh on Ansari. It awarded a five-year imprisonment to Sonu Yadav, a co-accused in the case, and a penalty of ₹2 lakh.
IMC 2023: India has to play lead role in 6G, PM Modi says
Prime Minister Narendra Modi on Friday inaugurated the 7th edition of India Mobile Congress (IMC) 2023 saying India has to play the lead role in 6G. "We have 4 lakh 5G base stations covering 97% cities and 80% population," PM Modi said. PM also informed that India has grown 3x in median mobile speed and now ranks 43rd in broadband speed index.
China FM calls for 'stable' U.S. ties on visit to weigh Xi summit
China's top diplomat voiced hope Thursday for more stable relations with the United States after months of turbulence as he paid a rare trip to Washington to prepare a potential visit by President Xi Jinping.
Tata acquires Wistron's iPhone making unit in India
Tata Companies has acquired 100% indirect stake in Wistron's India iPhone manufacturing unit. The deal is estimated at $125 million. With this acquisition, Tata will start manufacturing iPhones for India and global markets. Wistron's iPhone manufacturing unit is based in Karnataka.
PAK vs SA | South Africa sneaks past Pakistan in a humdinger
It took 26 matches for the World Cup to get a closely fought game. When it came, the nail-biting contest saw South Africa defeating Pakistan by one wicket on a day when fortunes swung wildly at the M.A. Chidambaram Stadium.