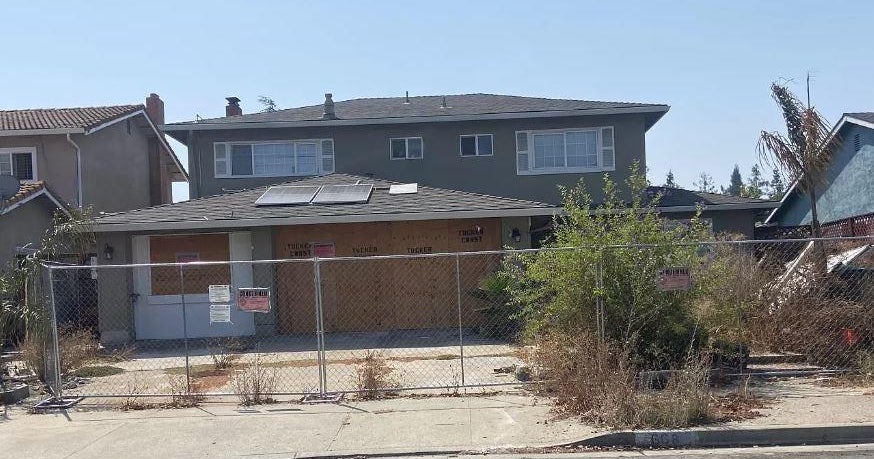 Now's your chance to own a luxury California home — complete with "meth lab and meth "contamination" — for sale at $1.55 million.
The six-bedroom house in tony San Jose offers a "great location" with easy access to the freeway, according to a realtor's listing, which notes it affords more than 2,700 square feet of living space.
That might appeal to anyone needing an easy commute into Silicon Valley, with Apple's Cupertino campus just 20 minutes' drive, and Google's Mountain View home less than half an hour away.
It's in a quiet neighborhood, part of a good school catchment area and has a backyard planted with orange, apple and lemon trees.
There are three-and-a-half bathrooms, a swimming pool, a luxury spa, garage parking for one car, solar panels and air conditioning throughout.
It also has a big patio that is just perfect for entertaining.
Oh, and a place you can cook up deadly and addictive illegal drugs.
"Great opportunity to own a large home on a large 6,000sqft lot," says the listing on property website Redfin before sheepishly noting: "Home has inactive Meth lab and meth contamination."
"Home has not been cleared of contamination and will be transferred to the new buyer in its current state."
A listing on Zillow notes the property's seller increased the price $125,000 on Oct. 21.
Previous owner accused of attacking electricity transformers
The San Jose home's previous owner was 36-year-old Peter Karasev, the Los Angeles Times reported, who was arrested in March on suspicion of attacking electricity transformers.
According to police, the investigation into Karasev began on Jan. 5, when officers with the San Jose Police Department responded to a report of an exploded transformer at 3:16 a.m. local time. Windows were broken at a dental office nearest the transformer. Officers believed it was just a malfunction, but later in the day were summoned back to the scene when "evidence of an explosive device was located." 
Video surveillance reviewed by investigators and officers showed a person, later identified as Karasev, approaching the area on a bicycle while wearing a backpack. The footage showed Karasev place the backpack at the bottom of the transformer box, appear to use an "ignition source," and then get back on the bicycle and ride off. Moments later, the backpack and transformer exploded. The transformer appeared to burn for several minutes before causing a large explosion. 
PG&E employees then told police that a similar incident had occurred on Dec. 8, 2022, when the company was alerted to a power outage at around 4 a.m. local time. That incident was also believed to be a malfunction, but detectives found "very similar details" and "similar visual residue" at both scenes, according to the San Jose Bomb Squad. 
The investigation soon led to Karasev. Police identified him using cell phone information. 
As well as the meth lab, police searching his house also found a weapons stockpile including guns and "homemade liquid explosive, multiple energetic homemade destructive devices," according to a police press conference at the time.
Karasev, who the paper said lived there with his wife and three young children, has been hit with a raft of charges, including possession of a destructive device, igniting a destructive device and child endangerment.
The Mercury News reported that Karasev was indicted by a federal criminal grand jury on Oct. 19.
For those who don't mind taking on a bit of a project, the $1.55 million price tag makes the house good value by California's expensive real estate standards.
A nearby four-bedroom house sold in May for $1.725 million.
Kerry Breen contributed to this report.