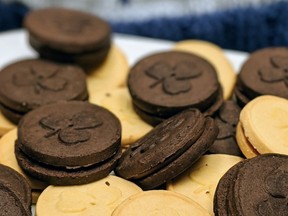 Here are today's Ottawa Sun letters to the editor.
Article content
I'VE HAD MY FILL OF COOKIES
Article content
Bye, bye Girl Guide cookies. You were good, but your time, too, has passed.
Article content
Offering only those cookies (yes, I know "cookie" is a slang term for female) purposefully excludes other sweet fund-raisers like doughnuts, tarts (oh dear, that female thing again), cupcakes (sigh, again), and Nanaimo bars (too regional for you?). So, by your own definition, those cookies are non-inclusive and now must be discriminated against. Ho, ho, ho!
And that is exactly what your regressive anti-Christmas decree is doing — eliminating rather than including. Instead of banning participation in a Santa Claus parade, as reported in local media, why not try to change your mean-spirited voice and find a way to participate in other festivals such as Chanukah, Kwanzaa and Eid al-Fitr? Like I just said, include, don't exclude.
Article content
"Secular," my eggnog! Your anti-parade stance is blatant discrimination, pure and simple. But thanks for the life lesson on how to turn good things bad.
DYAN CROSS
OTTAWA
NO SANTA FOR GIRL GUIDES?
Help me understand something. It's OK for the Girl Guides to participate in a Pride parade, but not a Santa Claus parade? Who makes these ridiculous decisions? I've seen clips of some Pride parades with certain things I consider to be inappropriate for children. Fine for adults, if they choose.
Any child should be able to participate in a Santa Claus parade no matter what their religion is. I'm getting sick of this woke, virtue-signalling, crazy, divisive world.
GISELE LAVICTOIRE
ORLÉANS
WHAT ABOUT CHRISTMAS COOKIES?
Article content
I saw on the news recently that the Canadian Girl Guide members are not allowed to march in any official Santa Claus or Christmas parades due to the organization's religious affiliation. However, they can march in any Pride parade with no issues.
Plus, it still mentions and promotes "Christmas" cookie sales on their website … better get that removed asap.
I have one question: Will they still plan and be allowed to go door to door selling Christmas cookies? None for me, thank you.
MICK ARMITAGE
OTTAWA
BEST NEIGHBOURS
Ottawans should be out in full force supporting our Canadian Jews.
Being a woke city, I doubt that will happen as it would not be popular. I came to Ottawa in the early '60s and found Jews to be the best neighbours one could have. Look at how generous they have been and what they have done for our city. Being in law enforcement for many years, they were never on the wrong side of the fence, in my estimation.
BOB MORRIS
OTTAWA
Recommended from Editorial