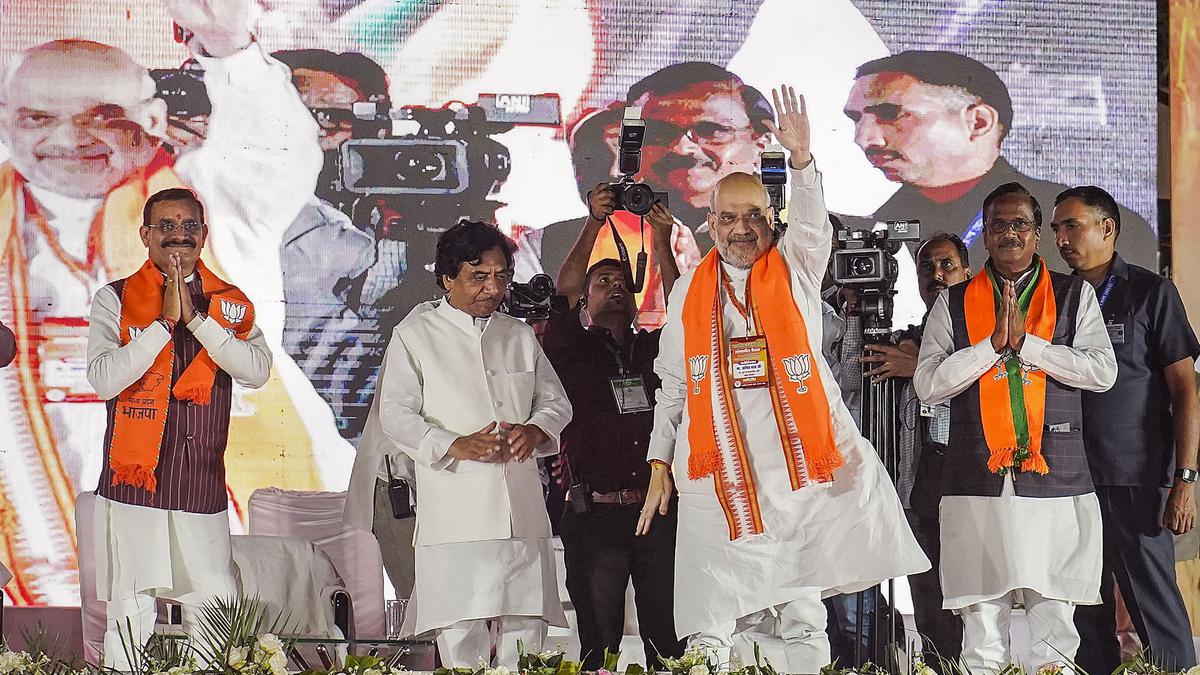 Union Home Minister Amit Shah said in poll-bound Madhya Pradesh on Sunday that he wanted to tell Rahul Gandhi the date of the inauguration of the Ram Temple in Ayodhya as the Congress leader would "taunt" the BJP about it.
"Between 2014 and 2019, when I was the party (BJP) president, Rahul baba used to say in every election that 'the BJP folks will say mandir wahin banayenge magar tithi nahi batayenge (we will make the temple right there, but won't tell the date)'. He used to taunt us," Mr. Shah said, addressing a public rally in Ujjain on the second day of his three-day tour to the State.
"Today, I have come to tell Rahul baba the date. On January 22, 2024, (Prime Minister Narendra) Modi-ji is going to attend the pran pratishtha [of the Ram temple]. On January 22, Ram Lalla will be placed inside a huge temple in the same Ayodhya, at the same place," the BJP leader said.
In his speech, Mr. Shah also accused the Congress of opposing the Centre's moves, including the abrogation of Article 370 in Jammu & Kashmir, and banning triple talaq.
Mr. Shah is currently on a three-day visit to Madhya Pradesh, where elections for 230 Assembly seats will be held on November 17. Mr Shah has been holding meetings with party candidates and leaders of the various divisions of the State, apart from campaigning.
On Sunday, Mr. Shah held meetings of party leaders from divisions, including Bhopal, Indore, Gwalior-Chambal and Rewa, and met with the party leaders of the Jabalpur division, where angry supporters of some party leaders who failed to secure tickets had heckled Union Minister Bhupender Yadav inside the party office on October 21 after the announcement of the candidates.
Mr. Shah's visit is also said to be aimed at persuading disgruntled party leaders and energising the BJP cadres.
However, a day after his visit to Jabalpur, BJP's city unit president Prabhat Sahu resigned from his post, accusing the party of failing to act on those responsible for the protests.
According to local reports, Mr. Sahu had been accused of fuelling the protests following the declaration of candidates. He had, however, demanded an inquiry and disciplinary action against those found responsible.
"I am hurt with the party central leadership's inaction against those responsible for the incident that occurred inside the BJP office on October 21. The person whose supporters allegedly created a ruckus in the party office was given time to meet Amit Shah-ji yesterday," Mr. Sahu said, speaking to reporters.
Mr. Sahu, however, said that he continued to be a member of the party.