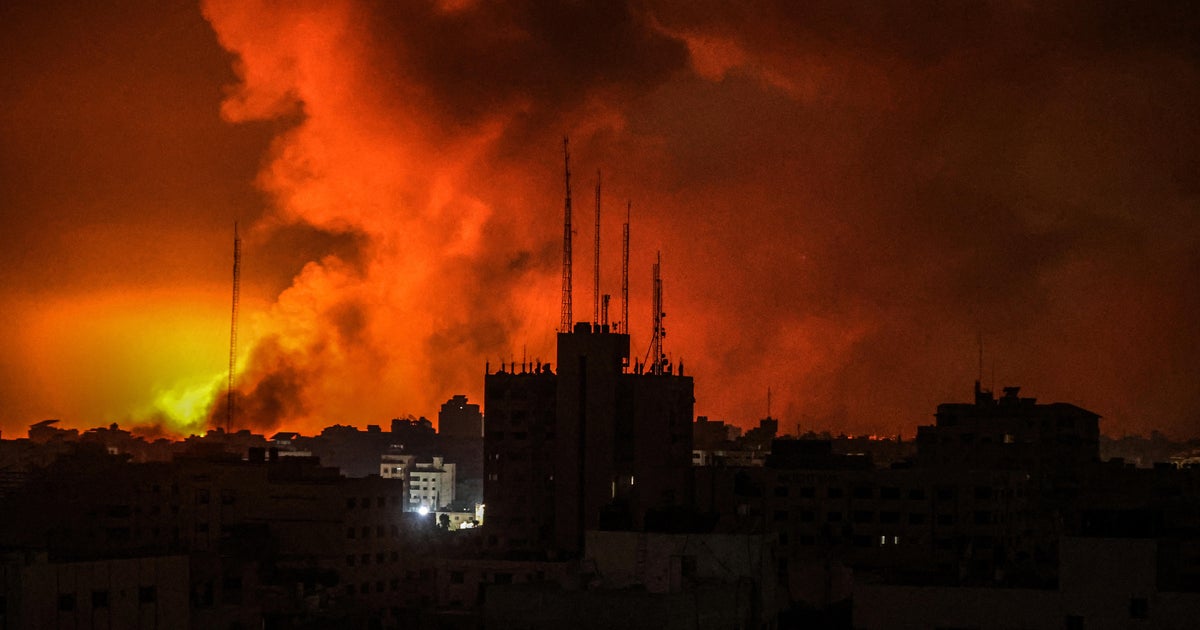 Tel Aviv — Israel's military said Friday its ground forces were "expanding their activity" in Gaza in what may be the beginning of a new phase in Israel's war with Hamas, which started nearly three weeks ago. 
Israel's chief military spokesman, Rear Adm. Daniel Hagari, said a statement the Israel Defense Forces increased attacks in the Gaza Strip in recent hours. 
"In addition to the attacks that we carried out in recent days, ground forces are expanding their activity this evening," Hagari said. "The IDF is acting with great force … to achieve the objectives of the war."
The extent of the expanded activity was unclear, but two U.S. officials tell CBS News this appears to be a rolling start to the ground invasion.
It comes as internet and phone services collapsed inside Gaza under heavy bombardment, the Associated Press reported. Paltel, the Palestine Telecommunications Company, said there was "a complete disruption of all communication and internet services" because of bombardment, the AP reported.
The country's military said earlier Friday Israeli forces conducted a ground raid into Gaza for the second consecutive night. The small raid was backed by fighter jets and drones, with the IDF saying it had struck dozens of targets on the outskirts of Gaza City. The IDF said the small incursion had resulted in no Israeli casualties.
The previous ground raid, early Thursday morning, lasted a few hours, struck rocket launching positions and involved battles with militants, according to the IDF. Hagari said Thursday that the ground raids were intended to "uncover the enemy" and destroy launch pads and explosives to "prepare the ground for the next stages of the war."
The Gaza Strip's Hamas rulers, along with other Palestinian militants, opened their bloody Oct. 7 terror attack on southern Israel with a salvo of thousands of rockets, and they have continued firing them from the enclave for the nearly three weeks since. 
Most of Hamas' rockets are intercepted by Israel's Iron Dome defense system, but at least one got through Friday and hit Tel Aviv, causing "significant destruction," according to the civilian emergency response agency United Hatzalah, which said three people were lightly wounded.   
Israel has responded to the unprecedented terror attack and ongoing rocket fire — which it says has killed more than 1,400 people and left Hamas holding almost 230 hostages — with an overwhelming barrage of artillery and airstrikes on Gaza. 
Health officials in the densely populated, Hamas-controlled strip of land say more than 7,000 people have been killed. The Israeli military disputes that figure, but entire neighborhoods have been reduced to rubble, sometimes crushing entire families under the ruins of residential buildings. 
Civilian deaths mount in Gaza
Raw, overwhelming grief is everywhere in Gaza.
"What did he do?" cried one man as he rocked the body of his son, just two and a half months old, in his arms. He lost his wife and four children in an Israeli strike Wednesday on a house in the Jabalia refugee camp, in northern Gaza. "Did he kill anyone? Did he kidnap someone? There were just innocent children inside this house."
Deaths have been soaring at a staggering rate in Gaza, and while Israel and Hamas disagree on the toll — and who's to blame for it — it is believed to far exceed the number of people killed during the four previous conflicts between Israel and Hamas combined.
Every day, shrouded bodies pile up outside Gaza's beleaguered hospitals and morgues as more seriously wounded are rushed in, many in need of urgent medical attention. But Palestinian doctors are often able to offer little more than words of comfort, as fuel for generators and medical supplies have all run short.
The United Nations, along with a growing number of nations and aid organizations, have warned that Israel's long-expected ground invasion of Gaza, if and when it happens, would cause even more civilian casualties and exacerbate the humanitarian crisis in the Palestinian territory.
The U.N. General Assembly voted Friday to approve a nonbinding resolution, sponsored by Jordan, calling for a "humanitarian truce" in Gaza leading to a cessation of hostilities. The U.S. voted against the resolution, after an amendment that would have condemned Hamas' terror attack on Israel and demanded the release of hostages was defeated.
On Thursday, the U.N. echoed international law experts and humanitarian groups to warn that Israel may be responding to Hamas' atrocious war crimes with war crimes of its own. 
"We are concerned that war crimes are being committed," U.N. human rights office spokeswoman Ravina Shamdasani told journalists Friday in Geneva. "We are concerned about the collective punishment of Gazans in response to the atrocious attacks by Hamas, which also amounted to war crimes."  
Iran's allies and fear of a widening war
There is also significant and mounting concern that a full-scale invasion could see the war expand beyond Gaza and Israel's borders.
The U.S. struck two facilities used by Iran-backed militants in eastern Syria overnight. Defense Secretary Lloyd Austin said the strikes were "a response to a series of ongoing and mostly unsuccessful attacks against U.S. personnel in Iraq and Syria by Iranian-backed militia groups that began on Oct. 17."
Austen said the strikes were distinct from the war between Israel and Hamas and meant to communicate that President Biden "will not tolerate such attacks and will defend itself, its personnel and its interests."
Iran is a primary backer for a number of Muslim extremist groups across the region, including the Sunni Muslim Hamas in Gaza, and the powerful Shiite Muslim Hezbollah movement, based just across Israel's northern border in Lebanon. Hezbollah militants have exchanged sporadic deadly fire with Israeli forces since Hamas launched its attack on October 7, and the group has said it's prepared to join Hamas in the war with Israel if required.
The U.S. Treasury on Friday announced further sanctions against a handful of individuals and entities it accuses of facilitating funding for Hamas, including Khaled Qaddoumi, whom the Treasury describes as a "longtime Hamas member who currently lives in Tehran serving as Hamas's representative to Iran, and acting as a liaison between Hamas and the Iranian government." 
Iran has also long supported Shiite groups that operate across parts of northern Iraq and neighboring Syria, and it's those proxy forces that have fired rockets and explosive drones at U.S. forces based in the two countries for years.
Another powerful Iran-backed group, the Shiite Muslim Houthi movement, is fighting a civil war against Yemen's Western-backed government. The U.S. military said it shot down a handful of missiles and drones fired by the Houthis on Oct. 19 over the Red Sea, which it said could have been aimed at Israel.
Iran's army launched a large-scale military exercise on Friday, meanwhile, meant to last two days in the central province of Isfahan. A military spokesman told Iranian state media that the war game would involve troops from all units of the Army Ground Force, including an airborne division, drone squads, electronic warfare units and support teams from Iran's air force.  
President Biden has warned Iran repeatedly not to get directly involved in the Israel-Hamas war.
On Friday, an Egyptian military spokesman said a drone had struck a building near a medical facility in the town of Taba, very close to the Israeli border, wounding six people. It was not immediately clear who launched the drone.
There is also mounting pressure on Israeli Prime Minister Benjamin Netanyahu from the families of the hostages held by Hamas in Gaza. Many of the family members gathered Thursday night in Tel Aviv to voice their demand that Israel's government rescue their loved ones, amid unverified claims by Hamas that Israel's airstrikes have already killed more than 50 of the captives. 
As the families gathered, air raid sirens blared yet again, warning of more incoming rockets and forcing the demonstrators to run for cover. 
–David Martin and Pamela Falk contributed reporting.