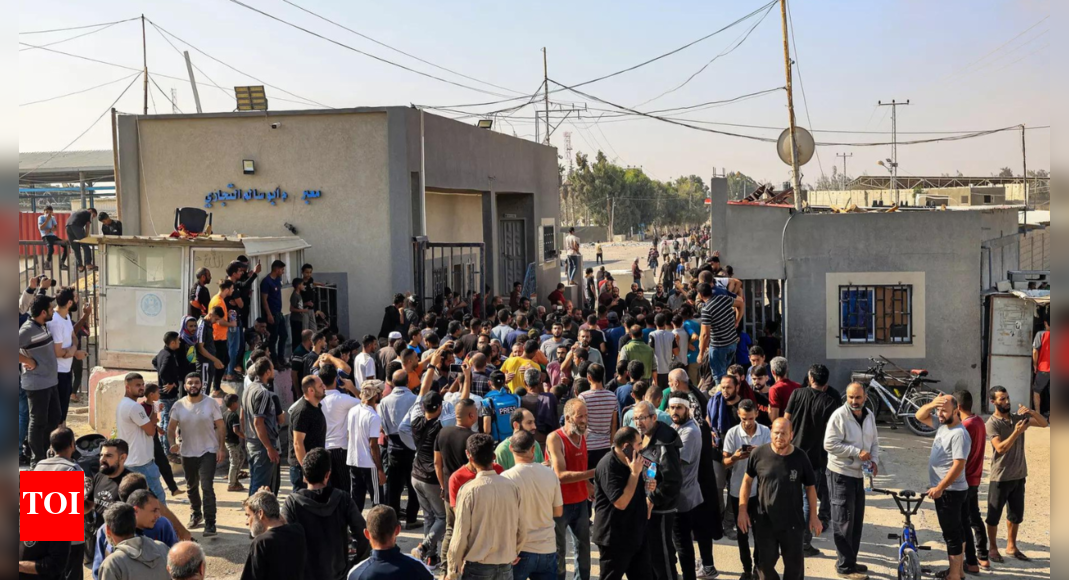 NEW DELHI: The Israeli construction industry has requested permission from Tel Aviv's authorities to hire up to 1 lakh Indian labourers as replacements for the Palestinian workers, according to a report by Voice of America (VOA) from the West Bank, as reported by The Independent.
This comes amid the backdrop of Israeli construction sector facing a labour shortage due to the cancellation of work permits for Palestinian workers after the horrific Hamas attacks on October 7.
Haim Feiglin, the vice president of the Israel Builders Association, was quoted by VOA as saying "Right now we are negotiating with India," despite India's historical support for a two-state solution to the conflict.
"We are waiting for [the] decision of the Israeli government to approve that. And, we hope to engage 50,000 to 100,000 workers from India to be able to run the whole sector and bring it back to normal.
"We are at war and the Palestinian workers, which are about 25 per cent of our human resources in the sector, are not coming, are not permitted to work in Israel."
In May of this year, the Indian government signed a bilateral agreement with Israel to enable the immigration of 42,000 Indian workers. As per a statement from the Israeli foreign ministry, 34,000 of these workers were intended for employment in the construction sector, and the remaining 8,000 were designated for nursing roles.
Following the October 7 attacks, it is uncertain whether the Indian government still supports the relocation of thousands of its citizens to Israel.
Last month, India initiated "Operation Ajay" to facilitate the return of stranded Indian citizens from Israel to India.
Five flights have brought back Indian citizens from Israel so far. "Special charter flights and other arrangements (are) being put in place," Indian foreign minister S Jaishankar wrote in a post on X/Twitter. "[We are] fully committed to the safety and well-being of our nationals abroad."
On October 26, India stood out as the sole member of the South Asian group of nations that chose to abstain from a UN General Assembly vote on a resolution seeking a "humanitarian truce" in Gaza. The resolution gained support from 120 member countries, while 14 countries opposed it, and India was one of the 45 nations that opted to abstain from voting.
During a phone call between Iran's President Ebrahim Raisi and Prime Minister Narendra Modi, President Raisi called on New Delhi to use "all its capacities to end the Zionist crimes against the oppressed people of Gaza".
"The continuation of the killing of the Palestinian people has infuriated all of the free nations of the world and this killing will have extra-regional consequences," Ebrahim Raisi's spokesperson said.
In response to the Hamas attacks on October 7, during which 1,400 Israelis lost their lives, Prime Minister Benjamin Netanyahu initiated extensive airstrikes on Gaza and launched a ground invasion, marking an unprecedented military action.
Despite repeated calls for a ceasefire from global leaders, Israeli PM Benjamin Netanyahu has thus far declined to agree to one. On Monday, the Israeli prime minister mentioned the possibility of considering "tactical little pauses" in the Gaza operation to allow for humanitarian aid access to Gaza or the safe release of Israeli hostages held by Hamas.