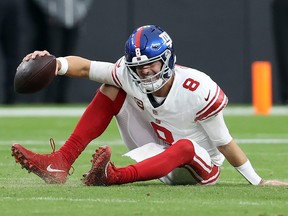 Article content
LAS VEGAS — New York Giants quarterback Daniel Jones will undergo an MRI on Monday after injuring his right knee in Sunday's 30-6 loss at the Las Vegas Raiders.
Article content
Coach Brian Daboll said an X-ray showed "nothing wrong," but would wait until the results of additional tests before making any definitive judgments.
Article content
"We'll see where it's at," Daboll said.
Article content
Jones went down awkwardly on the first play of the second quarter and untouched while dropping back to pass and then grabbed his knee. He first injured it on the final play of the first quarter, going down untouched before Raiders defensive end Maxx Crosby touched him down.
Recommended from Editorial
Daboll said Jones said at the time it "felt like it buckled," but nevertheless thought he could return to open the second quarter.
Article content
Jones was taken to the blue injury tent and replaced by Tommy DeVito. He later walked to the locker-room with head trainer Ronnie Barnes.
Jones signed a $160-million, four-year extension with New York in the off-season. This is the second time he has been injured this season. He missed the previous three games because of a neck injury.
"He's worked really hard to get back and it's unfortunate," Daboll said.
RECOMMENDED VIDEO