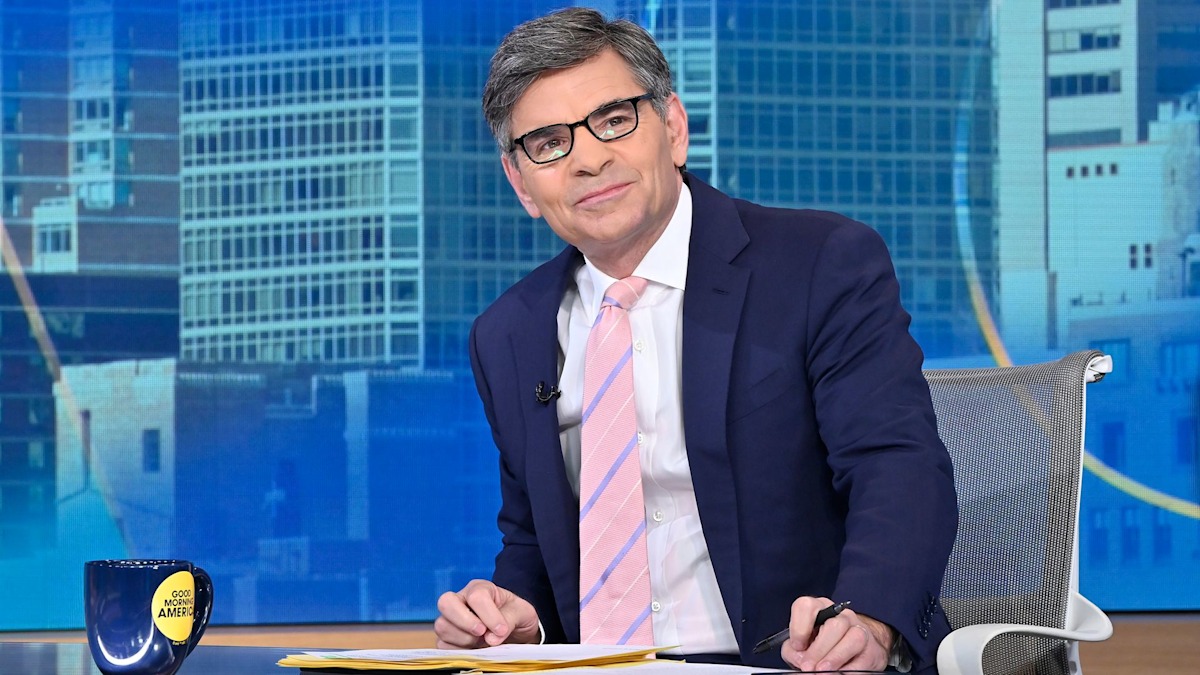 George Stephanopoulos loves his family and this year, he and wife Ali Wentworth became empty nesters – something they are struggling with. 
The Good Morning America star's youngest daughter Harper, 18, went off to study in Nashville at Vanderbilt University, and is far away from home.
This made it all the more bittersweet for the doting dad on Wednesday November 8, when his co-star Lara Spencer dropped in via video call to the GMA studios, from Nashville ahead of her reporting on the CMAs. 
Lara's own daughter, Katharine, is also enrolled at the same college, and George was quick to ask his co-star to check in on his daughter. 
"Say hi to Harper for me," he said during the segment. 
Earlier in the week, George's wife shared a new photo of the pair looking somber while at home in New York City, and wrote in the caption that they were getting used to their new life without either daughter at home. 
"Trying to put on a brave front. #emptynesters," she wrote in the caption. In another recent post, Ali shared a picture of herself posing with her good friend Mariska Hargitay and Ayo Edebiri. 
"I'm posting this to flip my daughters out! @therealmariskahargitay and I are sandwiching @ayoedebiri My daughters are obsessed. This will force them to FaceTime me!!!!! " she wrote in the caption. 
When Harper moved to Nashville in the fall, George opened up about the transition during a back to school segment on Good Morning America. 
"It's a huge adventure for Harper. She's never lived in Nashville before and the campus was amazing," he said, before adding: "Ali and I met and got married within nine months, and had a baby nine months later, so we've never known a house without kids really." 
The parents' advice for their youngest was to "go with the flow. Be engaged. Be curious." Ali, meanwhile, posted a number of photos of herself and George walking away from Harper's dorm on the college campus, hand in hand. 
"We dropped our baby off at college. Everyone is saying 'she's ready to launch'! But… I don't think I'm ready!" she penned. "I don't want to stop making pasta with vodka sauce, picking up wet towels, cuddling up to her familiar scent. As Joni Mitchell once wrote – 'the bed's too big, the frying pan too wide'." 
She continued: "I know our daughter will thrive. But man, it's brutal on the parents. If you feel inclined – please send me baked goods. I'll be under my covers." 
As well as Harper, George and Ali are also parents to 21-year-old daughter Elliott. She is in second year at Brown's University, somewhat closer to home.
Read more HELLO! US stories here
Get the lowdown on the biggest, hottest celebrity news, features and profiles coming out of the U.S.  Sign up to our HELLO! Hollywood newsletter and get them delivered straight to your inbox.