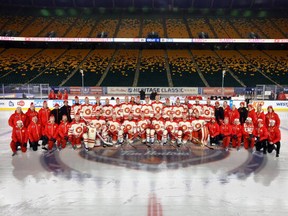 Article content
EDMONTON — They're chasing two points in the standings … and a potential turning point for their season.
Article content
It has been a frustrating fall for the Calgary Flames and Edmonton Oilers, but one of these rival squads will snap out their funk in Sunday's Heritage Classic.
Article content
The Flames arrived in Edmonton with a 2-5-1 record. Their hosts have been even worse, with just one victory — and one loser point — to show for seven games so far. Both have suffered four straight losses.
"I think this is a pretty unique opportunity to hit the reset button," said Flames winger Blake Coleman after Saturday's practice at Commonwealth Stadium. "We can enjoy tonight and this experience with our families and friends and kind of forget about everything that has started off the season. And then tomorrow, it's a fresh reset for us and a great opportunity to get on the right track.
Article content
"Obviously, both teams are probably saying the same thing at this point. Somebody has gotta come out with the win, and somebody can really use that win to springboard their season the right way."
MacKenzie Weegar, hearing Coleman's assessment, nodded in agreement.
"You have two desperate teams going at it, two teams that are dying for a win," Weegar said, previewing Sunday's outdoor showdown between the Flames and Oilers. "It's going to be a Battle of Alberta tomorrow, for sure. It sets up great.
"We're looking for two points, and we need that bad. It could be a springboard. Carrying through November and hopefully the rest of the season, we can look back on this game as one of those pivotal moments."
That's the hope.
Article content
On both sides.
"They're in the same boat, pretty much," said Flames captain Mikael Backlund. "One team is going to feel a lot better about themselves waking up Monday."
WEATHER WATCH  
The meteorologists expect it will be just below freezing for Sunday's opening faceoff. The forecast calls for mostly clear skies and a light northwest wind.
Environment Canada issued a special weather statement for game-night, which included this hilarious line: "The weather won't be nearly as cold as it was during the 2003 Heritage Classic, but temperatures will be below average for this time of year. Harvey the Hound won't want to lick any metal poles."
Weegar's cousin, Craig Rivet, suited up for the Montreal Canadiens during that deep-freeze in 2003. With the wind-chill factor, it was nearing minus-30 C for the NHL's first outdoor game.
Article content
"I remember my cousin just saying he was freezing his … you know … bum off," Weegar quipped. "But he had fun. He said it was a privilege to play in it. A pretty cool moment for him, I'm sure.
"When you're done your career, it's pretty special to play in one of these."
ICE CHIPS: Flames winger Adam Ruzicka suited up for Saturday's practice but wasn't doing a whole lot. He seems likely to miss this marquee event due to a shoulder injury. "He's still day-to-day," said head coach Ryan Huska. "There's a chance we'll see him (Sunday), but it's going to depend on how he feels in the morning" … Calgary's best blue-liner, Rasmus Andersson, will be watching in his winter warmies as he finishes serving his four-game suspension … After a solid showing in his NHL debut, Flames defence call-up Ilya Solovyov is expected to remain in the lineup against the Oilers … Coleman was impressed with the ice conditions at Commonwealth Stadium. "A little bit slower maybe, and a little bit different feel than your typical sheet," Coleman said after the practice session. "But if it plays like it did tonight, I don't think there's going to be too many excuses tomorrow."
wgilbertson@postmedia.com
On X: @WesGilbertson
Wes Gilbertson and Danny Austin have been covering the Flames for years and know what makes the team tick. Have questions? They have the answers – or the contacts to track them down. Send your questions to calgaryflames@postmedia.com