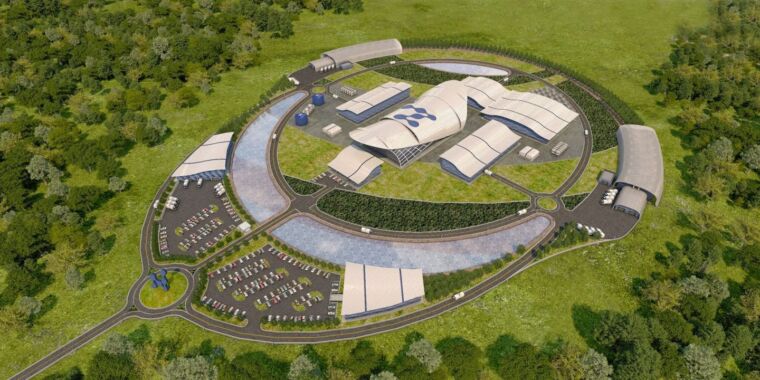 Nuclear power provides energy that is largely free of carbon emissions and can play a significant role in helping deal with climate change. But in most industrialized countries, the construction of nuclear plants tends to grossly exceed their budgeted cost and run years over schedule.
One hope for changing that has been the use of small, modular nuclear reactors, which can be built in a centralized production facility and then shipped to the site of their installation. But on Wednesday, the company and utility planning to build the first small, modular nuclear plant in the US announced it was canceling the project.
Going small
Small modular reactors take several steps to potentially cut costs. Their smaller size makes it easier for passive cooling systems to take over in the case of power losses (some designs simply keep their reactors in a pond). It also allows the primary components to be built at a central facility and then shipped to different plant sites, allowing a lot of the manufacturing equipment to be reused for all the sites that use the reactors.
The US has approved a single design for a small, modular nuclear reactor developed by the company NuScale Power. The government's Idaho National Lab was working to help construct the first NuScale installation, the Carbon Free Power Project. Under the plan, the national lab would maintain a few of the first reactors at the site, and a number of nearby utilities would purchase power from the remaining ones.
With the price of renewables dropping precipitously, however, the project's economics have worsened, and backers started pulling out of the project.
The final straw came on Wednesday, when NuScale and the primary utility partner, Utah Associated Municipal Power Systems, announced that the Carbon Free Power Project no longer had enough additional utility partners, so it was being canceled. In a statement, the pair accepted that "it appears unlikely that the project will have enough subscription to continue toward deployment."
NuScale CEO John Hopkins tried to put a positive spin on the event, saying, "Our work with Carbon Free Power Project over the past ten years has advanced NuScale technology to the stage of commercial deployment; reaching that milestone is a tremendous success which we will continue to build on with future customers." But none of those potential customers had advanced any project nearly as far as the Carbon Free Power Project, so it is now uncertain whether the company can build any commercial reactors before the decade ends.
The same is now true for nuclear power in general in the US. No large reactors are planned, and the last few projects of that sort were either canceled or ran horrifically over budget. And, while some other reactor designs are being considered for separate projects, none have cleared the hurdle of approval by the Nuclear Regulatory Commission.