Key events
Drinks England are now 24 for three in the last 7.2 overs. This isn't the belter some of us expected, so there's no need to panic yet. Ah, who am I kidding. Panic away!
WICKET! England 68-3 (Bairstow c Dhananjaya b Rajitha 30)
Uh-oh. Bairstow falls to a poor shot, slugging Rajitha straight to mid-on, and England are reacquainting themselves with the malodorous stuff.
13th over: England 68-2 (Bairstow 30, Stokes 4) Lahiru Kumara, a beefy fast bowler, comes into the attack. Stokes drives him just short of cover, then considers a dodgy single to backward point before being sent back by Bairstow. England are nervous.
Stokes plays his first muscular stroke, belabouring a cut through the covers that is well stopped on the boundary. An eventful over ends with Stokes being beaten not once but twice. Yeah, England are nervous.
"It's morbidly fascinating how quickly England have lost their collective mojo and become terrible," says Phil Harrison. "The margins are so tiny in top-level sport aren't they? And if you lose your flow, your confidence, your vibe (which is what I think has happened), it's so hard to recover. You can see them doubting themselves; doubting their ability to manage setbacks.
"As a Leeds fan, I now get a similar mood off this England team to how Leeds felt towards the end of last season. They'd always find a way to lose."
12th over: England 66-2 (Bairstow 30, Stokes 2) On the run-out, it looked like Root's mistake rather than Bairstow's. It was a very tight single and Bairstow had already survived one chance.
Rajitha replaces Theekshana, who bowled a mischievous spell of 3-0-10-0, and Bairstow has a stroke of fortune when he bottom-edges a wild mow onto his pads. He could easily have dragged that one.
11th over: England 62-2 (Bairstow 27, Stokes 1) This isn't a 350 pitch. I'm not sure it's even a 300 pitch. That doesn't suit England but it should make for a fascinating struggle. England were 44/0 after six overs; since then they've managed 18/2 from five.
"Is now the time to mention that England have lost their last four matches against Sri Lanka in the 50-over World Cup?" writes Michael Avery. "Including two absolute demolitions in 2011 and 2015?
"Also, whilst double-checking these matches were both pastings, I remembered in 2015 that Moeen opened the batting with Ian Bell. How could such a dream combination fail?"
Well, I did, ahem, sort of mention it in the introduction. In truth I'm not sure it's particularly relevant, though it's the kind of statistic you'd rather have in your favour.
As for Moeen and Bell, who says they failed? You've got to lose that scorecard lens sometimes! (Actually, their overall record wasn't bad, though it was helped by a biggie against Scotland.)
Stokes is not out! Yep, miles outside leg, so Sri Lanka lose a review.
Sri Lanka review for LBW against Stokes! Don't worry, it's a poor review – it pitched outside leg. And if I've got that wrong, this entry will be deleted faster than you say, "You effing effer I'll chop your effing effers off."
10th over: England 59-2 (Bairstow 25, Stokes 0) "On the train from Berlin to Utrecht today so this has my full attention," says Mark Beadle. "Do you think this will finally be 'the one' we've been waiting for this tournament? You know what I mean."
Since reading your email, all I can hear is a frankly unrewarding mash up of Nick Cave and Rosie Gaines. But yes, I'm confident this will be the first really close game of the World Cup. It's got that smell.
WICKET! England 57-2 (Root run out 3)
If this isn't a window into England's soul, then I don't know what is. Jonny Bairstow and Joe Root, whose running between the wickets has been telepathic for 15 years, have just had an extremely costly mix-up. Root scuffed Theekshana to backward point and set off; Bairstow sent him back and Root was well short despite a dive. He didn't even wait for the replay.
9th over: England 55-1 (Bairstow 24, Root 3) Bairstow survives a run-out chance after being called for a short single on the off side by Root. It was Spandex tight, but I think he would have been out had the throw hit the stumps. The pressure is starting to build: the last three overs have brought 11 runs and the wicket of Dawid Malan.
"Angelo Mathews constantly turns up against England," says Alistair Stewart. "Feels like every game no matter the format there's at least a fifty or a fivefer."
You're not wrong. No fivefers but he has scored heaps of runs against England in all formats, most notably that epic, series-winning 160 at Headingley in 2014. I think he took his only four-for against England in that game as well.
8th over: England 52-1 (Bairstow 22, Root 2) Theekshana, whose variations make Mitchell Santner look repetitive, already looks a handful. England are playing him with caution, Bairstow especially, and there are three singles from the over.
7th over: England 49-1 (Bairstow 20, Root 1) That's another frustrating dismissal for Malan, though at least he gave England a bit of impetus with a 25-ball 28.
Before that intervention, since you asked, Mathews had bowled only 20 overs in ODI cricket since 2017. Alex Lees has had two kids since then.
WICKET! England 45-1 (Malan c Mendis b Mathews 28)
Here comes the replay – he's out! Angelo Mathews has struck with his third ball! Malan flirted with a cross-seam delivery and snapped his head round nervously as the ball went through to Mendis. Mathews waved his hands desperately at the umpire, who said not out, but Mendis reviewed instantly. Sri Lanka knew and so did UltraEdge.
Sri Lanka review for caught behind against Malan!
he recalled Angelo Mathews, 36, comes on to bowl his slightly stiff medium pace. That's a surprise, not least because Bairstow is on strike so Madushanka could have had another crack at him.
Mathews has bowled just three overs in international cricket – all codes – in the last two and a half years. But he's a canny old rogue and he may have got Dawid Malan here!
6th over: England 44-0 (Bairstow 16, Malan 28) Kusal Mendis doesn't waste time in bringing on his best bowler, the mystery spinner Maheesh Theekshana.
Bairstow is beaten by a quicker one, then cuts a rank bad ball behind square for four. An otherwise excellent first over ends with Malan being beaten on the inside.
5th over: England 39-0 (Bairstow 11, Malan 28) England's openers were a bit frantic at first but they're playing nicely now. Madushanka's first ball is driven sweetly through the covers for four by Malan, and suddenly Sri Lanka look rattled.
Malan picks up two more boundaries in the over, pulling a poor ball round the corner and spanking another uppish cover drive. That's his sixth boundary and England's sixth in the last 10 balls.
It's clever batting from Malan, not least because he's keeping Bairstow down the other end. Madushanka has bowled just one ball to Bairstow in this match, the LBW that wasn't.
"The 40-ball hundred," says Matthew Doherty, "obviously."
I reckon only three players are capable of that: Jos Buttler, Liam Livingstone and Mark Wood.
4th over: England 27-0 (Bairstow 11, Malan 16) Malan smashes consecutive wide deliveries from Rajitha for four – the first past point, the second over cover. Both were in the air but perfectly safe. "There's a pattern here," says Nasser on Sky, "all four boundaries have been wide."
Make that five boundaries. A length ball from Rajitha, only slightly wide, is punched imperiously through the covers by Bairstow. That's a superb shot.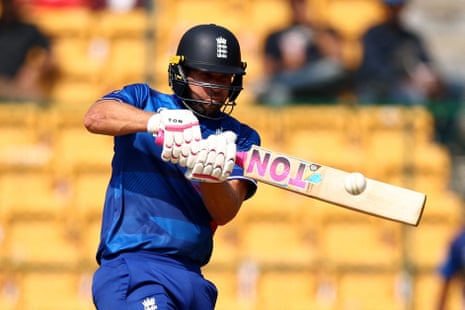 3rd over: England 12-0 (Bairstow 7, Malan 5) Madushanka pulls his length back and beats Malan with consecutive outswingers; the second was a jaffa. Early wickets are so important in this tournament, particularly on the 300+ pitches.
This has been a terrific start from Madushanka, who looks a sure thing for the next 10 years. Mind you, I said the same about Avishka Fernando in 2019.
2.2 overs: England 11-0 (Bairstow 7, Malan 4) Madushanka v Malan and Rajitha v Bairstow is a preferable match-up for England. When Madushanka pitches one up, looking for swing, Malan plays a pristine cover drive for four.
"Hi Rob," says Matthew Doherty. "Who do you think will be England's Maxwell?"
Are we talking about the 40-ball hundred v Netherlands or the comedy golden duck v Pakistan?
2nd over: England 7-0 (Bairstow 7, Malan 0) The tall right-arm seamer Kasun Rajitha shares the new ball. There's been some talk of Sri Lanka being the worst team in the tournament, but their three defeats were against South Africa, Pakistan and Australia and they had their moments in all three games. They also reached the Asia Cup final last month.
Bairstow is beaten by Rajitha's second ball, wafting across the line. The openers are trying too hard to make a statement. But that's better: when Rajitha offers a bit of width, Bairstow cracks the ball into the ground and past point for four. That felt natural rather than forced.
1st over: England 3-0 (Bairstow 3, Malan 0) Malan is beaten twice – once by a good delivery, once having a lusty slap across the line. An exceptional start from Madushanka. I'm still reeling from that Bairstow reprieve. It'll be a helluva story if he reels off seven successive hundreds.
"Am gutted that Brook has been dropped," says Ian Copestake. "I did not think much of Livingstone's gum-chewing nonchalance last time he threw his wicket away and then reviewed it."
Look, Ian, he's not in the team for his gum-chewing nonchalance.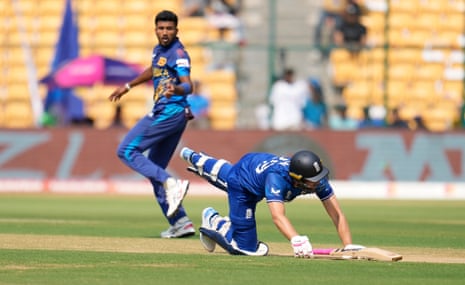 Bairstow out but Sri Lanka don't review!
0.1 overs: England 3-0 (Bairstow 3, Malan 0) Madushanka's first ball is a beautiful full inswinger. Bairstow jabs down on it and the ball races back past the bowler for three runs. Sri Lanka discuss a review, wondering if it was pad first, but eventually they run out of time.
Replays show it was pad first and Bairstow was plumb! My goodness, England have dodged one there.
Right, here we go. Madushanka to Bairstow, mind the gap between bat and pad.
In 2019 and 2022, England's charge to World Cup glory started with a riotous opening partnership. The fit-again Jason Roy and Jonny Bairstow added 160 in 22.1 overs against India at Edgbaston; Jos Buttler and Alex Hales belted 81 in 10.2 overs against New Zealand last year.
They'd love a similar start today, though they should be wary the left-arm swing bowler Dilshan Madushanka. He has 11 wickets in the tournament – no fast bowler has taken more – and Jonny Bairstow's name is screaming MATCH UP.
Simon Burnton's preview
Can you hear the drums Romeo?
When Sri Lanka stunned England in the 2019 World Cup, 21-year-old Avishka Fernando made a majestic 39-ball 49, taking Jofra Archer to the cleaners in the process. He looked like a future superstar.
His record since is no more than okay, and he's nowhere this squad. Does anyone know what happened? If not, could someone ask Andrew Fidel Fernando?
"My shabby amusement at Glenn Maxwell's collapse-inducingly ludicrous first-baller against Pakistan has deservedly received full karmic retribution with England's humbling by South Africa and then of course the Super Max redemption yesterday," writes Brian Withington. "I'm hoping that's quite enough punishment for one tournament, but your warning about Sri Lanka's record against England makes sobering reading.
"However, lest we forget, England were deeply in the mire in 2019 before winning four consecutive cup finals. (Some New Zealanders would query that result in the actual final, of course.) But then, I can't recall the team and toss selection being quite as chaotic four years ago, nor Cap'n Morgan forgetting the name of an unfortunate player just dropped. Ominous."
It feels different this time, but then it always does until the fightback gets going. I thought they were done in 2019, and that would have been a far greater humiliation, though I agree it was nowhere near as chaotic or confusing as this. They made one change, essentially, Liam Plunkett for Moeen Ali. This time, as Steven Finn says on TMS, they're chasing their own tail.
Can we clear one thing up? The received wisdom is that England rather ingeniously weakened their batting and bowling with their selection against South Africa on Saturday. I'm not sure about the former: on current form, I'd argue, Ben Stokes, David Willey and Gus Atkinson will get you more runs in an ODI than Liam Livingstone, Sam Curran and Chris Woakes.
England were a mess, that's beyond dispute, but let's not charge them with offences they didn't commit.
Team news: three changes for England
England continue to adjust the deckchairs/search for a winning formula. Liam Livingstone, Moeen Ali and Chris Woakes replace Harry Brook, Gus Atkinson and Reece Topley. That feels pretty harsh on Atkinson, though playing three spinners makes sense if it's a dry track. For whatever reason, I don't think England trust Atkinson with the new ball.
Sri Lanka make two changes. Angelo Mathews, who starred when Sri Lanka stunned England at Headingley in 2019, and Lahiru Kumara come in for Chamika Karunaratne and Dushan Hemantha.
England Bairstow, Malan, Root, Stokes, Buttler (c/wk), Moeen, Livingstone, Woakes, Willey, Rashid, Wood.
Sri Lanka Nissanka, Perera, Mendis (c/wk), Samarawickrama, Asalanka, Mathews, Dhananjaya, Theekshana, Rajitha, Kumara, Madushanka.
England win the toss and bat
Jos Buttler says the pitch is dryer than usual, which makes batting first an even more straightforward decision. "We've been short of our best," he says. "We've done enough talking, it's all about performing."
Sri Lanka's stand-in captain, the brilliant Kusal Mendis, says he would have batted first as well.
Pitchwatch This is the ground on which Australia played Pakistan last Friday. Between them they scored 672 runs at more than seven an over, with 25 sixes and 59 fours.
This is the only data England need to consider. Jos, should you win the toss, please for the love of wellness bat first.
Hello, good morning and welcome to the last-chance saloon. For a team whose LinkedIn page proudly says skill: running towards the danger, England don't half enjoy having their back against their wall. For the third time in the past 12 months, they've left themselves with no margin for error and a whole heap of cricket still to play.
There's an outside chance England could lose one more game and qualify for the semi-finals, but realistically they have to win five matches in a row just to reach the last four. It's been done before – not by Pakistan's cornered tigers, wonderful though they were, but by Australia's red-hot goers. In 1999 they were at the precipice of an enormous crossroads after losing to New Zealand and Pakistan in the first group stage.
As he sat alone in a Durham hotel with a club sandwich and a Coke, watching Manchester United score two injury-time goals to win the Champions League and the Treble, their captain Steve Waugh had a moment of clarity.
As I watched this stunning fightback I couldn't help thinking that anything is possible in sport and in life, if you want it badly enough and have enough faith in those around you. What we have to do in the World Cup suddenly seems quite simple – go out there, give it a 'red-hot go', and trust ourselves.
Independently of Waugh – they were barely talking – an out-of-form Shane Warne drew a similar conclusion. "I thought that if this was going to be my last chance to win the World Cup, I was going to give it a red-hot dip."
Australia, like England, had to win five games in a row just to reach the semi-finals. You know the rest. And if you don't, you can probably guess. We wouldn't be citing this precedent if Australia lost every game and went home to a banquet of rotten eggs, would we.
All England can do is win the next game and see where it takes them. By that, I mean this bloody game. Look, I know what you're thinking. I know what you're up to. It's just Sri Lanka, they've been rubbish, this'll be a formality and then we can move on to the big one against India on Sunday. If England win that, they're brawling!
England's performances, never mind results, don't justify such hyperopia. Sri Lanka, despite an injury crisis and some disappointing results, are above England in the table – and they've had a tougher run of fixtures. They also have a terrific World Cup record against England, with only one defeat in the last 30 years.
In the current climate, every opponent is dangerous. All England can do is feel the bricks against their back, trust their muscle memory, stop talking. And start running.