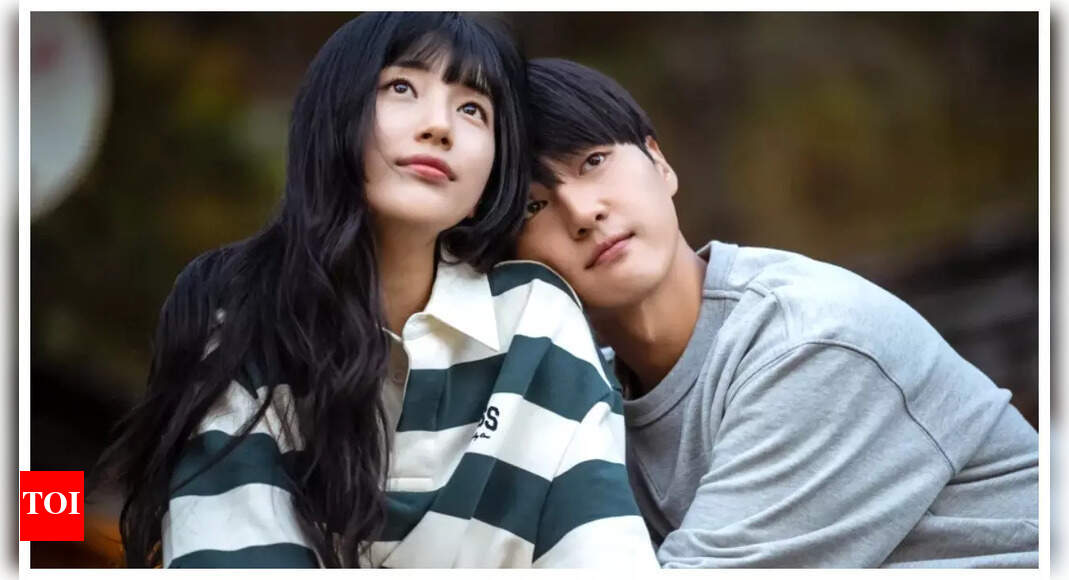 The latest South Korean sensation Doona! is not your regular, mushy watch but a subtle reminder of the realities of life. Having explored romance through diverse lenses with narratives like 'Crash Landing on You' and 'Romance Is a Bonus Book', director Lee Jung-hyo paints an unconventional tale with Doona!, which has an undercurrent of intense love.
Doona! starts off with the glamorous setting of a female K-Pop band being cheered with enthusiastic fans and in a blink of a moment, the linchpin, Doona (Bae Suzy) drowns into the depths of deep water, symbolising her struggle with loneliness and anxiety. Having severed ties from her band Dream Sweet, Doona is smoking her life away when the male lead enters, Lee Won-jun (Yang Se Jong).
While Lee Won-jun (Yang Se Jong) tries to win over his teenage crush, Kim Jin-ju (Shin Ha-young), he unknowingly falls for Doona (Bae Suzy). Yan Se Jong's portrayal of a shy, caring friend (read: boyfriend), comforting the troubled star, sets the benchmark for ideal partners. Living a reclusive life, Doona ends up leaning on Won-jun for much support and their romance sets hearts racing. The first brief kiss, moments of jealousy and steamy romantic scenes simply cement director Lee Jung-hyo's position as one of the best romantic drama directors.
Jin-ju and Won-jun's relationship feels like a warm hug which stands a chance of being disrupted with a hint of intimacy, while the chemistry between Doona and Won-jun is fiery, palpable and all things intense! Won-jun's childhood friend, the bubbly Choi I-ra (Park Se-wan) and his two housemates – Goo Jeong-hoon (Kim Do-wan) and Seo Yun-tae (Kim Min-ho) bring in the much needed light-hearted relief amid the heady romance of the leads.
Won-jun plays an instrumental role in redefining Doona's perspective on life, which she emotionally confesses in a heated moment. However, their love is not about togetherness but seeking happiness in each other's success. Doona! is a far cry from chaebol dramas and glamorous settings, it is a melting blend of regular life struggles with an aura of celebrity troubles. If you are looking for a happy ending, then skip this drama, but if you are a sucker for sweet nothings, a soft-hearted lead who can make your heart flutter and an endearing friendship, then Doon! is right up your alley.