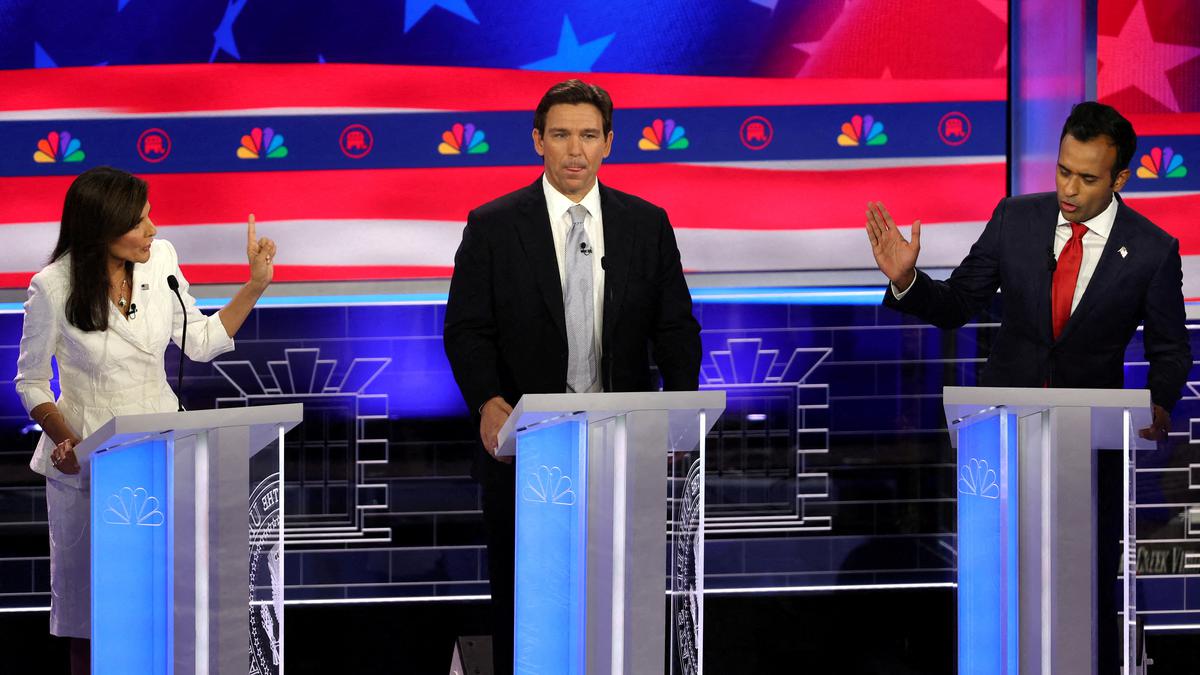 In their first debate since the start of the Israel-Hamas war, the Republican presidential candidates all declared support for Israel but squabbled over China and Ukraine as they faced growing pressure to try to catch Donald Trump, who was again absent.
Sparring over several issues were Ron DeSantis and Nikki Haley, who has appeared competitive with Mr. DeSantis' distant second-place position in some national polls. Much of the debate focused on policy — especially foreign policy issues — rather than Mr. Trump and his record.
Ms. Haley, the former South Carolina governor and United Nations ambassador, declared she would end trade relations with China "until they stop murdering Americans from fentanyl — something Ron has yet to say that he's going to do." In return, the Florida governor said Ms. Haley "welcomed" Chinese investment to her state, referencing a land deal with a Chinese manufacturer while she led South Carolina.
All five candidates face growing urgency, with the leadoff Iowa caucuses just a little more than two months away, to cut into Mr. Trump's huge margins in the 2024 primary and establish themselves as a clear alternative. But it's not clear many Republican primary voters want a Trump alternative. And given his dominance in early state and national polls, Mr. Trump again skipped the debate to deprive his rivals of attention.
On beating Trump
Mr. Trump was the subject of the debate's first question, when moderators asked each candidate to explain why they were the right person to beat him.
Mr. DeSantis said, "He owes it to you to be on this stage and explain why he should get another chance." He suggested Mr. Trump had lost a step since winning the White House in 2016, saying he failed to follow through on his "America First" policies.
Ms. Haley, who is pulling some voter and donor curiosity from Mr. DeSantis, said Mr. Trump "used to be right" on supporting Ukraine but "now he's getting weak in the knees."
But the conversation moved on to policy issues with relatively few head-to-head confrontations. The moderators often declined to call on candidates who were mentioned by others onstage, as is normally the custom.
The DeSantis and Haley campaigns for months have attacked each other on China, long a topic of scorn in GOP primaries. Their allied super PACs have run ads in early primary states alleging the other side is soft on Beijing.
Ms. Haley also accused Mr. DeSantis of being a "liberal" on the environment for opposing the extraction of fossil fuels off Florida's coast — a process known as fracking — and dared him to "just own it."
"We are absolutely going to frack, but I disagree with Nikki Haley. I don't think it's a good idea to drill in the Florida Everglades and I know most Floridians agree with me," he responded.
Abortion rights
Abortion was also a topic of the debate after Democrats and abortion rights supporters won several statewide races in Tuesday's elections.
Mr. DeSantis, who signed a six-week abortion ban in Florida, said anti-abortion activists were "flat-footed" in mobilising and noted that people who voted for the measures included Republicans who have previously supported GOP candidates.
Ms. Haley, long credited by anti-abortion group leaders for how she talks about the issue, called abortion "a personal issue for every woman and every man" and said she doesn't "judge anyone for being pro-choice."
She said Republicans need to acknowledge they don't have the votes in Congress to pass a national abortion ban but should instead work to find some consensus to "ban late-term abortions," make contraception available and ensure that states don't pass laws that punish women for getting abortions.
Ramaswamy chimes in
Also appearing onstage Wednesday were South Carolina Senator Tim Scott, former New Jersey Governor Chris Christie and biotech entrepreneur Vivek Ramaswamy.
Mr. Scott frequently referenced the Bible and appealed to the Christian faith of many Republican primary voters, echoing his campaign themes and his singular focus on Iowa, where white evangelical voters are an influential bloc.
Mr. Christie defended U.S. support for Ukraine in its defence against Russia's invasion, saying that for the U.S.: "This is not a choice. This is the price we pay for being the leaders of the free world."
Mr. Ramaswamy tried several times to push his way into the centre of the debate. Having long styled himself as someone willing to challenge his rivals, Mr. Ramaswamy repeatedly went after other candidates, notably Ms. Haley, who tussled with him in the first two debates.
Ms. Haley seemed to ignore his first barbs, but snapped during a discussion about the social media app TikTok, which many Republicans want banned in the U.S. due to its parent company's ties to China.
Mr. Ramaswamy accused Haley's daughter of having had her own TikTok account until recently. Responded Mr. Haley, "Leave my daughter out of your voice!" She then told him, "You're just scum."
Backing Israel
All the candidates said they were staunchly behind Israel as it mounts an offensive in Gaza following Hamas' October 7 attack that killed more than 1,400 people. The candidates did not discuss humanitarian aid for civilians in Gaza as the number of Palestinians killed in the war passed 10,500, including more than 4,300 children, according to the Hamas-run Health Ministry in Gaza.
Several also said they would pressure college campuses to crack down on antisemitism.
Mr. Trump has retained huge leads despite his efforts to try to overturn his 2020 election loss, his embrace of those jailed for storming the U.S. Capitol on January 6, 2021, and his four criminal indictments and a civil fraud case against his businesses, for which he testified in New York this week.
His campaign has worked to overpower Mr. DeSantis in their shared home state and publicly said it wants to score blowout wins in early primary states to seal the nomination.
Mr. Trump held a rally for several thousand people at a stadium in the Cuban American hub of Hialeah that his campaign designed to demonstrate his strength with Latino voters. He was endorsed by his former White House press secretary, Arkansas Governor Sarah Huckabee Sanders. Also speaking at the rally were comedian Roseanne Barr and mixed martial arts fighter Jorge Masvidal.
Mr. Trump claimed no one was watching the debate and said holding a rally was much harder than going on a debate stage.
One attendee, Paul Rodriguez, said: "I go to all Trump events. I hope common sense returns to America. Donald Trump speaks for us, while Democrats do it for corporations and other countries."
Senior Trump adviser Chris LaCivita issued a statement at the end of the debate calling it a "complete waste of time and money."
Republican National Committee chairwoman Ronna McDaniel told reporters after the debate that she's discussed the upcoming debates with Trump but doesn't expect him to join.
"I don't think he's going to get on the debate stage. He's made that clear," she said. "He feels as a former president, he shouldn't have to be on the debate stage, that he's going to earn the nomination a different way. We're going to let the process play out and whoever wins the nomination, we're all going to get behind."