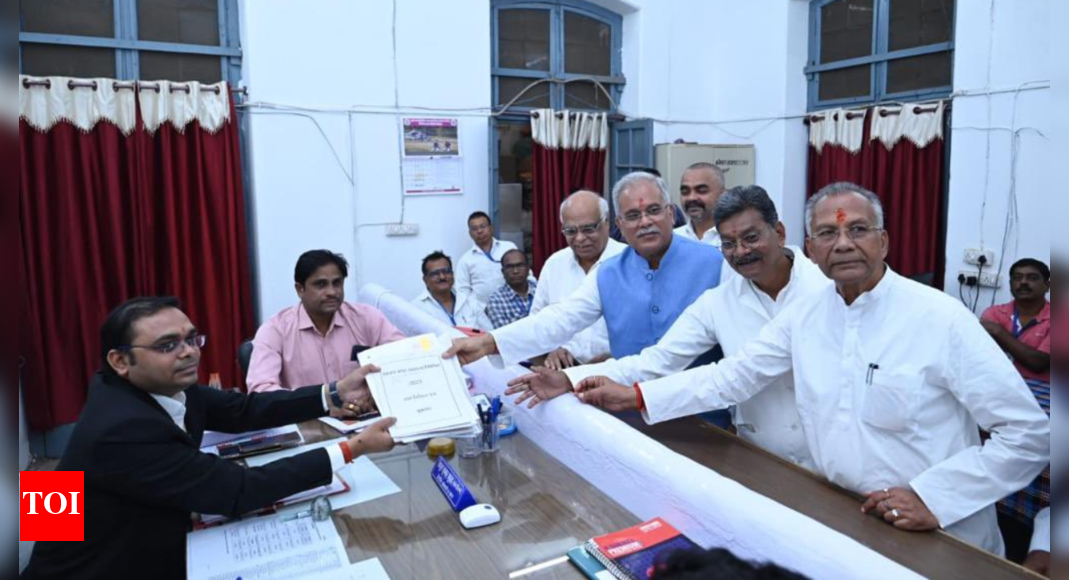 RAIPUR: Chhattisgarh Chief Minister Bhupesh Baghel on Monday filed nomination from his traditional seat Patan in Durg district for the assembly polls scheduled next month and expressed confidence that the Congress will retain power in the state. The 62-year-old CM posted pictures on his X handle of filing the nomination papers at Durg collectorate.
Chhattisgarh assembly speaker Charan Das Mahant and state Home Minister Tamradhwaj Sahu were seen accompanying him while filing the nomination.
"Name- Bhupesh Baghel. Assembly Constituency- Patan. With the blessings of Chhattisgarh Mahtari (mother Chhattisgarh), today I have filed nomination as a candidate again from Patan assembly constituency. #fir_se_layenge_Congress (will bring Congress again)," the CM said on X.
Before going for filing the nomination, Baghel shared his pictures on social media in which his wife is seen applying 'tilak' on his forehead at their residence in Bhilai.
"I always remember the day when I went to file nomination for the first time. Today I have left from my Bhilai residence to file nomination as a candidate from Patan. My wife Mukteshwari applied tilak like every time. Your love is my strength. For the self-respect of Chhattisgarhiya, I promise to always remain dedicated in serving you all," the CM said in his social media post.
Patan, a rural constituency, share border with the state capital Raipur.
Baghel has been elected five times from the seat – in 1993, 1998, 2003, 2013 and 2018.
In 2008, he lost the assembly poll to BJP's Vijay Baghel, who is also his nephew.
The opposition BJP in the state has fielded Vijay Baghel, who is currently the Lok Sabha member from Durg, in this assembly seat.
The CM and the BJP candidate belong to Kurmi – an influential OBC community in the state, which has a sizable population in the constituency.