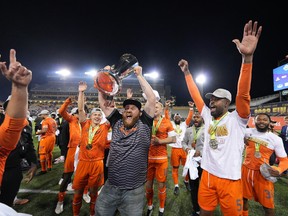 Calgary club dominates championship match only to come up cursedly short in bid for 'The Double'
Article content
Tommy Wheeldon Jr. rightly calls it a "curse."
Article content
How else do you explain yet another year coming up short in the Canadian Premier League playoffs?
Article content
This time coming — again to Forge FC — on two all-world home-side goals in Saturday's epic 2-1 final in front of 13,925 fans at Hamilton's Tim Hortons Field.
"There must be some kind of curse or craft going on," said Cavalry gaffer Tommy Wheeldon Jr., whose charges were trying to deliver 'The Double' — that is the playoff title following their dominant claim of the regular-season crown.
"The lads are devastated," continued the GM/head coach. "They wanted to be the first ones to win a double and almost have that perfect season. And they're gifted enough and talented enough and strong enough as a unit to have done it."
Trouble is, they couldn't have even scripted what did happen on their way in trying to pull off a first-time 'double' feat by a CPL team.
Article content
The Cavs were drop-kicked in extra time only by absolute jaw-dropping goals from Forge stars Béni Badibanga and Tristan Borges.
The pair answered and erased a beautiful goal itself by Cavalry — struck home by Ali Musse to finally break a nil-nil deadlock in the 101st minute — to send host Forge to victory in what was another spirited battle between the arch-rivals and an entirely epic championship match.
"It stings, for sure," said Cavalry midfielder Charlie Trafford. "There's not many words right now. I think we're a little shell-shocked about it.
"We felt — I don't want to say in full control — but pretty comfortable. And then we finally get the goal we wanted, and then it's a bit chaotic after that — two crazy goals that you don't expect, and it hurts.
Article content
"But that's what Forge do, I guess. You have to give big respect to them. They're an unbelievable team. They're great in these games. Nothing but good things to say about Forge."
That's now four-time and repeat-champion Forge, which knows how to win on the big stage, especially against Cavalry.
Recommended from Editorial
Among their six playoff wins over the Cavs, the CPL kings from Hamilton scored 1-0 decisions in both legs of the inaugural 2019 finale.
Article content
But this one was some kind of spectacular, to be sure.
First came Musse's goal — one both he and Cavalry deserved after being on the front foot mostly uncontested for much of the match — as he lasered a ball past Forge 'keeper Triston Henry nearing the end of the first extra-time period. Myer Bevan stayed on a ball while on the ground in the penalty area, and won it back to Jesse Daley, who then dropped a smart pass for Musse to run onto and hammer home from just outside the box.
While it felt like it should be the winner, the goal served only to wake up Forge from game-long submissiveness.
The hosts instantly put on a press and scored just minutes later — five minutes into injury time of the first extra-time period — when Badibanga took Kyle Bekker's corner kick at the extreme corner of the penalty area and unleashed a perfect ball that pasted the far, top corner beyond Cavs goalkeeper Marco Carducci's reach.
Article content
And then just six minutes into the second half of extra time, Cavs killer Tristan Borges delivered a corner kick that drove high in the air and whipped into the far, top corner of the net — like a heat-seeking missile — again beyond the outstretched fingers of Carducci.
"Two worldly goals," Trafford said. "I never expected us to concede like that — and to concede two from outside the box not even in the danger zone for us … what can I say? Two unbelievable goals."
Wheeldon actually called it better.
"You can take a worldly, and that's once-in-a-lifetime in a final," confirmed the coach. "But for two of them to happen, that's unicorn stuff, isn't it? Nothing broke down on our end. That's two terrific goals that are worthy of winning a final."
Article content
Cavalry could've easily won it in regulation if not for Henry, who edged Carducci out for the CPL Golden Gloves award for his work in the regular season.
The veteran goalie turned away a golden opportunity by Cavs whirlwind Jesse Daley, who drilled a shot on the full volley off Willy Akio's well-placed header to his teammate at the top of the goal box. Henry somehow got his hand on the second-half ball to keep it scoreless.
Then, he tracked another well-struck ball by Musse later in regulation to redirect it out of harm and help extend the game into extra time, during which Forge somehow overcame a listless regulation effort to earn the win, the newly unveiled North Star Cup and the first home-field celebration by a CPL playoff champ in the league's five-year history.
Article content
"We showed up — we were brilliant," added Wheeldon. "Their 'keeper made two or three really good saves. And unfortunately for Marco, he spent more time picking the ball out of our net and playing more with his feet than having to make saves.
"We're a little bit shell-shocked by the way we lost that game, because I thought for a large part, we were the better team."
FREE KICKS
Musse came out of the game shortly after scoring, due to cramping, ending the night of the best player on the pitch in the final … In what was a chippy affair, eight yellow cards were handed out, including five to Cavalry players Sergio Camargo (30th minute), Bevan (40th), Daley (57th), Trafford (72nd) and Bradley Kamdem Fewo (105th+5) … The Cavs' Starting XI was: goalie Carducci; defenders Fraser Aird, Eryk Kobza, Daan Klomp and Kamdem Fewo; midfielders Daley, Camargo and Trafford; and forwards Musse, Bevan and Akio … The club's subs were: goalie Sterling Kerr; defender Callum Montgomery; midfielders Ben Fisk, Mael Henry and Shamit Shome; and forwards Joe Mason and Gareth Smith-Doyle … Cavalry scratches were: goalie Joseph Holliday; defenders Tom Field, Udoka Chima, Michael Harms and Roberto Alarcón; midfielders Tate Asante and Nikolas Myroniuk; and forward Ethan Beckford.