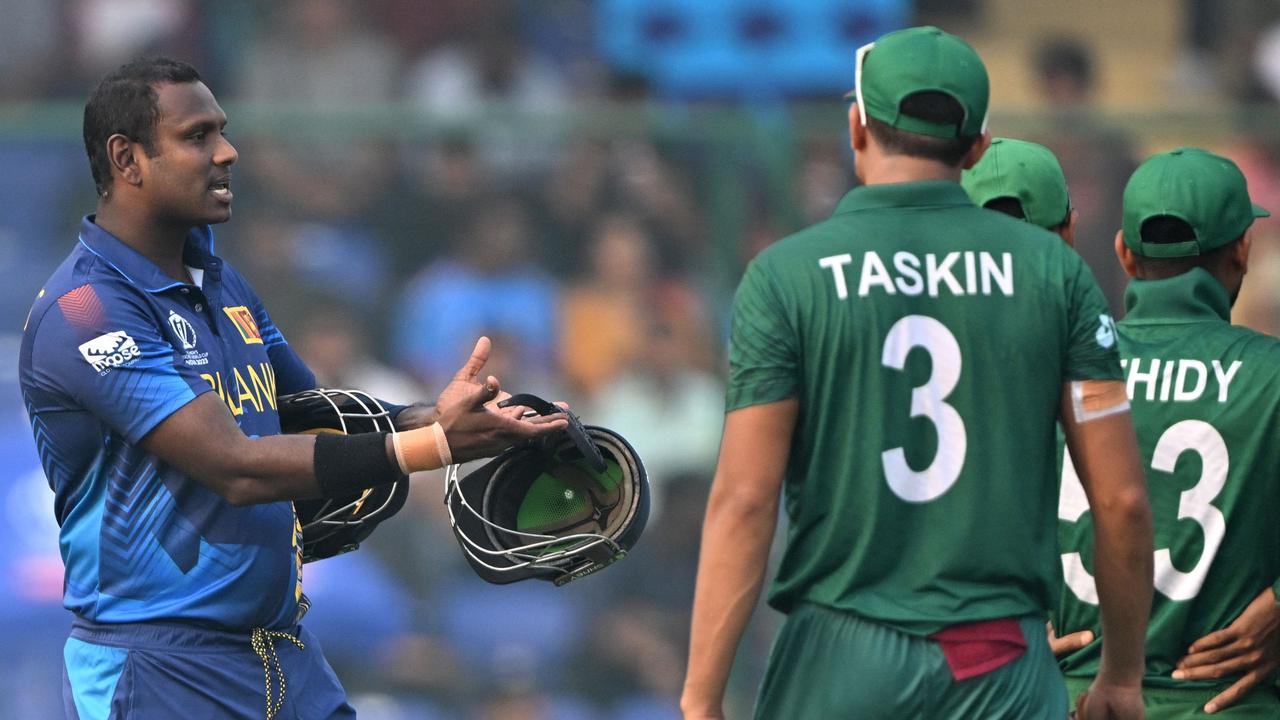 The cricket world is torn after Bangladesh's controversial decision to successfully appeal Angelo Mathews taking too long to take the crease, resulting in him becoming the first player timed out at the international level.
A helmet strap issue meant Sri Lankan all-rounder Mathews was not ready to face the bowler three minutes after the previous wicket during his side's World Cup clash in Delhi.
While in the past, a handful of teams have chosen not to appeal players who were slow to take the crease, Bangladesh enforced the rule and after lengthy discussions the umpires had no choice but to dismiss Mathews without him facing a ball.
Watch every match of The ICC Men's Cricket World Cup Live with no ad breaks in play on Kayo Sports. Join Kayo now and start streaming instantly >
It was approximately a minute and 40 seconds between Sadeera Samarawickrama being caught out and Mathews reaching the pitch, but as he arrived he realised his helmet strap was broken.
The delay required to get a working helmet saw Mathews go over the time limit.
There were heated discussions between Mathews and the umpires after Bangladesh made it clear they were appealing, some five minutes after the previous wicket.
But much like with 'Mankad' run-out wickets at the non-striker's end, the debate quickly turned to whether the incident was within the mythical 'spirit of cricket'.
"I'm all for getting overrates under control, and don't want to get into a spirit of cricket debate. But that is beyond poor form from Bangladesh," AAP journalist Scott Bailey tweeted.
"Common sense should apply on safety equipment. One of the worst pieces of sportsmanship I've seen on an international field."
Long-time journalist Paul Cochrane added: "Can't help but think a part of cricket's soul was ripped out tonight with the Angelo Mathews decision.
"A rule? Yes. In the spirit of the game? In my opinion – not even close."
However cricket statistician Mazher Arshad backed the move.
"Shakib (Al-Hasan, the Bangladesh captain) did nothing wrong. He appealed for a dismissal which is in the laws," he tweeted.
"Angelo Mathews would understand there is nothing against the spirit here cos when he was captain in 2014 he also didn't withdraw the appeal when Jos Buttler was mankaded by Sachithra Senanayake."