Of course, there is plenty of talk of freedom. Many in the room are here because COVID shook them out of their political slumber
Get the latest from Rick Bell straight to your inbox
Article content
It is Danielle Smith's UCP. At least for now.
Article content
The evidence is found in the packed house in Calgary this past weekend where registrations approached the neighbourhood of 4,000.
Article content
The majority of the crowd were newcomers.
Political veterans looked for familiar faces.
There were some but far more of the regulars at these shindigs were nowhere to be seen.
Those few who did show up were awfully quiet and, when it came to voting on where United Conservatives stand, when it wasn't unanimous it was almost always very, very close to 100%.
In fact, the lopsided Yes votes even embarrassed some of those who delighted in the lopsided Yes votes.
At Saturday's main event, one decades-long mover and shaker in conservative circles saw your scribbler and said: "You're the first person I recognize here."
Article content
We were promised a red meat speech by Premier Danielle Smith and it was interesting what the crowd thought was the reddest and meatiest cut.
Yes, Smith talked about Alberta as Canada's "shining city on the hill" echoing former U.S. President Ronald Reagan.
She vowed to defend the rights of Albertans and help make life more affordable while pledging fiscal discipline from the government.
She mentioned Steven Guilbeault, Prime Minister Justin Trudeau's green guru, the former Greenpeace campaigner earning the Quebec nickname Green Jesus of Montreal.
The crowd booed.
But when the premier spoke of Alberta Health Services you could hear the big cheers, the whistles of approval.
Later in the day, Smith talked about an upcoming major makeover of AHS where they will run hospitals and run services needing to be operated centrally. That's it.
Article content
Almost everyone at the gabfest hates AHS because of COVID.
Still, it was only when parental rights were brought up where applause and cheers turned into a standing ovation.
"Regardless of how the extreme left undermines the role of parents, I want you to know that parental rights and choice in your children's education is and will continue to be a fundamental core principle of this party and this government," said the premier.
They were on their feet even before Smith said she would never apologize for that stance.
Article content
Then the UCP members got to talk and vote on what they wanted to see from their party.
Almost all of them supported requiring schools to have the written consent from parents of students under 16 before their child changes their name and/or their he/she pronoun at school.
It looked like three among the thousands voted against, the loneliest three people in the room.
Want some of the flavour.
Michelle Bataluk was up to the microphone and she didn't hold back.
"Parents are being pushed aside by the dangerous indoctrination of the Left which caters to the loud minority in this province and country.
"Children and teens should be educated in school not brainwashed by woke activists."
Woke is that kind of four-letter word in this room.
Article content
Later, a Bill of Parental Rights gets a huge thumbs-up.
Ditto for the Alberta government to once again support parental rights, the right to keep arms, the right to self-defence and, in the words of one delegate, "stand up to the tyrant in Ottawa."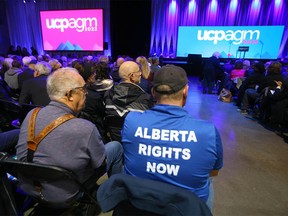 Also, on the parental rights agenda.
The UCP members want Smith and the MLAs to make sure schools do not provide students up to Grade 12 access to materials of explicit sexual content via "cartoon pornography."
A supporter of the move: "The books do not use medical terminology to describe sexual scenarios in detail. They use pictures and slang terms."
There is also a mention of "live events" and members tell me that's drag storytime.
Of course, there is plenty of talk of freedom. Many in the room are here because COVID shook them out of their political slumber.
Article content
The biggest COVID policy got a rousing Yes from the assembled.
Albertans should have the right to say No to any medical treatment or vaccine and no one should mandate or force an individual to do otherwise "regardless of the societal benefit."
From the meeting …
"The rights of the individual cannot be abandoned or sacrificed on the altar of society as society is not a living breathing thing. It is only a concept."
David Parker is the founder of Take Back Alberta, a group seeing themselves as "a grassroots movement built to advance freedom and transfer power from the ruling elite to the people."
Parker takes to the microphone.
"This is why many of us are here. Vote for it."
Almost every single person does.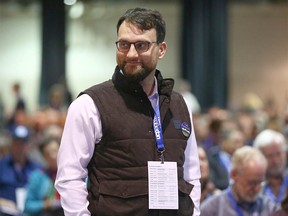 And they voted over and over and over again.
Article content
Ban colleges and universities "from the use of race as a factor in any admissions program."
Eliminate all Diversity, Equity and Inclusion Offices at public universities and colleges because they are "the enforcement arm of woke ideologues on campuses."
Ban electronic ballot counting. Protect the right to use cash. End provincial funding for supervised drug consumption sites.
Yes, former premier Jason Kenney wrote these people off as lunatics, on the fringes.
When there was a rebellion in the UCP ranks he wrote it off as no big deal.
The final shot.
In the race to be UCP president, Rob Smith from rural Alberta easily beat Calgary's Rick Orman, a former PC cabinet minister, who ran on the party unity ticket.
When all was said and done Take Back Alberta's Parker was all smiles.
"They say there's a war in the party.
"Where's the war? This is an absolute slaughter."