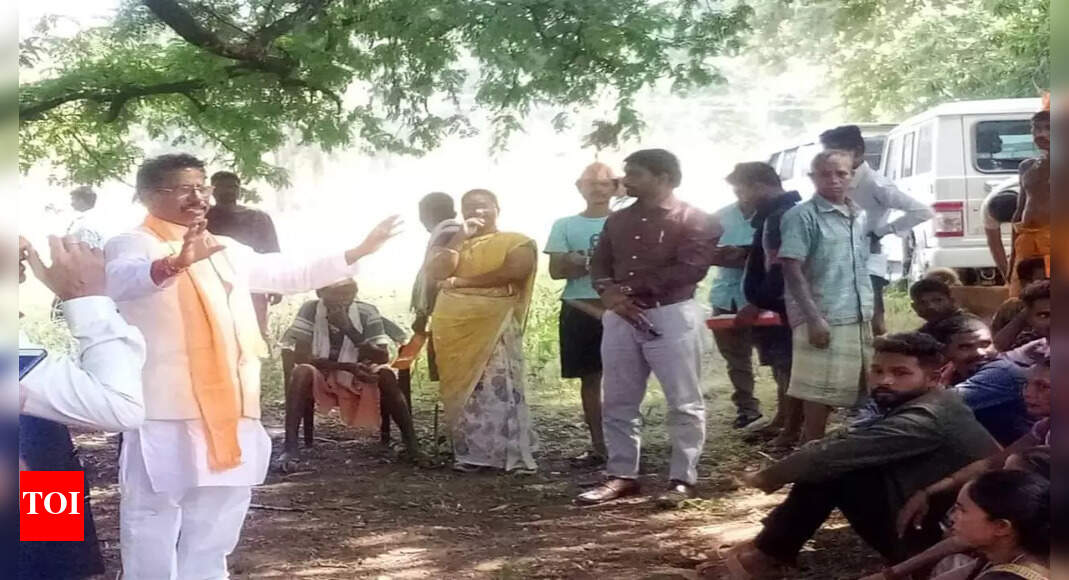 DANTEWADA: The legacy of the late Congress leader Mahendra Karma, who spearheaded the controversial anti-Naxal campaign 'Salwa Judum' and was later killed by the rebels a decade ago, still lives on. While his wife Devti was given the political baton as a legislator to carry forward the high hopes and affection people had for Mahendra Karma, the Congress has this time fielded his son Chhavindra for the Dantewada (ST) assembly seat.
As a sitting MLA, Devti Karma stepped aside for her son and went out campaigning for him in the Maoist insurgency-affected interior regions on a motorbike before the villagers headed to the fields, early in the morning.
The Dantewada assembly constituency goes for polls on November 7, with the Congress fielding Chhavindra Karma, a young party worker known for his rebellious approach, and the BJP has pitted Chaitram Atami, known for his mature political decisions. Another independent candidate, Amulkar Nag, is in the fray after being denied a ticket by the BJP. Dantewada has a stronghold of the Karma family, and the internal competition within the family has been evident.
After the death of Mahendra Karma, popularly known as 'Bastar tiger' in May 2013, Devti Karma was given a ticket from Congress and she won in the 2013 elections, but Dantewada was the only seat in Bastar in the 2018 elections that lost to BJP's Bhima Mandavi. Meanwhile, Chhavindra had turned rebel for being overlooked by the party, and he was offered a ticket from the Samajwadi party, but he did not accept it and announced his intention to contest as an independent, which he later withdrew.
Within months, BJP MLA Bhima Mandavi was killed in a Maoist attack, and Devti wrested the seat, winning by a margin of 11,000 votes against Mandavi's wife Ojaswi. This time, three members of the Karma family, including mother Devti, her daughter Tulika, the zila panchayat president, and son Chhavindra, had claimed the ticket, and the party decided on Chhavindra.
A mother of nine with no formal schooling, Devti told TOI, "I have lost one son, Deepak, to Covid. I cannot lose another one to politics. I decided to step aside for my son, who is popular among youths, and locals are affectionate towards him as he reminds them of Mahendra Karma ji."
Chhavindra feels that people in the constituency love Karma too much not to choose him as a legislator. "The rights of tribal people and their needs cannot be ignored, and they have high expectations from me. They want me to keep visiting them."
It's not common that people in one of the worst insurgency-hit Dantewada districts are demanding 'rozgaar' (employment) for their children and youths. Earlier, the issues of Naxal violence, development, and basic facilities of drinking water, and electricity used to take precedence whenever candidates went door-to-door for campaigning.
Having leisure time after returning from the fields in the harvesting season, villagers in Geedam and Aranpur sitting in groups said, "So what if this region is populated with tribals and they are not often educated beyond post-graduation or higher studies? All of us have the right to get employment. Development is steadily reaching the parts of Bastar, but when will we get employment? We don't want our young children to go out in search of jobs or stay here jobless either."
The locals also said that there were roads built to connect one district to another in the Bastar division, but the villages still struggle for connectivity, and the rainy season brings havoc for students and ailing people as they can't reach hospitals or schools.
Dantewada in the 2018 elections was among the four assembly seats that recorded the highest NOTA votes in the state with 8.74 percent, while the other three constituencies of Chitrakot, Bijapur, and Narayanpur followed with more than five percent of NOTA votes.
When asked if they intended to press the NOTA button on EVM, the villagers were not very aware of it and said it's a hasty process to go behind a curtain and press a button, amidst so much happening around. So usually, out of nervousness, they choose "any."
Chhattisgarh Chief Minister Bhupesh Baghel had called for the scrapping of the NOTA option in elections, citing instances of NOTA polling more votes than the margin of victory and claiming that voters may inadvertently choose NOTA.
Dantewada has seen some of the worst Maoist incidents in the past, including the killing of 76 CRPF jawans in April 2010 in Tadmetla. Ten DRG jawans were killed when their vehicle was blown up in an IED blast in April of this year.
Dantewada has seven candidates in the fray with Chhavindra Karma from Congress, Chaitram Atami from BJP, Keshav Netam from BSP, Ballo Ram Bhavani from AAP, Bela Telam from JCC (J), Bhimsen Mandavi from CPI, Amulkar Nag as an independent candidate. Among the voters, 90114 males and 102297 female voters will exercise their franchise.