Key events
Nothing on UltraEdge, as you were. I suspect they only reviewed that because it was Conway.
Australia review against Conway!
2nd over: New Zealand 21-0 (Conway 17, Young 2) Here's Josh Hazlewood, who has had a fairly quiet tournament since that dramatic opening over against India. Successive wide deliveries are hammered for four by Conway, the first through the covers and the second past point.
Hazlewood switches round the wicket, pulls his length back and immediately has a big appeal for caught behind when Conway flirts outside off stump. It's given not out but Pat Cummins is persuaded to review.
1st over: New Zealand 12-0 (Conway 9, Young 1) You'd think that, if New Zealand are to have any chance, Devon Conway will need to make a huge hundred. He has a fine record in successful ODI runchases, albeit with a small sample size: eight innings, average 89, strike-rate 88.
After a leg-side wide from Mitchell Starc to begin the innings, Conway waves a very wide outswinger over point for four. He's beaten later in the over by a good delivery, with the same outswing but a much tighter line, but Conway has the last word with a beautifully timed push to the extra-cover boundary.
The players are back on the field. Only one team has chased a target of this size to win an ODI. Don't play silly buggers, you know who it was.
There's another game being played today, though it is unlikely to impact the race for semi-final places. Netherlands are 25/2 after 6.5 overs against Bangladesh.
Thanks Jonathan, hello everyone. I suppose it's a good sign when you're slightly disappointed with a total of 388. At two stages – 175/0 after 19 overs and 387/6 after 48 – they looked set for at least 400.
It's still a mighty total, one you'd expect them to defend maybe 19 times out of 20. Talking of which, today is the first time Australia have hit 20 sixes in an innings in any format. The majority were pumped by David Warner and the remarkable Travis Head, who made one of the great World Cup debuts.
Head's form since he returned to the ODI side in 2022 is pretty extraordinary. Let's look at the evidence.
2016-18 42 matches, 1273 runs at 34.40, strike-rate 90.02

2022-23 17 matches, 900 runs at 64.28, s/r 123.79
If New Zealand are to pull this off, they will need to follow Head's lead and go ballistic in the Powerplay. There is a recent precedent to comfort New Zealand: when they thrashed England in the opening game of the tournament, they reached a target of 283 with nine wickets and 82 balls to spare. In other words, had they needed to chase 389 they would almost certainly have done so. Then again, that was against England.
A Travis Head century, part of a 175-run opening partnership in just 19.1 overs, turbocharged Australia's innings and sent them on their way to a massive 388.
Early on, a score in excess of 400 looked on the cards but Australia's troublesome batting order again failed to capitalise on a blistering start. After Head (106) and Warner (81) flayed New Zealand to all corners of Dharamsala, Mitchell Marsh looked a newcomer to batting as he lurched to a 51-ball 36. Steve Smith (18) and Marnus Labuschagne (18) played with intent but neither cemented their place in what is now a fiercely contested side following Head's return from injury.
Glenn Maxwell's 24-ball 41 reignited the innings, and he was supported by handy knocks from Josh Inglis (38) and Pat Cummins (37).
New Zealand were uncharacteristically poor, dropping a number of simple catches and failing to bowl to their fields. It took the part-time darts of Glenn Phillips (3/37) to restore some order, while Mitchell Santner probably deserved better than his 2/80.
The pitch was superb for batting on early in the day but slowed up as morning turned to afternoon. Similarly, the older ball found some grip in the surface. Australia will benefit from learning these lessons after losing a toss that, at the time, looked to have gone in New Zealand's favour.
Can the Kiwis chase down 389 as afternoon bleeds into evening? I'll hand you over to Rob Smyth to find out.
WICKET! Starc c Neesham b Henry 1 (Australia 388)
Improbably, Australia are bowled out. Length from Henry, Starc swings it powerfully to leg, but he can't clear Neesham on the midwicket fence.
WICKET! Zampa b Boult 0 (Australia 388-9)
Boult has three in the over! This one was comprehensive. Coming around the wicket, angling the ball in, Boult simply nails the stumps with Zampa backing away looking to manufacture some room. Boult ends with 3/77 from a difficult day.
49th over: Australia 388-9 (Starc 1)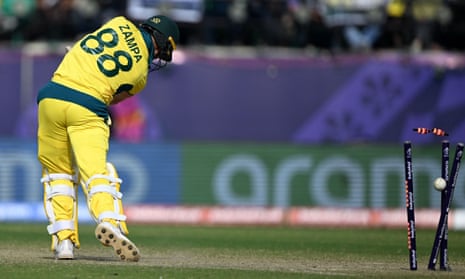 WICKET! Cummins LBW Boult 37 (Australia 388-8)
Cummins steps towards off to find some room to free his arms. Boult beats him for bace bowling full and straight, the ball skidding into the pads bang in front on the crease. Very out. It's given on-field but Cummins reviews for the hell of it, then walks off before the full process has completed. Brilliant lower-order hitting though. 37 from just 14 balls.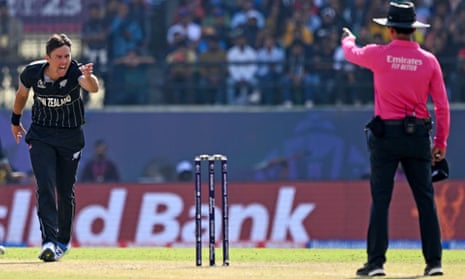 WICKET! Inglis c Phillips b Boult 38 (387-7)
Finally New Zealand hang on to a catch. Inglis holes out to Phillips at long-off, failing to get enough leverage on a Boult yorker. A handy 28-ball 38 from the wicket-keeper.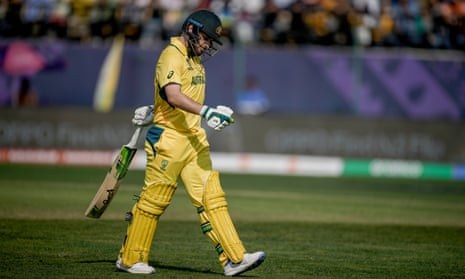 48th over: Australia 387-6 (Inglis 38 Cummins 37) I've not seen much from Josh Inglis to suggest he is an upgrade on Alex Carey – other than his pull shot, which is exceptional. He nails one off Neesham that flies for a massive six behind square leg. Then he's DROPPED next ball. Oh that's poor from Ravindra. It was the same delivery that got Maxwell, and almost the same shot, but this one skewed down to the cover sweeper who saw the ball into his hands near his chest, then out again.
The batters crossed for a single meaning Cummins is the man on strike, so he clears his front leg and smears another straight six! Then another! Poor bowling. Do not put the ball in the slot. Then ANOTHER DROP! Cummins tries the slog but gets some inside edge only for Phillips the midwicket sweeper to fail to hold on with the diving effort. The Aussie skipper makes them pay with ANOTHER SIX, this one slogged handsomely over square leg. Four sixes and two dropped catches – what an over.
47th over: Australia 360-6 (Inglis 31 Cummins 17) Trent Boult returns to close the innings from one end but things do not go according to plan. Cummins gets off strike first ball, then, after consecutive wides, Inglis engineers a reverse ramp for four directly behind Latham. Incredible shot. Cummins then clears his front leg and digs out a classic lower-order swish that has enough grunt behind it to reach the sightscreen on the full. Australia charging home with a wet sail, even without Maxwell.
46th over: Australia 344-6 (Inglis 25 Cummins 9) 15 valuable runs come from a scruffy over of batting, bowling and fielding. Inglis hasn't appeared fluent as yet but he looks a million dollars driving Henry straight back down the ground for four. He's then gifted a boundary after a decent hook shot is allowed to bounce straight through Ish Sodhi's permeable long barrier at fine-leg. Henry's luck continues to dessert him when a mistimed pull fails to reach midwicket off the splice, and his mood will have darkened further when Cummins steers a fine glance beyond Latham.
45th over: Australia 329-6 (Inglis 16 Cummins 4) Neesham follows up his excellent wicket with a couple of dots to Cummins as the changes of pace deny Australia's batters any consistency to line up. But the skipper does manage to squirt a boundary away behind square from the final delivery, getting on top of some width and just beating the man at point.
WICKET! Maxwell c Boult b Neesham 41 (Australia 325-6)
Unsighted for the previous 44 overs, Jimmy Neesham is called into the attack due to the injury (Achilles soreness) to Lockie Ferguson. He starts with a dot and a single to Inglis, then adjust his line from over to around the wicket for Maxwell. AND IT WORKS! Full and wide, Maxwell goes after it, but he can only launch it high to Trent Boult at mid-off. Excellent bowling and strategic execution from Neesham and New Zealand. Just the 24-ball 41 from Maxwell today.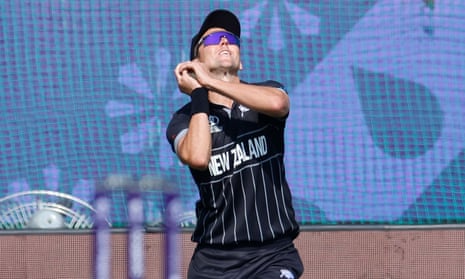 44th over: Australia 324-5 (Maxwell 41, Inglis 15) Henry back into the attack and he starts with a rare dot against Maxwell. And another! This one is a genuine edge from the Victorian, slashing at a length delivery, but it doesn't carry through to Latham. And a third! This one hurt him too. Henry slipped in a slower ball bouncer, Maxwell went for the reverse hook but was too quickly onto it and the ball crashed into the back of his left hand. I don't envy anyone trying to go through the mental gymnastics to picture that in their mind who didn't see it in the flesh.
Henry continues to back his variations and despite Maxwell and Inglis' best efforts they can only muster two singles with Maxwell failing to get any wood on a wide yorker to close the over.
43rd over: Australia 322-5 (Maxwell 40, Inglis 14) ON THE ROOF! Santner bowls a dot and a single to Inglis. What will Maxwell do? He'll advance quickly down the track to the pitch of the ball and launch a clean six almost into one of the two magenta turrets on top of the pavilion. SIX MORE! This time hanging back and slapping over cow corner. Maxwell already 40 off 18. Do not go anywhere.
42nd over: Australia 306-5 (Maxwell 27, Inglis 11) It's Maxwellball time! Go tell your kids, your neighbours, your social medial followers. It's on like Donkey Kong. Inglis gets off strike then Maxwell reverse sweeps Ravindra for brilliant consecutive fours, the second almost a six with the batter miles inside the line, hitting up with the spin. How does he do it?
41st over: Australia 295-5 (Maxwell 18, Inglis 9) Brilliant from Santner, going for just three singles and bowling with extraordinary nerve, mixing in outrageously slow floaters with faster length balls. Terrific execution.
40th over: Australia 292-5 (Maxwell 17, Inglis 7) *Whisper it quietly* but Glenn Maxwell is a handy batter. A forceful two is followed by a pulled four as Boult shifts from around to over the wicket. Inglis then joins in the fun with an even better pull shot as Australia belatedly pick up the pace.
39th over: Australia 279-5 (Maxwell 10, Inglis 1) New Zealand REVIEW Santner's second delivery to Inglis. It was a angled into the right-hander, who missed with a back-foot push. It looked out to the naked eye and I was surprised when it wasn't given. DRS gives it Umpire's Call – but that was very favourable to the batter with the ball hitting a lot of leg stump according to the animation. Penny for David Warner's thoughts.
Inglis eventually gets off strike, allowing Maxwell to ignore the noise and reverse sweep with those rubbery wrists for a magical boundary. What a cricketer.
WICKET! Labuschagne c Ravindra b Santner 18 (Australia 275-5)
The poor batting continues for Australia. Labuschagne's only attacking stroke to the spinners, pretty much, has been the long-reach sweep, and it hasn't looked assured, especially against the extra bounce of Santner. His dismissal is exactly as you can picture, length around off stump from the tall bowler, a top-edged sweep from the batter, a nice catch running in from the midwicket boundary from Ravindra.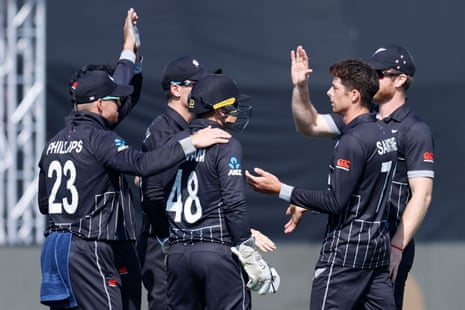 38th over: Australia 274-4 (Labuschagne 18, Maxwell 6) Latham is really mixing things up here, quickly going back to Boult – and it almost brings about a wicket – but not in the way you might imagine. Labuschagne drills to the cover sweeper, turns for two, but Maxwell rightly tells him to wait. Labuschagne had already set off though and found it hard to change direction, but the throw was to the keeper's end, not the bowler's ending any chance of a cheap dismissal.
Maxwell doesn't mess about with the strike, driving gracefully through the covers for a couple, then mashing a full toss back down the ground for his first boundary.
37th over: Australia 266-4 (Labuschagne 17, Maxwell 0) That dismissal probably suited both sides. New Zealand celebrate a wicket; Australia get Maxwell at the crease. Marsh's struggles, another cheap dismissal for Smith, Labuschagne isn't setting the world alight… there are still spots up for grabs in this Australian side.
WICKET! Marsh b Santner 36 (Australia 264-4)
Marsh's stodgy innings ends just as he looked like he was in! Santner replaces Henry in the attack and he drops short, allowing Marsh time to rock back and pull for just his second boundary. Perhaps it was a softener? The next delivery is much quicker and flatter and catches Marsh wrong-footed, crashing into the stumps. Australia's slow decline since that incredible opening stand continues.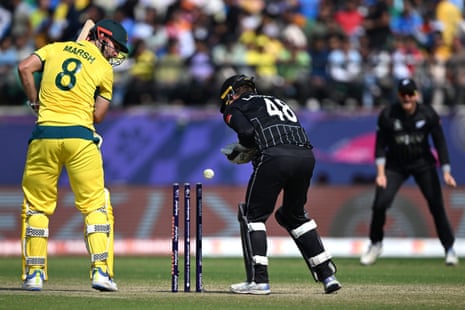 36th over: Australia 260-3 (Marsh 32 Labuschagne 16) Australia remain in the doldrums after drinks with Marsh missing out on a Ravindra full toss and Labuschagne almost losing his off bail after failing to connect with a sweep. The No 5 goes for the same shot to the final ball of the over – and he middles this one, sweeping powerfully in front of square for a pressure-releasing boundary.
35th over: Australia 254-3 (Marsh 31 Labuschagne 11) Henry's right-arm pace replaces the left-arm speed of Boult. He starts well, keeping Marsh and Labuschagne pinned to their crease but then he overpitches a fraction and that's the invitation Marsh was looking for to extend his arms through the ball and club a straight drive for four – his first boundary, 44 deliveries after arriving at the crease.
The second and final drinks break is upon us.
34th over: Australia 248-3 (Marsh 26 Labuschagne 10) Ravindra is the man Latham turns to for the time being to eat up some middle-overs, and the left-arm spinner hits his lines and lengths to keep each batter to just a single apiece. Marsh is now 26 from 42 and Labuschagne is getting bogged down following his bright start.
33rd over: Australia 246-3 (Marsh 25 Labuschagne 9) It's just been highlighted that Lockie Ferguson has been off the field for over an hour – presumably with an injury – making Latham's decisions around who should bowl the remaining overs increasingly complicated. For now Boult continues but he's unthreatening in an unremarkable six-run over.
32nd over: Australia 240-3 (Marsh 21 Labuschagne 7) Glenn Phillips ends his match-turning spell with superb figures of 3-37. Magnificent, consistent, uncomplicated bowling in the face of an almighty opening onslaught.
His final over contains a glorious reverse sweep from Labuschagne, as well as the sight of umpire Marais Erasmus having a stern word with Latham. Aaron Finch on the telly reckons it's a warning for New Zealand's fielders throwing the ball deliberately into the keeper on the bounce. One of those cricket rules that annoys me. It's their ball, why can't they do with it what they want?
31st over: Australia 233-3 (Marsh 19 Labuschagne 2) It's been a long time coming, but New Zealand have returned to pace with Trent Boult coming back into the attack. Marsh demonstrates more intent immediately but he can only engineer a single from three deliveries. That bings Labuschagne on strike who is DROPPED badly by Mitchell at third! Normally such a safe pair of hands Mitchell saw the ball all the way off the bat following a lazy glide to a shorter delivery, but falling forward the ball spilled from his grasp to the disbelief of the bowler. Huge let-off for the Australian No 5.
Australia were 175-0 after 19. 58-3 from the following 12.
30th over: Australia 230-3 (Marsh 17 Labuschagne 1) Phillips, brought on in an emergency, now has 3/30 from nine overs. Big chance for Labuschagne to follow-up his improvising knock against the Netherlands to force his way into the long-term reckoning.
WICKET! Smith c Boult b Phillips 18 (Australia 228-3)
Between overs Stoinis ran out with drinks, presumably with an instruction to Marsh to get a ruddy move on. Perhaps with an added "do you not know who we've got padded up waiting to come in?" The big lad doesn't seem to heed the message, rotating strike to bring Smith to the crease, who unleashes his frustration by miscueing a drive off the inside half of his bat straight to mid-off! Phillips has three! Australia's momentum has stalled and the questions over the performance of the top-middle order are only going to grow.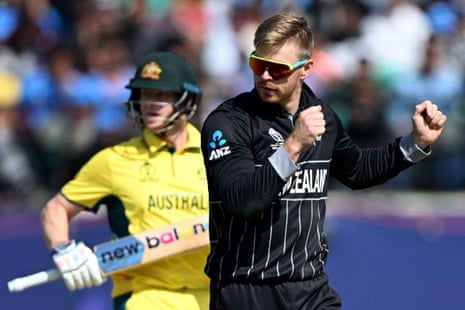 29th over: Australia 227-2 (Marsh 15 Smith 18) Santner induces an edge from Smith, playing away from his body, but it bounces just wide of the diving slip and runs all the way to the boundary for four. Not much else to report. Both sides seem happy to go through the motions at the moment.
28th over: Australia 219-2 (Marsh 13 Smith 12) Marsh continues just dobbing away innocuous deliveries from the crease with absolutely no intent. Ricky Pointing on commentary is getting increasingly irate. Marsh has crawled to 13 from 27 in a peculiar knock.
27th over: Australia 215-2 (Marsh 11 Smith 10) Santner is now recalled to the attack, and with him a slip to Marsh. The Australian responds with a well-timed sweep for two, his best attacking stroke of the day so far. We're now into a more traditional middle-overs phase of the match as New Zealand focus on economy and two new batters get their eyes in.
26th over: Australia 209-2 (Marsh 7 Smith 8) Latham, perhaps distracted by the carnage of that opening partnership, could now bring his frontliners back, but he is persisting with Ravindra and Phillips for now. The latter keeps things tight, going for just three singles, with Marsh still oddly defensive at the crease, inching to seven from 19.
25th over: Australia 206-2 (Marsh 6 Smith 6) In contrast to Marsh's withdrawn demeanour, Smith has come out full of intent. He takes Ravindra over mid-on without getting all of the stroke, then drives firmly to beat the dive of cover. He is six off five, Marsh the same score off three times as many deliveries.
24th over: Australia 201-2 (Marsh 6 Smith 1) Excellent from Phillips with the wicket and just one run from the over. Australia are in an extraordinarily strong position, but this is now a testing period for their middle order. Marsh has looked stodgy early on, and we know there is now fierce competition for places.
WICKET! Head b Phillips 109 (Australia 200-2)
Phillips has two! It's the same delivery he's bowled all spell, angled into the left-hander from around the wicket. This time Head gives himself room to hit through the off-side but ends up beaten by one that skids on a fraction, thudding into the middle of middle.
Head departs to a standing ovation after slogging 109 runs from just 67 balls.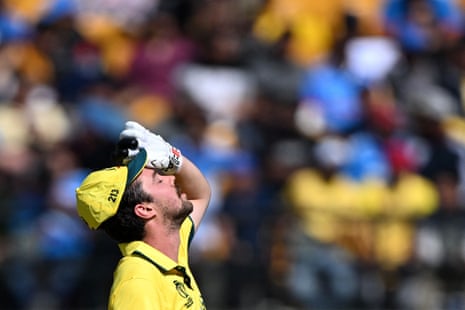 23rd over: Australia 200-1 (Head 109 Marsh 6) Another Ravindra over, another chance to enjoy Head skipping a couple of metres down the track, keeping his head low and over the ball, and lofting a six with consummate ease. The frequency of Australia's hitting this innings is beginning to undermine the quality of the strokeplay. I'm getting numb to the majesty of the shots.
"Deep in drafting a long-delayed precautionary power of attorney letter of wishes in the early hours (as you do)," begins Brian Withington in typical fashion, "it suddenly occurred that there might be some cricket on to keep me company. Imagine my consternation at seeing (and disbelieving), checking and then rechecking the score! I'm left wondering whether the NZ skipper has also drafted an appropriate letter to cope with adverse unfortunate circumstances rendering him utterly powerless?"
22nd over: Australia 191-1 (Head 101 Marsh 5) That's the fastest ton by an Australian opener in a world cup, the third fastest by any Australian, and Head's fourth in ODIs. Awesome hitting.
Travis Head cuts Phillips to the point sweeper to bring up his century from his 59th delivery. What a stunning return to the side.
21.3 overs: Australia 189-1 (Head 100 Marsh 4)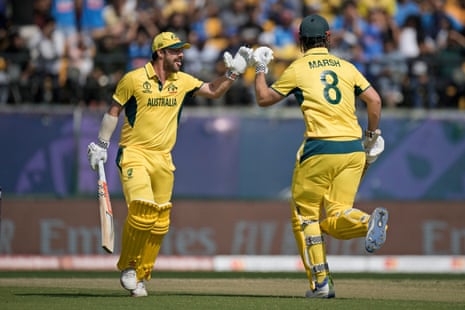 21st over: Australia 187-1 (Head 99 Marsh 3) Ravindra is played away for a couple of singles, which adds an element of surprise to Travis Head sashaying down the pitch and belting a massive six over wide long-on. Immediately afterwards he may have tickled a very fine and very difficult chance behind down the legside, but it also might have been thigh-pad. Anyway, Latham was nowhere near pouching it standing up to the stumps.
20th over: Australia 177-1 (Head 91 Marsh 1) Australia stick with their prematch plan and Mitch Marsh strides out at first drop. That's probably reasonable, nobody would want to see Glenn Maxwell wallop 300 now would they…
WICKET! Warner c&b Phillips 81 (Australia 175-1)
Finally a breakthrough! With his 19th delivery Phillips again arrows the ball towards the base of leg-stump from around the wicket. Instead of milking the single as he had so often beforehand, Warner tries to get his feet out of the way and loft over the top, but he ends up only bunting a cramped shot straight back to the bowler who holds onto a straightforward chance in front of his face.
Consecutive centuries followed by a 65-ball 81 from the Australian opener. This is one heck of a World Cup swansong.