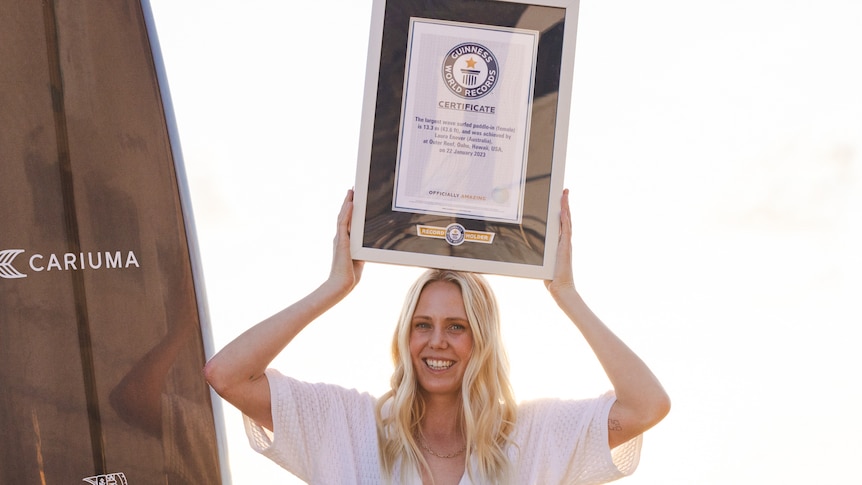 Australian pro-surfer Laura Enever has set a new world record for surfing the largest wave ever paddled into by a woman.
Key points:
Laura Enever previously competed on the WSL Championship tour
Enever's record-breaking wave was just one foot (30cm) bigger than the previous record
Brazilian Andrea Moller's record had stood for seven years
The 31-year-old, from North Narrabeen on Sydney's Northern Beaches, paddled into a 13.3-metre (43.6-foot) wave at the famous Outer Reef break on the north shore of Oahu, Hawai'i in January this year.
"I knew it was big when I paddled into it," Enever told the World Surf League (WSL).
"When I took off, I looked down, and I knew it was definitely the biggest wave I've ever caught."
Although she broke the record on January 22, Enever was presented with her world record certificate at Narrabeen this week.
"I knew it was the wave of my life, the whole way it all came together and the way I committed, backed myself, told myself to go, and trusted I could do it," Enever said.
"The ride was such a breakthrough for me and a moment that will be special and monumental in my surf career.
"To get awarded this months later is really cool, I can't believe it."
Enever achieved the feat as part of the WSL's Big Wave Record Chase season, beating the long standing previous record held by Brazilian Andrea Moller by one foot (30.48cm).
Moller, now based in Hawai'i, had held the record since January 2016.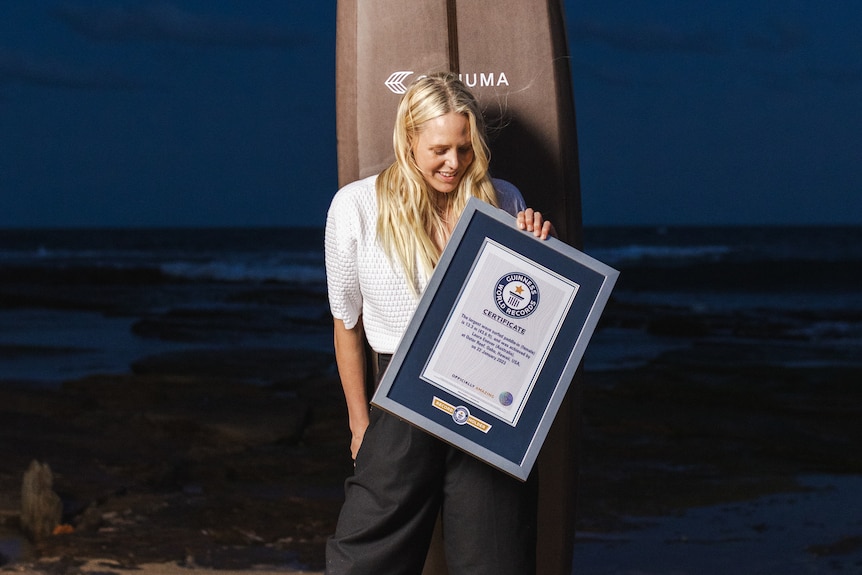 "I would never be in this position if it wasn't for all the big wave surfers who have come before me and paved the way, especially the really brave, courageous females who have always inspired me and made me feel like I could get out there and give it a crack," Enever said.
"I'm just constantly in awe. Andrea Moller held this record before me, and it's an honour to hold that record and keep pushing big wave surfing."
The WSL used multiple video angles and analysis that included Enever's body height to determine the height of the wave from crest to trough.
Enever is a former Junior World Champion who competed for seven years on the WSL Championship Tour before moving into big wave surfing.
"I've worked my whole life to be a professional surfer and to be on the World Tour," Enever said.
"I gave that up for this pull and urge to surf big waves.
"I was just thinking I just wanted to go do this for me, and to be here today and to have a world record for the biggest paddle, I can't believe it."
Sports content to make you think… or allow you not to. A newsletter delivered each Friday.