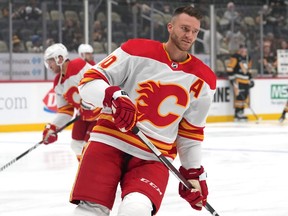 Article content
It all feels a little bit familiar.
Article content
Jonathan Huberdeau's second season hasn't started much better than his first with the Calgary Flames.
Article content
But he also insisted there are differences between this season and the way he was feeling on the ice a year ago.
"Yeah, it's not my best, you can tell," Huberdeau acknowledged. "But last year, I had no confidence. This year, I'm still making a little bit of plays but, obviously, I have to be way better for this club."
The Flames need Huberdeau to be productive. He's in the first year of an eight-year, $84-million contract. That makes him the team's highest-paid player and pretty much guarantees that he's going to be a part of the organization's plans for the foreseeable future.
And he's certainly not the only Flames player who is struggling to start the season. There's a reason they're 2-5-1 through eight games, and it goes well beyond Huberdeau.
Article content
Asked about the left-winger and Nazem Kadri, who is also off to a slow start, Flames head coach Ryan Huska made it clear that the reasons for Thursday's embarrassing defeat went well beyond either player.
No players singled out: coach Ryan Huska
In Huska's eyes, everyone needs to be better.
"I want more from the team, I'm not going to go to those two," Huska said. "If you're expecting those two to win games for us (on their own), it's not going to happen, you're going to be waiting for that for a long time. The way this team will win games is when they're competitive and they skate and they play hard."
All of that is totally fair, but the fact remains that Huberdeau carries a huge cap hit and is being paid to put up points.
At some point, the Flames really, really need him to start doing that on a regular basis. It's still only eight games into the season and there's lots of time to turn things around, but it has to happen — and quickly, in an ideal world.
Article content
Huberdeau says he's got his confidence back. The production isn't there, but unlike last season, he feels his game is close to where it needs to be.
"I think at the end of the day, working hard, but you've got to work smart, too," Huberdeau said. "That's what I want to do. Sometimes you try to do too much when it's not going well and you overdo it instead of keeping things simple.
"I feel it's not that far. I know offensively it hasn't been great, but I'm working hard. I just need to work smarter. That's my goal, and to find chemistry with my linemates, as well."
Flames players say they realize they need to work harder
After the disappointing effort they put on the ice on Thursday night, the theme of the post-game media availabilities was that the Flames needed to work harder.
Article content
And on Friday morning, that was on full display.
The Flames skated and skated in a hard, long and physical practice.
"I think we deserved that one today," Huberdeau said. "We didn't show up yesterday especially in front of our fans. Ihat can't happen. Today, that's how practice has got to be. Today was a hard practice, the guys showed up. We can do it, we know we can do it, just have to transfer that into a game."
While the coaching staff put their players through the grinder on Friday, there was still an eye on preparing for Sunday's Heritage Classic against the Edmonton Oilers.
"There were a lot of things in that practice that were detailed, too," Huska said. "Nobody was happy with last night but it's a chance to look forward now and recognize that some of the things we worked on today are going to put us in a better situation to be successful."
Recommended from Editorial
Wes Gilbertson and Danny Austin have been covering the Flames for years and know what makes the team tick. Have questions? They have the answers – or the contacts to track them down. Send your questions to calgaryflames@postmedia.com