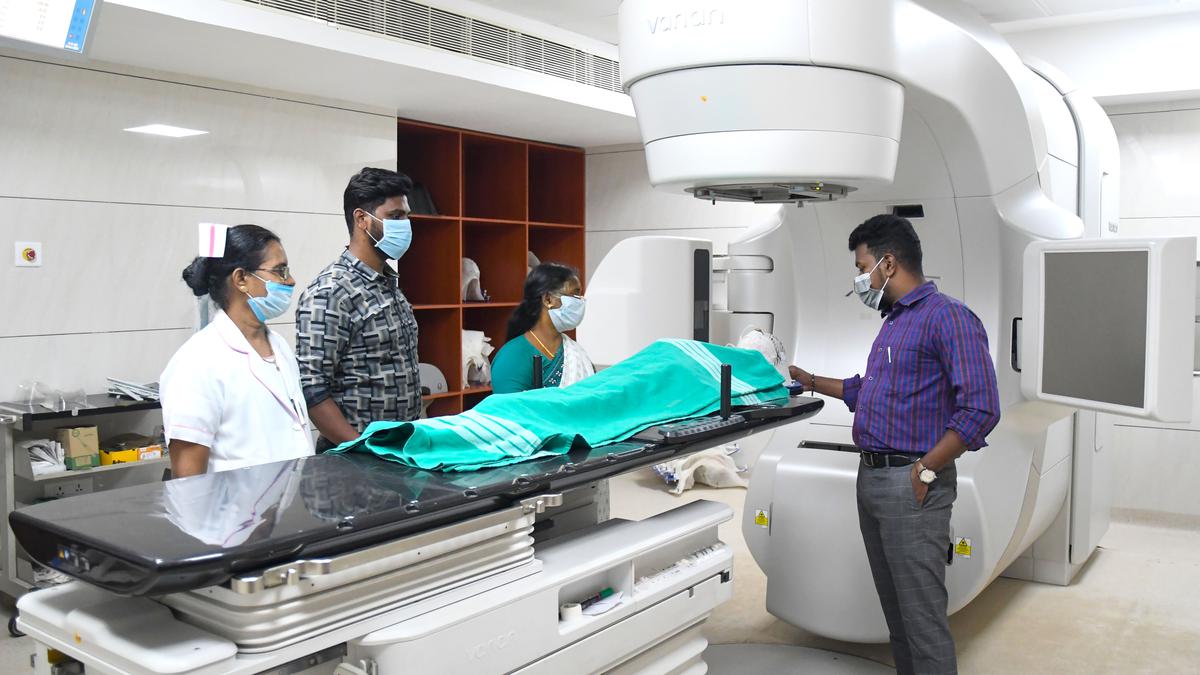 For patients like P. Chitravalli, 49, mother of four children and a daily wage labourer from Sivaganga, getting treated for cervical cancer in a private hospital would have cost her family's lifetime savings.  
Ms. Chitravalli was treated for cancer about five months ago at the Madurai Regional Cancer Centre at Balarengapuram after she was diagnosed with cervical cancer at the government hospital in Sivaganga.  
Following prolonged pain in her abdomen and uterus, she was hesitant to visit a doctor fearing the social stigma and the cost for treatment. Experiencing unbearable pain and unable to continue with her masonry work, she visited a government hospital nearby in the beginning of the year. 
"We heard the news from the doctors that she was affected with cancer, which no one even from a well-off family would want to hear," said M. Pandi, Chitravalli's husband.  
"Treating and maintaining our fourth child, who is mentally retarded, costs us a fortune eating up all our earnings and at such a time the news of my wife affected with cancer hit me very hard," he said.  
Doctors at the Sivaganga government hospital referred her to GRH where they were advised they would receive treatment at the oncology department.  
The family spent about ₹1,000 to reach Madurai with their children to consult a doctor at GRH. After the initial treatment at the hospital under the Chief Minister's Comprehensive Health Insurance Scheme, she was advised to consult a doctor at the regional cancer centre at Balarengapuram for radiation therapy.  
Thanks to the family's early discovery of the disease, she was found to be in the first stage. Subjecting herself to radiation therapy for 25 continuous days at the centre, free of cost, which would have otherwise come to around ₹1 lakh, Ms. Chitravalli is now cancer free. 
A. Kodies, administration In-charge of the regional cancer centre, said around 140 patients undergo treatment at the facility every day. As none of the southern districts barring Tirunelveli and Thoothukudi had a dedicated oncology department and modernised equipment, people from the south of Tamil Nadu depended on the regional cancer centre in Madurai. 
Further, with 10,000 and 27,369 patients treated at the centre in 2021 and 2022 respectively, the centre stood first in the number of cancer patients treated with radiation therapy in the State.  
Similarly, a seven-year-old boy from Virudhunagar diagnosed with brain cancer received his first day of radio therapy treatment here at the centre, after his parents were unable to bear the expenses incurred at a private hospital in Madurai.  
The boy's father, who did not wish to be named, said they initially admitted him at a private hospital thinking he would receive good treatment there under the CM's insurance scheme. But after completing several procedures, they realised it would cost them more than they thought and were even unsure whether the cost would be covered under the insurance scheme.   
Learning about the centre in Madurai through a friend, they reached out to the doctors at GRH a month ago for treatment. "Since it is the first stage of cancer for my child, doctors believe they could cure it. Not having to pay the treatment fees gives us relief and the amount would at least be used for us to travel and buy healthy food for our child," he added.  
With the rise in cancer cases in recent days due to rapid change in lifestyle and other associated external factors, the need for an oncology department in every government hospital had gone up, said Dr. Kodies.  
"We treat a greater number of patients with cervical cancer and breast cancer, which is caused due to many reasons like genetical factors, improper feeding, among others," the doctor added.  
"As it has become almost unavoidable to escape from cancer, it is highly advisable particularly for women above 40 years of age to screen for breast cancer at least once a year," he noted. 
"Procedures to include the other two oncology departments, surgical and medical, here at the Regional Cancer Centre is underway. This would attract more patients, who could not afford getting treatment at a private hospital, to the centre once it gets added," Dr. Kodies said.