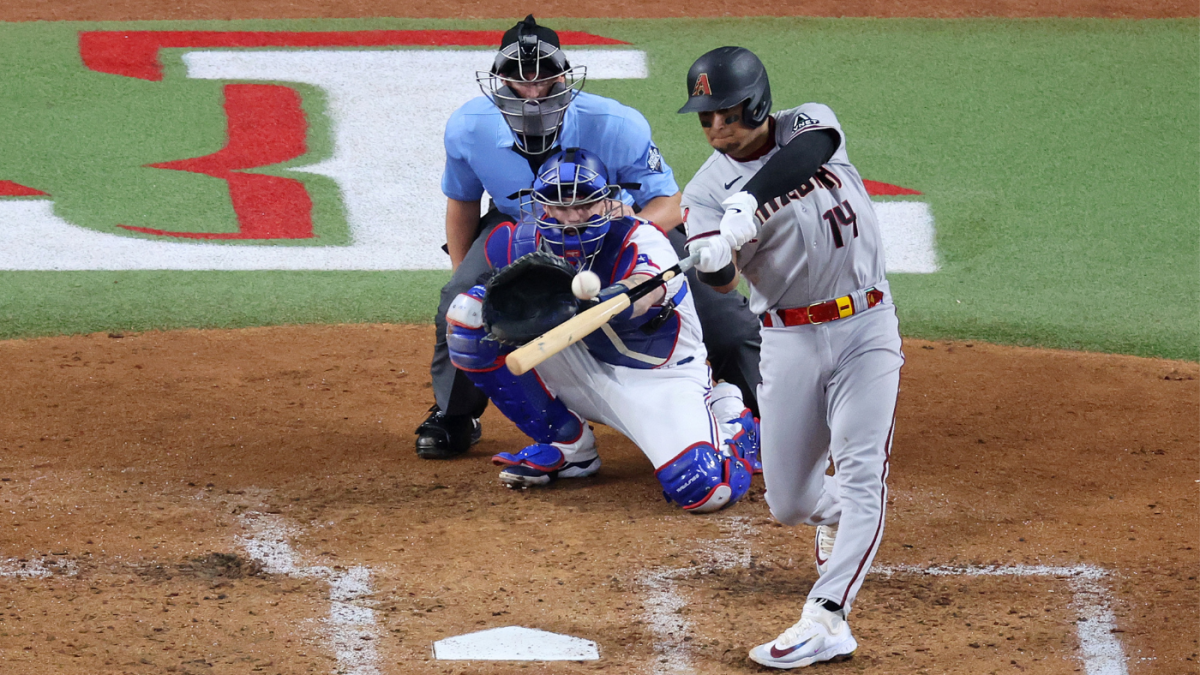 The Texas Rangers and Arizona Diamondbacks have split the first two games of the 2023 World Series. That in essence means it's now a best-of-five series for the belt and the title with Arizonas having home-field advantage, since the next three games will be played at Chase Field. So as the scene shifts from Arlington to Phoenix on Sunday's off day, we have an opportunity to consider what's unfurled so far and what it might mean for the remainder of this here Fall Classic. Let's do that now. 
1. These Snakes have feet and are using them
Not surprisingly, Arizona has been active on the bases thus far in the World Series. They've tallied five steals through the first two games of the series without being caught (although Tommy Pham was picked off second base in Game 2). Overall this postseason, the D-backs lead all comers with 21 stolen bases in 24 attempts across 14 games. Next in line are the Phillies with 16 thefts in 13 games. No one else is close. This isn't particularly surprising, given that Arizona during the regular season ranked second in the majors with 166 steals. As well, they ranked second in the majors with a success rate on stolen base attempts of 86%. In other words, the 2023 D-backs take a lot of extra bags and don't often get caught doing so. 
This will be something to watch in Game 3 against the battery of Jonah Heim and Max Scherzer. Despite a slightly below-average pop time, Heim is solidly above average when it comes to cutting down would-be thieves, even if that skill hasn't yet been in evidence during this series. As for Scherzer, he's historically been fairly adept at controlling the running game, but during the 2023 regular season he permitted nine steals on 10 attempts. That's not a volume problem, but it is a percentage problem. The new limits on pitcher disengagements plus the slightly larger bases may be playing a role, and it will be interesting to see whether Arizona is able to bedevil the future Hall of Famer in such a way on Monday. Of course, getting to first base is the biggest challenge. 
The Rangers have more power up and down the lineup than Arizona does, and nothing heralds postseason success like having more power than the opposition. The D-backs, though, will be looking to reverse that trend with aggressiveness on the bases plus some well-timed power of their own. 
2. Texas' starting pitching has failed them
The Rangers came into this series with a top-heavy rotation. Nathan Eovaldi looked like a Cy Young contender for much of the season, but he struggled badly down the stretch after returning from arm problems. In the postseason, though, he seemed to rediscover his peak self through the LCS round. Game 1 against Arizona was less kind, as Eovaldi permitted five runs in 4 2/3 innings. His velocity in that start was fine, and he was able to get 17 swings and misses. Perhaps a rebound is in order when he takes his turn again in Game 5. 
In Game 2, Jordan Montgomery fared better than Eovaldi but still allowed four runs in six innings. Look under the hood and maybe there's more cause for concern. Monty's average fastball velo was down more than a tick relative his 2023 norms, and he was able to induce just two whiffs on 37 swings. All this from an Arizona offense that this season has been notably less effective against lefties. 
Moving forward, Texas faces uncertainty. The 39-year-old Scherzer didn't look anything like his usual self in a pair of ALCS starts against Houston, which raises concerns that he still may not be fully recovered from his September shoulder strain. As well, he's dealing with a cut on his pitching thumb leading into his Game 3 start. There are ample reasons to be concerned about him moving forward, and that's to say nothing of Texas' entirely uncertain starting-pitching situation for Game 4. Looming over all of this is the Rangers' flawed bullpen, which may be leaned upon quite heavily over the next two games. 
3. Marcus Semien still isn't hitting 
The Rangers' standout infielder may be the best defensive second baseman in baseball, and he's also worked himself into being a highly productive hitter, particularly by positional standards. That productivity, however, has not been much in evidence during the postseason. During the regular season, Semien authored a slash line of .276/.348/.478 with 29 home runs, 40 doubles, and 71 unintentional walks – again, standout production for a middle infielder. In these playoffs, however, that slash line has tumbled to .194/.265/.226, and through the first two games of the World Series he's just 2 for 10 with no walks and no extra-base hits. 
The lack of playoff production also hasn't been driven by bad luck. If you look at his expected slash line for the 2023 postseason, based on quality of contact, then Semien has a "deserved" slash line of just .216/.286/.263. 
This is likely just small-sample-size noise, but, well, the postseason is nothing but small-sample-size noise. In a series that looks like it'll go long, Texas needs its leadoff hitter to find his level in a hurry. 
4. Rangers on the road
For strictly forward-looking concerns when it comes to Games 3, 4, and 5 in Arizona, let's note that the Rangers are 8-0 in road games this postseason. That's a thing that happened, but does it mean much looking ahead? Probably not. During the regular season, the Rangers were 40-41 in road games, while the D-backs were 43-38 at home. So Texas' playoff success away from home is at most a "trendlet" that probably doesn't tell us much. We'll note it just the same as the Rangers prepare to play three straight road games for the first time in a month.